Ролики в Иркутске
By Elizabeth Smart
Irkutsk is a city filled with historical markers and buildings, blossoming parks, and spectacular views. How does one manage to take in all these sights within the city of Irkutsk? By rollerblade of course! The fad that swept the US in the 80s and 90s has a thriving culture in beautiful eastern Siberia. How does one best prepare for an active rollerblading lifestyle in the heart of Siberia?
Step One: Find some blades! My exploration of potential blade shops began at the indoor mall at the center market, and concluded with a few sports shops off of Karl Marx Street. While the stores on Karl Marx Street stood out with a gamut of rollerblade styles and price points, the mall prices and choices did not provide the most bang for the buck. The Karl Marx Street sporting goods stores provided used and new blades for adults and juniors, as well as adaptable pairs that allow the replacement of wheels for ice skating blades for multi-seasonal use. I found mine at at Фанспорт located at 30 Karl Marx Street.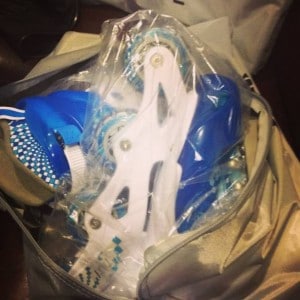 Step Two: Once you purchase your sweet new kicks, get out on those streets and use them. Below are some of my personal top picks based on personal experience.
Kirov Square (seen in the image above) is conveniently located in front of Irkutsk State Linguistic University, where most SRAS programs Irkutsk are based. This spot has lit walkways, trees, a fountain, and is often the host of various cultural celebrations.
The Angara Embankment (seen in the image below) – just past the eternal flame is a historic and picturesque spot with stunning views and proximity to the mighty Angara River.
Okhlopkov Square – a small park set around the busy workings of Irkutsk's Drama Theater, this stretch of rollerblading paradise should not be passed over.
50 Year October Square – this triangular space holds both historic and sentimental value to the residents of Irkutsk. The perpetually humming atmosphere provides a scenic and fun way to get to know the locals on your blades.
Solichnaya Neighborhood (seen in the image below) – as a current resident of this neighborhood I may be biased to the sun-showered district of Irkutsk, but it provides ample blading space on the Angara Dam, in front of a memorial by the pier.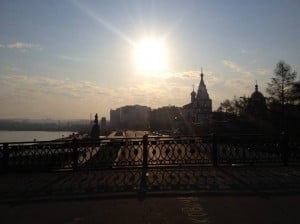 Given all the possibilities for rollerblading here in Irkutsk it will be challenging to attempt them all. It is a good idea to be cautionary in your rollerblading activities.  Helmets, pads, and clothing that covers your extremities is suggested when rollerblading in the city, despite what the locals wear when they participate in the roller fun. Another safety precaution is being aware of the maintenence of your potential rollerblading routes. In the late winter and early spring many of the Irkutsk's cobblestone sidewalks and streets have weathering, some litter debris, and some cracks and holes. These impairments are generally resolved in late spring and early summer when the weather is nice enough for construction and cleanup of the city. It is important, however, to make sure you spend your rollerblading time in the right places accordingly. More newly renovated squares (Kirov Square for example) with recently placed cobblestones are the area of choice in the late winter and early spring because they require less spring cleanup and maintenance. Older squares (such as Ohklopov Square) with more obstacles tend to be ideal in the late spring when the city has been spruced up for the summer time.
With all your gear, knowledge and safety squared away there is nothing preventing you from having a great rollerblade adventure ahead of you!