We asked some SRAS graduates to share their open and honest evaluations of their experiences on Cuba-Russia Connection. SRAS actively seeks out feedback from students on all programs so that we can continually improve our offerings.
Lucine Poturyan (Summer, 2018)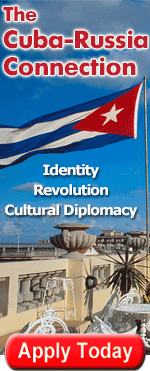 I embarked on the Cuba-Russia Connection program offered by SRAS in May of 2018. However, this incredible program really began months before me landing in Cuba. SRAS's communications with me and the resources they offered before the study abroad trip helped set me up for the great experience that was the Cuba-Russia Connection.
SRAS emailed numerous guides and informational emails to help me pack and mentally prepare for the trip. These correspondences started once I was accepted into the program and continued until I left. Guides included information about packing for the very different climates of Cuba and St. Petersburg, tips for dealing with culture shock, and practical advice about how much money to bring and where to eat in the cities.
The student blog for which I am currently writing, srasstudents.org, was also a great resource. The personal accounts from students who had gone on my trip really helped me to know what I should expect — and that was important because, honestly, I was quite nervous about going to Cuba, and then to Russia, to study and live for a month and a half. I was emailed pre-program texts that I would be responsible for reading, which made also made me feel more prepared for the program. Plus, the interesting packets taught me about Cuban history and culture, so I was entering the country with more background knowledge.
Cuba
My arrival to Cuba, the first leg of the program, was one to remember. I met my faculty leader, Professor Valeria Nollan, and her husband, Professor Richard Nollan, at Miami International Airport. I met the other students on the program there too, and we anxiously waited for the American Airlines attendant to open up our gate to boarding.
It felt surreal flying to Cuba, in part because the U.S. government had effectively curtailed Americans' visits to the country for decades, and because I was finally visiting the country 90 miles from the United States in which the Cuban Revolution had brought about such radical political change. I was ecstatic, and did not mind the humidity and torrential downpour with which Havana greeted my group when we landed. We landed at night, during one of the summer storms that hits the island from May to June. This in itself was a learning experience. A bus from our host school, Estudio Sampere, took my group and me to our respective homestays. I met Yadira and Claudia, my homestay mother and sister, with who I stayed with other girls on my program. The showed us to our rooms, and my first night in Cuba officially came to a close.
Mornings in Cuba met us with humidity, palm trees, rain, mosquitos, and colorful vintage American cars zooming down Avenue Santa Clara. The walk to the school was a short one, five minutes through the colorful neighborhood of Havana's Vibora District. I quickly felt like a local due to the support that the professors and guides at our school provided. They taught us about life in Cuba, how and why people do things the way they do, and Cuban history. We ate most of our meals at the school (included in the program while in Cuba), and eating became a great source of cultural exchange and daily lessons about Cuban cuisine. Our days were jam-packed with lessons and activities. 8am breakfasts were followed by Spanish language lessons from 9am to 12pm. After lunch, we had lectures centered around Cuban cultural diplomacy. We discussed the Cuban Missile Crisis, Doctors Without Borders, baseball, Cuban ballet, and other facets of Cuba's culture and its diplomatic implications. Our Cuban professors also helped explain everything from why Cuba has two currencies to how Cuba's history has influenced the way locals think and act, and teaching us how to synthesize that knowledge in our daily experiences in Havana.
Our lessons were interspersed with excursions to Old Havana, salsa dance lessons, and free time to explore the city. Our days in Cuba were packed full, but it was great having fun breaks between lectures. Plus, constant engagement in activities helped distract me from the hot weather we faced in Cuba. There was no WiFi in Cuba, so sticking to the school's itinerary was not difficult for us. Though I often had free time only at the end of the day, I personally didn't find a great need to venture into town. I did organize an excursion with my friends one Friday evening, in which we took a public bus (guayguay) into town with the help of instructions from my host mother. Honestly, it was difficult to get around on our own to explore. However, with Estudio Sampere's very well thought out activities, my opportunity to explore my local neighborhood and engage in long conversations with my host family to color what I learned about Cuba through the personal experiences and testimonies from my host mother and sister was more than enough.
Russia
It was hard to say goodbye after 11 days in Cuba, but the Russian leg of the journey was waiting for us. Our school director drove us all to Havana International Airport, and after a few hours, we were boarding our Aeroflot flight to Russia. More than half a day and a connecting flight later, we landed in St. Petersburg. Not long after, an SRAS representative met us at the airport and we were driven to UNECON.
Upon arriving to the university, we went to our dorms and learned about the institution. St. Petersburg is SRAS' largest location and, thus, one of its most accommodating. We were given keys to our rooms, where SRAS had left us welcome bags with necessities such as some snacks and water, tissues, and more. After a long day of travel, those basics were much needed. Our paperwork and government documents were handled on arrival day by UNECON's International Department, and after a few days we were all given our school ID's and the documents we were to carry on our person each day.
The dorms were great because they were clean, well furnished, and had support from the watchman whenever we needed. The university is located in the city center, so transport is fairly easy and we had a supermarket just around the corner from the school. I quickly met more international students on different SRAS programs in the neighboring dorm, so making friends was very easy.
SRAS also hosted a welcome event on our arrival day, in which local Russian students welcomed us to the city. We met up in a large room full of refreshments and Russian and other international students. SRAS was great with providing resources for us such as the welcome event, our orientation the next day, the Facebook group in which events were announced, and weekly emails from April, SRAS's Student Services Manager based in St. Petersburg. Professor Nollan, our faculty advisor, was also very helpful when we had questions about activities or needed help with anything. SRAS was definitely very accommodating and they ensured that we were taken care of throughout our trip.
I'll admit that I was looking forward to the freedom that St. Petersburg would offer after spending time in Cuba with a strict schedule and little mobility (which is no fault of the program). Classes offered by UNECON were rigorous and challenging. We had a crash course in survival Russian throughout our weeks there, but our program was focused on diplomacy more than language. Our first three days in Russia were spent learning a concise version of more than 1,000 years of Russian history. Professor Naburkhina was incredible, and she successfully commanded the class's attention when teaching key points that explain why Russia is the way that it is. She provided a cultural background that made my surroundings feel more familiar, and her history lessons really shaped how I took in the rest of my experiences on the program.
Besides history lessons, we had lectures on business, journalism, marketing, sports, tourism, and more. Classes were nicely paced, but maintaining concentration during some three-hour lectures was definitely a challenge. I would prepare for the longer lectures by grabbing breakfast in one of the small cafes across from the university. The smallest break we had between classes was 45 minutes, which was good for a grab-and-go lunch. Generally, the classes gave me enough breathing room in between each other.
There was a lot of free time during the program, and these were the moments when I made some great memories exploring St. Petersburg either alone or with my new friends. SRAS helps you pick up easy-to-use metro cards, and by the end of the program I knew half of the St. Petersburg Metro system by heart. There were plenty of cafes, hangouts, bars, and clubs, with SRAS local guides offering their advice about which ones to visit. The program held included excursions and outings to concerts, ballets, operas, museums and more. The Facebook page was a great resource for the director of the International Department to get in touch with us about other events going on in the city. Really, the free time was my favorite part about being in Russia because of all that there was to explore in St. Petersburg. Because of my own curiosity, and SRAS's tips and support, I very quickly felt like I had been living in St. Petersburg for years, not just a month.
Interacting with local Russian students helped with the culture shock. The welcome party, Socials with Locals, and a scavenger hunt we did pushed me to engage with students my age in St. Petersburg. I'm happy that SRAS offered these events, because otherwise I would have had difficulty finding the courage to make connections with local students on my own. I learned about their lives and how they view Russia and the US, which was interesting and valuable for someone studying cultural diplomacy, like myself. I learned firsthand that we really aren't that different, and that learning about the world through immersions like this one, itself a great example of cultural diplomacy, greatly helps bridge gaps between people across the globe.
The Cuba-Russia Connection taught me a great deal about cultural diplomacy, and I returned home with a perspective on Relations with Cuba and Russia that's very different from generally-held beliefs back home. The program also taught me about myself and other youth, and how everyone reacts to cultural change differently. I'm so grateful that I participated in this program, because I learned so much about these wonderful countries, made so many strong connections with adults and youth alike, and most definitely had one of the most exciting summer experiences of my life through SRAS. The Cuba-Russia Connection truly pushed me to analyze why I think about global news and politics the way I do. This study abroad trip, along with the travels I've done in the past, was a fundamental and life-changing stepping stone in my path as an educated and open-minded global citizen. This trip has encouraged me to explore more of Russia, as its given me confidence in my abilities to adapt to and live in a foreign country like Russia.
More St. Petersburg Programs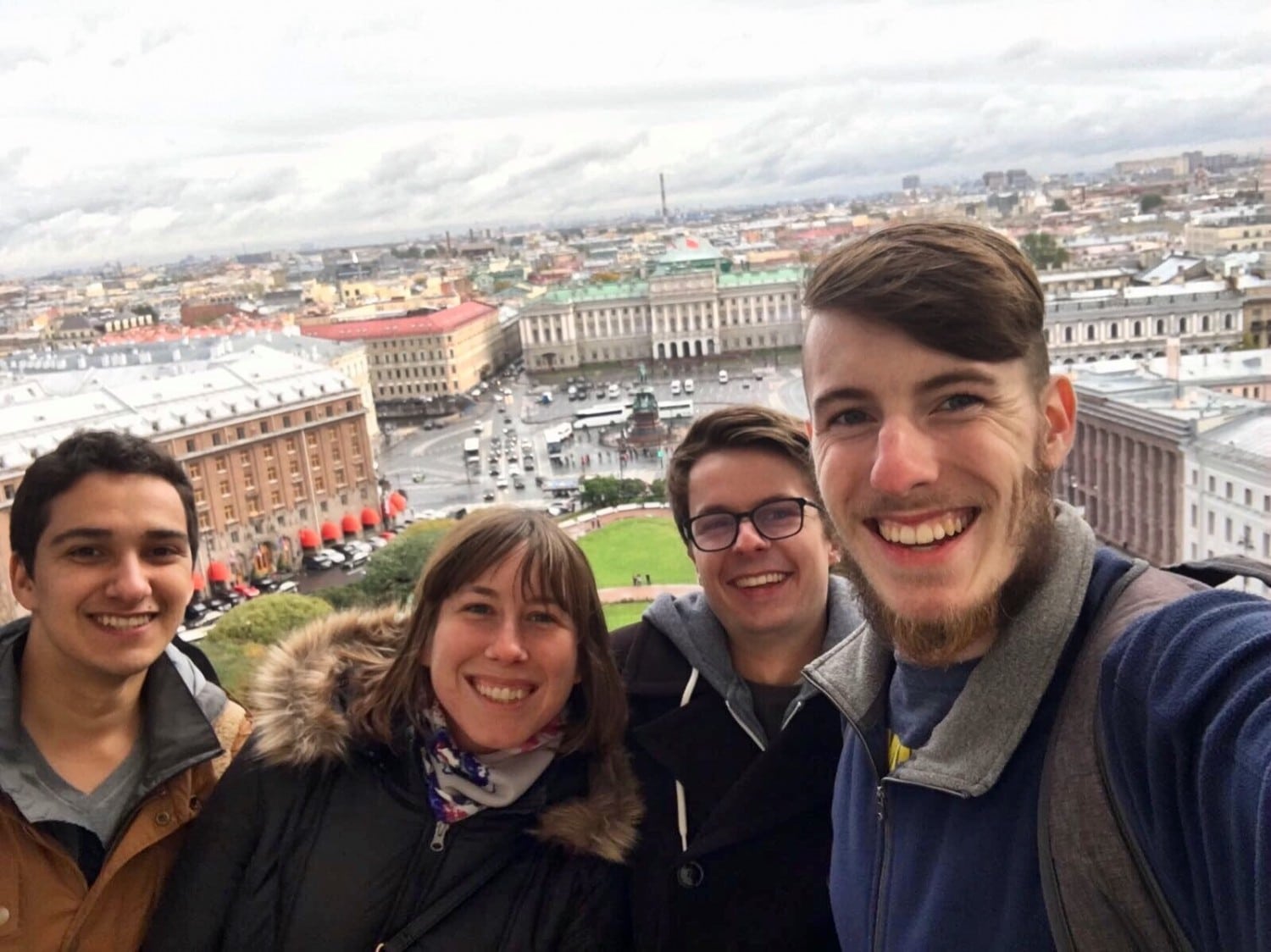 We asked some SRAS graduates to share their open and honest evaluations of their experiences on SRAS Study Abroad in St. Petersburg. SRAS actively seeks out feedback from students on all programs so that we can continually improve our offerings. Joe Ernst (Summer, 2019) Although there were several programs offering summer programs in Russia to […]