Крути педали/Kruti Pedali
Москва, Университетский проспект, д. 6, корп. 1.
Телефон: +7 (495) 642-19-42
Электронная почта: info@kruti-pedali.ru
Prices for rental start at $5 for the first hour
Hours (May to September):
Weekdays – 16:00 to 24:00
Weekends – 11:00 to 24:00
www.kruti-pedali.ru
Walking throughout the big city of Moscow can be extremely tiring sometimes, especially if one is simply trying to explore an area nearby or wants to quickly cover distance to see an interesting spot farther away. Hunter, Miles and I fell into the former group when we decided to rent bicycles and ride around the city for a few hours one beautiful, warm day after class. The bike rental shop we found, called Крути педали (Kruti Pedali), is located directly off of Университетский проспект (University Prospect). If you are arriving from the Университет (Universitet) metro station or the Академическя (Akademicheskaya) metro station, it is an easy 20 minute walk from either. Once you are looking directly at Университетский проспект, д. 6, корп. 1, Крути педали is found on the bottom floor of the left-hand side of the building.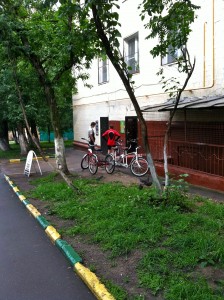 Крути педали is a small, one-room shop with bikes hanging from all four walls. When they are open, the employees always keep a few bicycles lined up on the sidewalk out front of the store to attract customers. To rent bikes from Крути педали, you simply show up and speak with one of employees standing outside. The employees that we have encountered were not able to speak English. However, if you do not understand the rental prices or need to ask a question, they are able to write down numbers and point in the direction you may need. When Hunter and I went to ask for prices, we were handed a brochure written in Russian. The brochure listed the different rental rates, biking paths that one can take as well as information on bike safety. The prices that we were given (in Fall, 2013) are listed below for reference:
1 hour – 150 rubles (~$5.00)
Each hour after the first – 100 rubles
1 day – 700 rubles
2 days – 1300 rubles
3 days – 1500 rubles
4 days or more – 400 rubles per day
After you arrive and choose your bike, you do not pay for your rental immediately. The employees gather one license, passport or other official ID from your group to keep as collateral while you are out with the bike rentals. The actual payments for the bikes are made after you return with the bike to the shop. In this way, they know how much to charge based on the amount of time you spent riding their bicycles.
Крути педали offers bicycles in all shapes and sizes, including a city bicycles (easy-riders), mountain bicycles and tandem bicycles. We three chose a mountain bike style because they already had a few sitting out in front of the shop. The employees made sure to fill up the tires with air before allowing us to continue on our adventure. Be sure to pay attention to their hours if you would like to rent bikes because during the week the shop is only open from 4:00pm to midnight, but on the weekends the time is extended to 11:00am to midnight. Being in Russia, I have found that it is more enjoyable to ride later in the day because the sun has warmed up the air, and there are many more Russian people walking about to people-watch as you ride along!
When we rented our bikes around 5:00pm that day, we decided to go to the park to ride down the steep paths in the shade of the big trees. The park where we began is called Воробьёвы горы (Vorobyovy Gory; Sparrow Hills) and it is located about a 5 to 10 minute bike ride from Крути педали and even closer to Moscow State University. After speeding downhill and weaving in and out of Russian pedestrians, we found ourselves passing straight through the park to the large paved walkway that follows along the Moscow River passing by the Воробьёвы го́ры metro station.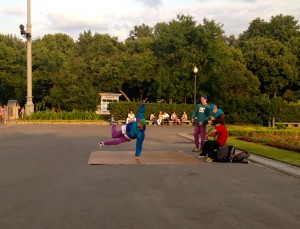 Along this pathway in the summer there are always hundreds of people riding bikes, rollerskating, tanning, walking and eating. These people make the ride beside the Moscow River very enjoyable and extremely interesting. In addition, the path is meant for bikes and pedestrians, meaning that you can ride at a casual and steady pace with a minimal number of vehicles needing to pass. We rode along the Moscow River, stopped to enjoy watching people taking a salsa dancing lesson on the boardwalk and continued on into Парк Горького (Gorky Park). In Парк Горького, it is easy to ride along the paths, but you must be sure not to run into skateboarders, pedestrians and other bikers, which are even more numerous here. The highlight of our adventure was being able to watch true Russian street dancers that were out near the front arches of Парк Горького. They were dressed in a mix of 80's/90's American-style clothing and danced to cheesy street-music was in English-language which made our experience truly exciting as they flipped and danced around the sidewalk. After a little while of observing, we continued on our bike ride back to our homes for dinner, full of stories from our bike renting adventure!
For groups or faculty-led tours, Крути педали would be an easy location to rent bikes to go around the city. The shop is very close to Воробьёвы го́ры (Vorobyovy Gory), held an enormous amount of bikes of different styles and the prices were inexpensive.