Пышки/Pyshki
25 Bolshaya Konushenaya, (Metro Nevsky Prospekt)
Open 9 a.m. to 10:00 p.m. daily
Snacks from 12 rubles
You probably know the place is good when you post a picture of your food to Facebook and your professor back in the States knows exactly where you got it because she ate the same thing at the same spot during the Soviet era. This place is so good it will probably be here forever.
Nestled down the Nevsky side street Bolshaya Konushenaya is this пышечная, or donut bakery. You might miss it if it weren't for the queue of people forming two lines in the doorway, leading to two small dining areas and counters. It doesn't matter what line you stand in, as you'll be able to get the same thing at each end. Quarters are cramped and small — even the ceilings are low — but suffering the elbow jabs and push of people trying get in is worth it.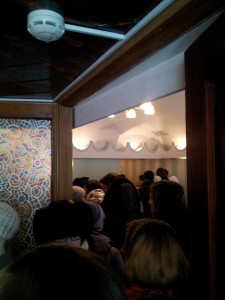 A mere 12 rubles will get you one пышка, though you probably won't be able to stop at just one. Unlike many Western donut shops, you won't have an array of donut flavors to choose from, making it easy to narrow down what kind of donut you want. Here, donuts look like mini funnel cakes from the state fair and don't have the frosting, sprinkles or other (albeit tasty) distractions. This place specializes in one thing and does it well — donuts with slightly crispy exteriors, soft and chewy on the inside, and covered in powdered sugar. 18 rubles will get you a small cup of coffee, with milk and sugar pre-added. Coffee 'mugs' are about a third the size of a standard mug, but at 18 rubles a pop, a few refills and couple of donuts make for an early morning breakfast of champions before class.
It can't be emphasized enough that the menu at Pyshki is pretty fixed and limited. One type of donut and a smattering of drinks are all that's offered. 25 rubles will get you a juice box, 40 will get lemonade, and 50 will get bottled Lipton iced tea. Most patrons seem to enjoy their pyshki accompanied by a cup of coffee – Russians and Americans really aren't so different in that respect, it seems.  Seating is just as limited as the menu, and getting a table will likely require a bit of luck and a good eye. When packed, you'll see a lot of people simply standing around or leaning against the wall, content just to indulge in this popular treat.
Once seated, you'll notice every table has a stack of little rectangular sheets of paper. Looking like haphazardly made napkins fashioned from printer paper, these, I've gathered, are for absorbing a bit of the grease off your donut or your fingers. Be forewarned, you'll really need them.
While the snacks are great and the prices even better, much of the appeal and charm of this spot is its history. It's been around for more than 50 years, and the interior is a retro and simplistic. This spot even observes the same pyshki making method as it did in the beginning — you can watch a video on YouTube of the process of how a pyshka comes to be by clicking here. (The video was made during the Soviet era when Bolshaya Konushenaya was called Ulitsa Zheliabova, which accounts for the name difference.)
For groups and faculty-led tours, Pyshki may be fun, cheap, historical and delicious, but the limited seating and cramped quarters are probably not ideal. This is best for a summer excursion, when you can send in one person for a big order and eat them outside.