Puzata Khata /
Пузата Хата in Kyiv
Контрактовая Площадь, 2/1, Подол
Mon-Sun 7:00-23:00
puzatahata.com.ua
Пузата Хата is chain of Ukrainian cafeterias that serves great food at affordable prices. The name literally translated means "Hut of the Pot Belly," and their tasty options will be sure to fill you up! Additionally, the wide variety is sure to have everything you want in an appetizer, main course, desert, or anything in between. Typically, meals cost between $5-$7. My personal favorite was the cherry vareniki with a side of Kvas!
If you're just in the mood for drinks and desserts, don't bother with the long line. Typically, there is another bar that serves everything from cappuccinos to пиво (beer) to cheesecake, often located on another floor from the main cafeteria. Every time I visit I couldn't resist from my typical latte and sweet treat, because it was always tasty and cheap!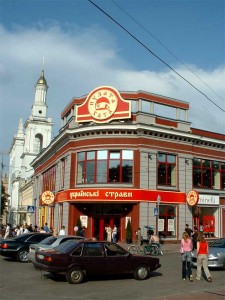 While there are numerous locations in Kyiv of this wonderful chain (the list of locations found here), the Podil location on the second floor near the bar is home to a weekly conversation club. Each night of the week, individuals meet to practice different languages. I attended twice a week, Russian nights and English nights. Since many friendly Ukrainians were willing to help me practice Russian, I felt I should return the favor by attending English nights and simply being the "native speaker" there. Plus, this was a great way to meet locals. We easily took up five large tables on English nights. In addition to weekly meetings, the club organizes different outings on the weekends, and this was a great way to explore different parts of the city. To keep up with the club's meetings, check out their Facebook page.
For Groups and Faculty Led Tours, this is a great place because, because there it is quick, affordable, and always lots of space. The restaurants are typically big, so there is always place to find a table. It's self-service. The benefit is the customer can totally customize his meal, trying authentic Ukrainian dishes, but the downside is that signs are only in Ukrainian and Russian. So, make sure you know what you're getting. There are twelve locations in Kyiv alone, so you're likely to be close to one wherever you are. After a nice walk down Andreevskiy Spusk, you will be at Kontraktova Square. If you walk straight along the square, towards the mounted horseman in the front of the square, and Пузата Хата is on the right hand corner. One of the other popular locations is located just off the Khreshchatyk, right around the corner from the metro station.
Note: This entry composed by Caroline Barrow drawn from her previous experience in Kiev. Nearly all pictures have thus been taken from the Puzata Khata official website.