Anticafes in St. Petersburg
Hang out and meet locals
Multiple Locations in St. Petersburg
Russian: антикафе. Also called a free space (свободное пространство), time-club (тайм-клуб), or time-cafe (тайм-кафе)
Anti-cafes are "free spaces" for you to relax with friends, keep busy with wi-fi, play board games or video games, drink tea and coffee, nom on some snacks… and you only pay for the time. Typically, the rate is around 2-3 rubles per minute, and most have some kind of cap on how much you can realistically spend per day. Some also offer hookah and musical instruments for your entertainment- it's free to use the instruments, but you gotta pay for the кальян. These cafes also host events like concerts, poetry readings, and language group meetings, so make sure to check their Facebook or VKontakte pages for schedules.
The anti-cafe concept is credited to Russian businessman Ivan Mitin. He opened Tree house («Дом на дереве») in Moscow in 2010, where it was assumed that all interested peoples would share the costs amongst themselves. As Mitin described the concept behind Ziferblat, Tree house's successor, as "to allow the guest to be autonomous," to allow them to be more focused in the social aspect of the cafe than the payment (wiki). Many of these anti-cafes allow you to bring your own food and drink, organize events, and have jam sessions.
Mitin, when asked about the theorized Russian 'predisposition' for collectivism, instead insisted it is a universal human archetype to be loved and become one's true self. "Everyone wishes to get back to the fairytale of the childhood… together to build a small world of their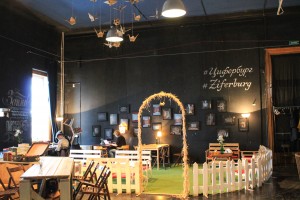 own where the 'stupid and artificial' rules of society wouldn't work."  One Ziferblat helper laughingly told me the story of an old Russian бабушка who loves to cook in the free space because it reminds her of the good times during the Soviet era. Creating your own little world within an anti-cafe is pretty much up to you, but some societal rules apply: many don't allow alcohol or smoking, and all request respect for the other folks in the cafe.
When I interviewed some Ziferblat helpers, they were adamant to define Ziferblat as a 'free space' and decidedly not an 'anti-cafe.' To be honest, there doesn't seem to be much of a distinction, as both are pay-per-minute, provide means for entertainment, and (to varying degrees) encourage a relaxed sense of community. Regardless, Mitin's vision has quickly generated time-cafes across the Russian Federation, and more slowly, in the rest of Europe. They provide relaxed and imaginative spaces to break up the monotony of to-go coffee and espresso vending machines, a contemporary take on the traditional salon culture. So clock in and check out the 'free-time' cafes around St. Petersburg!
Anti-cafes around Piter:
Ziferburg/Цифербург, Ziferblat chain, located on 4th floor of Пассаж in the peoples' project (Невский пр., 48) Metro: Невский проспект
Ziferblat in Loft Project Etazhi/Циферблат в Лофт Проект ЭТАЖИ on the 5th floor of ЭТАЖИ (Лиговский пр., д. 74) Metro: Лиговский Проспект
Ziferblat/Циферблат (Невский пр., 81) Metro: Площадь Восстания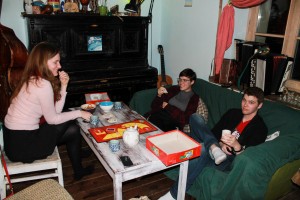 Miracle/Миракл (Мошков пер., 4) Metro: Адмиралтейская. Cute, my favorite, just a few blocks from the Hermitage! Great for a break between checking out the museum.
Fd антикафе (Невский пр., дом 11) Metro: Адмиралтейская. You'll need to buzz up, just say "anti-cafe" and someone will open the door. It's up a few flights of stairs, but you'll see the sign on the door. Rooftop terrace in the nicer months.
Freedom for People Антикафе (Невский пр., 88).Metro: Маяковская
Radiola/Радиола  (Невский пр., 32) Metro: Невский Проспект. A bit difficult to find: it's to the left of St. Catherine's Church.
Anti-cafe Free Time/Антикафе Свободное время (1-я линия В.О.) Metro: Спортивная (or Василеостровская if it's open).
Anti-cafe Club Mansarda/Антикафе Клуб Мансарда (ул. Марата, д. 36-38) Metro: Владимирская or Лиговский Проспект. Also a bit hard to find: arched doorway to the left of the bank, dial 3842 and the B button, take the elevator to the 6th floor, it's the entrance with two lanterns.

Compilation of anti-cafes (available for other Russian cities, too):
from Kudago
from Anticafe.com.ru
For more information about anti-cafes:
Wikipedia in English or Russian