Poznaya 38 is a chain of restaurants across Irkutsk that has a variety of Russian, Central Asian, and Buryat foods. It is very inexpensive, very fast, and the best part, very tasty! Meals here run 300-500 rubles ($4-8). There are several locations all around the city, and there are two within a 5 minute walk from the dorms, and one across the park from the university. My favorite one is the one right next to Modniy Kvartal, very close to the bus stop near the Babr statue.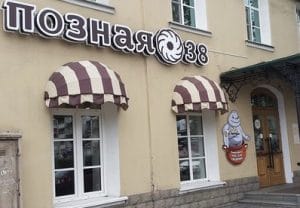 After walking in and seating yourself, you'll have a few minutes to look over the menu. Each location is exactly the same; the menu shows pictures and a short description of all the choices in Russian. The waiter or waitress will come to take your order after a few minutes, and then you pay as soon as you have ordered your food. After waiting a few minutes, your tasty meal arrives!
Unfortunately, the meat options for their signature and namesake dish, the pozy (Buryat dumplings: 47 rubles each), as well as the cheburek (a Central Asian fried pastry with meat inside: 70 rubles), and pelmeni (Russian dumplings: 110 rubles per portion) have pork in them (which I don't eat). Thus, I was not able to try them, but everyone I have asked say they are delicious!
While all their food is really yummy, I think their most underrated item here are their soups. They are always so incredibly good, and there are several different types. My favorite is the kharcho (110 rubles), a Georgian soup that features beef and rice and a lot of spices. The borsht (traditional Russian beet soup: 110 rubles) is also a big hit. While the soups usually come out piping hot, there were a few occasions where they were luke warm, and if you don't like that, you can always ask them to heat them again.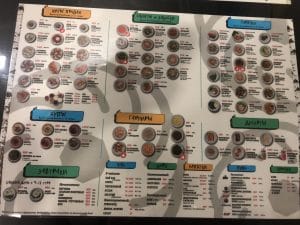 I also really like the vareniki (Ukrainian dumplings: 100 rubles) with potatoes and mushrooms. They serve them either boiled or fried, and always with a side of sour cream. I personally really like the fried ones, even if they aren't the most traditional type.
They also have several types of salads and other appetizers, including eggplant, carrot salad, Greek salad, calamari, and Caesar salad (all between 70-140 rubles). In addition, there are also many meat dishes, including a lot of goulash type meals.
Overall, Pozanaya 38 is a really good location if you are looking for an inexpensive and quick meal! Also, don't forget to try the mors (Russian fruit drink: 60 rubles for 0.4 liters), it is one of the best in the city!