Pizza M Café/кофейня
ул. Посьетская 20
Hours: 24 hour (круглосуточно);
Meals from $8 (500r)
PizzaM.ru
For every individual, the rate of new culture digestion differs. Some dive in one nationality and come out another. Others are slower to adapt to the process of new-norm acquisition. We all have ways of easing the challenging experience of processing so much new information, often by adding doses of old information. For some, this can be a stash of personally-imported peanut butter you find comfort in or time-zone-spanning Skype sessions with friends and family.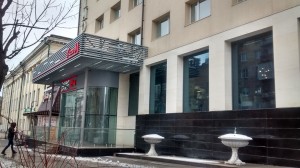 Pizza is another good option – a familiar taste easily found nearly anywhere on earth. In Vladivostok, pizzerias are located throughout the city. On the weekend dovetailing the end of Maslenitsa (Масленица) and the Defender of the Fatherland Day (День защитника отечества) a group of us set out in search of our cheesy coping medium.
Thanks to a couple of locals being part of our group, we made our way to one of the supposedly premier pizza joints in town. Neighboring elitist stores boasting Versace labels, Pizza M had all the appearances of fine dining. Part of a larger complex, the restaurant exudes a fair balance of style and comfort. Exposed metal architecture and large picture windows looking out onto the street provide a feeling of openness in a dining area not notable for its size. A dark color scheme and comfortable seating relax the interior atmosphere. After checking our coats on the first level, we made our way up to the second where we were met and seated by a host around a pillow-laden booth.
Taking one of Pizza M's menus, my first thought was a panicked one as the offers appeared devoid of beer. Spotting the taps at the well-stocked bar I found reassurance. This was confirmed as our waitress informed me that they had Heineken and Amstel on tap, the former of which I ordered for $4 (250 rubles). Espresso and sodas rounded out the drink order that was filled a short wait later.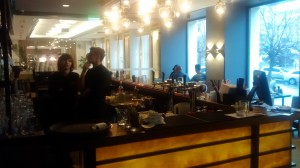 We also ordered a variety of pizza. From those topped with chicken and mushrooms, the international stylings of the margarita (маргарита), meat-heavy Roman (Римская) and pineapple-topped Hawaiian (Гавайская) and the classic cheese, all pizzas are further tailored according to size – small (маленькая), medium (средняя), large (большая) – and crust thickness – thin (тонкая), thick (толстая). Due to this variety in size and style, pizzas range from $3.50 (210r) to almost $11 (670r). Spaghetti with a pesto sauce at $10 (640r), chicken caesar salads for $5 (320r) a piece and my basil tomato soup at $3.50 (210r) made up the non-pizza delegation.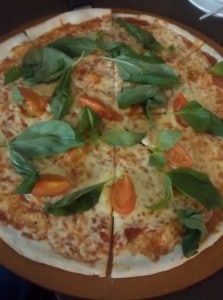 By the looks of the wreckage of empty plates, Pizza M's reputation is a well-deserved one. As to my own meal, I found the tomato soup to be largely to my taste: not overly salted or sweet with a substantially thick consistency. Though the small pool of oil on the surface I could have done without. I would also note that the group of young servers was very attentive and obliging in patiently wading through a long list of not always flawlessly enunciated orders. All in all, the pleasant atmosphere and service, comfortable interior and a final tab that fairly well undershot my estimates based simply on the upscale ambiance made the experience a decidedly positive one. So when that undeniable pizza hankering rears its head, you certainly will not regret finding its fix at Pizza M.