PinchukArtCentre
1/3-2, "А" Block, Velyka Vasylkivska / Baseyna Street
ул. Большая Васильковская/Бассейная 1/3-2,
блок А, Бессарабский квартал
http://pinchukartcentre.org/
Tuesday – Sunday, 12:00 to 21:00
Free admission
PinchukArtCentre.org

The PinchukArtCentre, located near the center of downtown Kyiv, resulted from a combination of art and oligarchy. Founded by Ukrainian businessman Viktor Pinchuk— who has an estimated net worth of $3.8 billion according to Forbes and is currently the second-richest man in Ukraine —the PinchukArtCentre is a testament to Pinchuk's money as well as cultural taste. Like most oligarchs, Pinchuk owes part of his fortune to close political ties, namely with the family of former president Leonid Kuchma, yet he has also long been one of the more generous members of the Ukrainian business elite and a patron of the arts. The PinchukArtCentre, with its modern exhibits, convenient location, and, most importantly, free admission, is one of the ways that Pinchuk has "given back" some of his wealth to his country and to Kyiv's visitors.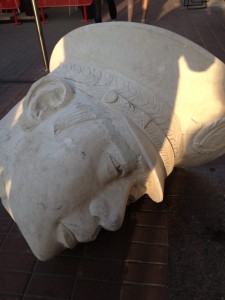 The centre's official website—accessible in English and Russian—explains that the PinchukArtCentre is "an international centre for contemporary art of the 21st century. It is an open platform for the artists, the art work and society. Its definite innovative profile is aimed at the dynamic interlacing of new production, presentation, and collection bridging national identity and international challenge." This contemporary artistic vision is evident even before entering the center, as visitors are greeted by a work of art on the sidewalk just outside the doors—a huge, fallen statue of an anonymous dictator, with the head cracked off and lying to one side.
After entering, each visitor is greeted by security and forced to relinquish his/her фотоаппарат (camera), since photography is apparently forbidden. Thankfully, though, they don't seem to take people's smartphones, so with my iPhone still in my possession I was able to surreptitiously snap some photos while the security guards weren't looking.
Though it does not appear to be a large building from the street, the PinchukArtCentre boasts three floors worth of exhibits to explore, and each floor has its own unique collections and artistic flavor. As with most art centers, the works on display change every so often, but the general atmosphere of the PinchukArtCentre is one of heady modernism and post-modernism.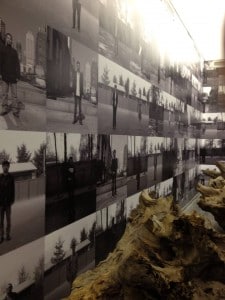 Currently, there is also a healthy dose of the Oriental, as the feature exhibit until 6 October is "China China," which the centre's website describes as "a major group exhibition including eleven Chinese artists of different generations, focusing on the tension between individuality and collective thinking." The exhibits of and about contemporary China were intriguing and well-arranged, even in the opinion of an inexperienced modern art critic such as myself, and the entire museum in general seemed to be tastefully laid out. Some of the non-Chinese exhibits, however, might not be considered tasteful by everyone, although there were minimum age notices for the more graphic and explicit areas.
Overall, the PinchukArtCentre is an intriguing cultural destination in Kyiv to explore and enjoy. While definitely not a "must-see" spot in a city with so much history and so many other attractions, its convenient location, array of exhibits, and free admission make it an attractive stop for the more artistically minded.
For groups and faculty-led tours, the PinchukArtCentre is recommended for its location and affordability, with the reservations that large groups might not be ideal, and photography is technically prohibited.