For the past seven months I have been living and studying in St. Petersburg, Russia through the SRAS Russian Studies Abroad program. Through the program, SRAS was able to set me up with an internship in my field and support me throughout the process from the initial meeting with the organization, and checkups along the way, to my final days in the position.
At the University of Virginia, I am a double major in Foreign Affairs and Russian and Eastern European Studies, with the ultimate goal of working in community and youth development for a non-governmental organization (NGO) in the former Soviet Union. My research interests particularly focus on the relationship between ethnic Russians and immigrants to Russia from the "south"- the Caucasus and Central Asia.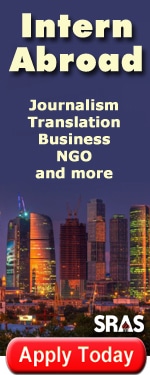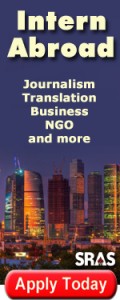 With that in mind, the wonderful SRAS St. Petersburg student coordinator, April, was able to find me a place in a local NGO called Deti Peterburga (Children of St. Petersburg), which fit my interests remarkably well. Especially taking into account the comparatively low number of social development NGOs in Russia, and the low number of organizations focused on and resources available to immigrants, I was really surprised at my ability to work with Deti Peterburga. Their mission is to help the children of immigrants adapt to a new life and prepare them for the classroom by providing free Russian language education. They also share Russian culture through field trips to parks, museums, and shows, and help parents enroll their children in schools. Having been founded in only 2012, the organization is still young and its goals are changing and expanding to fit the needs of its population. Since I have been working with Deti Peterburga, we have also began reaching out to Gypsy/Roma populations in the greater St. Petersburg area, and working to promote the UN Convention on the Rights of the Child.
My first interaction with Deti Peterburga was on my third week in-country. On a cold, cloudy January morning, April met up with me and we went to the office together. I was a bit shocked upon meeting my contact/counterpart/supervisor- I didn't really know what to call Yulia, but she was only a year or two older than me. Despite my initial questions about that partnership, it turned out that Yulia is a complete rockstar. Although, like most of the team at Deti Peterburga, she is a volunteer and gets paid occasionally, sporadically, and on a grant-by-grant basis, she works harder than almost anyone I know. Yulia managed all the volunteers, coordinated classes, pushed forward new projects, and worked with me, the awkward American, all while attending university full time. She spoke good English and was my only real connection to the organization.
One challenge I faced was that the Yulia didn't seem to understand the concept of an internship. At first she treated me like all the other once-in-a-while volunteers, giving me sporadic tasks. She kept apologizing that they didn't have funds to pay me! I set up several meetings with her to try to explain and clarify the concept of an internship and what role I really wanted to play in the organization before it finally clicked.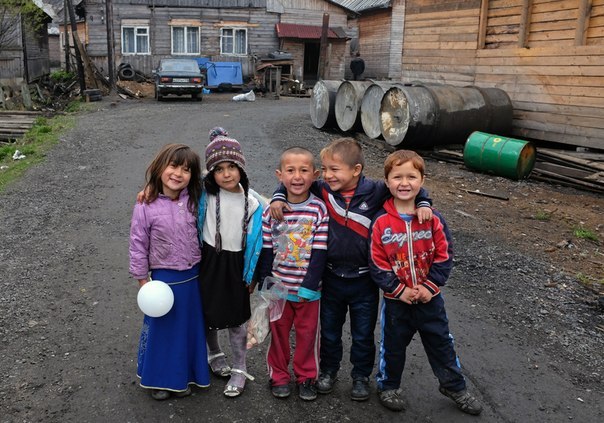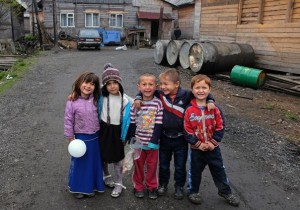 My internship was give and take. I gave my English skills, my experience with minority populations, my knowledge of American NGOs, and my time, and I took away the understanding of how Russian NGOs work, the ability to be comfortable in a Russian office environment, knowledge of the Russian NGO community, and wonderful experiences working with a variety of people in a variety of situations.
My place in Deti Peterburga was initially that of assistant teacher in Russian language classes for young immigrant children. While I loved working with the kids, and it actually helped my own Russian grow, I felt I could do more than be a babysitter. My roles and responsibilities expanded to include translating the official website, managing social media posting in Russian and English, occasionally taking photographs at events, chaperoning field trips, giving English/Russian presentations on how NGOs operate in America and on the UN Convention on the Rights of the Child, developing curriculum ideas for the new Roma-community outreach project, and planning a major end-of-project event. I even got to go with Yulia to represent Deti Peterburga at an NGO-fair! I've felt valued in the organization, and my ideas have been taken seriously, which, as anyone who has had an unpaid internship probably knows, is not always the case.
Another challenge was not having set working hours or my own place in the office to work. I had to be a self-starter most of the time, and find places where I could make myself useful. Despite Yulia's best translating efforts, there was also a distinct language barrier in group meetings, and especially at the beginning of my time abroad I felt very frustrated not being able to more actively participate in discussions and planning. Overall, those negative aspects did not overshadow my experience or dampen the feeling that I was doing good work and that I was doing something important. Personally, the best part about working for Deti Peterburga was that I whole heartedly believe in their goals and their methods. I feel like every contribution I make to the organization is pushing forward the dream of a more integrated, inclusive, and successful society.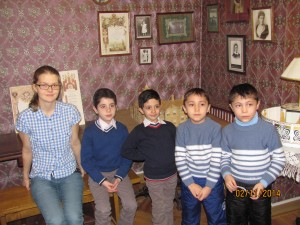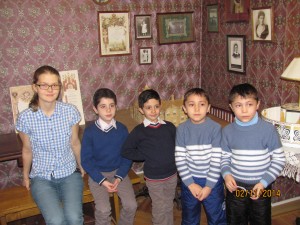 One of my favorite moments at Deti Peterburga occurred during our field trip to a small house-museum outside the city center. It was a 19th century manor home that had been turned into a public children's museum of private life before the October Revolution. The museum staff was excellent, with an interactive tour that taught the children (and myself) names of rooms and furniture which most of them, having lived in small apartments their whole lives, had never seen in person. We had a small group of children I had previously worked with, and two newcomers and their mother. She sat quietly in a corner, clearly unable to speak much Russian beyond "thank you" and "hello", and spoke to her children in Arabic. I was surprised because most of the families who come to us are from the Caucasus or Central Asia where Arabic is  not spoken, so I asked the woman where she was from in Russian, but she didn't understand. I tried pantomiming in broken English and her eyes lit up! She proceeded to tell me her story in near-perfect English. They were from Syria, her husband was a prominent doctor, and had come to Russia to escape the violence in their home country. He was now in the position of having to completely re-certify himself to practice medicine in a country where they didn't even speak the language. She had studied English and French in school, but never Russian. She now wanted her children to integrate into their new society, not knowing how long it might be before they could return to Syria, if ever. All of the families I've worked with have moving stories of immigration and the upheaval of their lives, but her story and her polite, adorable children stuck with me.
Working with Deti Peterburga was working with people, just like me, who were struggling to become part of St. Petersburg society. They wanted to integrate, to participate, and to thrive in their new lives. Yet, without language that is impossible. This is a hard truth I experienced time and time again during my own time abroad. I worked to be accepted by locals, to make new friends, to be treated with the respect and trust offered to your own people, and I found the more Russian I was able to speak, the easier those goals became. I can't say that I speak perfect Russian, or that I seamlessly blend in with Russian society, but I have made a place in my community and left a mark as it has left its mark on me. Deti Peterburga was an integral part of my experience here and I will leave the organization with a heavy heart. I know I will keep in touch with the amazing friends I've made here, the leaders of tomorrow's Russia, and continue to strive for the goals we all strive for: inclusion, acceptance, and love.