Paul Richardson is president and founder of Russian Information Services (RIS), a leading publisher of English language publications on Russia including books, maps, and Russian Life magazine.  RIS was also publisher of Russia Survival Guide: Business & Travel (1990-1996), one of the first truly informed business and travel guides to Russia post-perestroika. See his personal website here.

Paul recently spoke with us about his plethora of activities in and out of Russia. 
SRAS:  First, how exactly Russian Information Services started – what gave you the idea for it?
Paul:  It started in March 1990. I was living and working in Moscow, running one of the first joint ventures. I met a fellow named Dave Kelley, who was also running a joint venture. He is a lawyer, and we got to talking about the need for good business information for the people trying to travel to Russia and do business there. This was before there was a Moscow Times or any of the other hundreds of publications and resources now available.
So we decided to put together a book we called the Moscow Business Survival Guide. It covered legal norms, business customs, history, had loads of useful directory information and even a map of Moscow – the infamous CIA Map which had since gone out of print. In later years, this morphed into the Russia Business Survival Guide and we split the map and directory information out into two books, Where in Moscow and Where in St. Petersburg. RBSG went through 7 editions before I decided its time had passed.
SRAS:  For our layman readers, by the way, a joint venture (совместное предприятие) is simply a partnership often formed to share risk and/or expertise.  In Russia, such ventures are quite common because the risks in the Russian market are still fairly high, their experience with capitalism still fairly low, and because Russian law is such that incorporating as a "Russian company" can open many more doors for a business. More on Russian business forms
Can you provide more information about the history of this in Russia?
Paul: Well, in the case of the Soviet Union, it started in 1997, as a jointly-owned enterprise, each side contributing something to the start-up capital of the company. In most cases, the Soviet side gave real estate, while the Western side brought in capital, expertise or equipment. For several years, their development was hampered by the fact that the law only allowed up to 49% ownership to the Western side, i.e., the Soviet side had final control if push came to shove. And there certainly was plenty of pushing and shoving in joint ventures.
SRAS: One of things which put you "on the map" was your maps.  Where do you get the information from to publish these?

Paul:  The original maps were based on redrawn maps which the CIA produced during the Cold War era. Over the years, we have continued updating them to keep up with street and region name changes, etc., largely through on-the-ground research (otherwise known as driving the roads), comparing with other primary and secondary data, etc.
The maps (now out of stock, but going back to print in new editions shortly) were used throughout the 1990s by the State Department and US Secret Service to plan summits and what-not.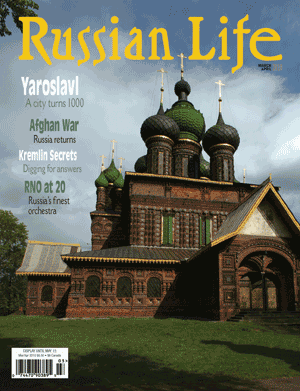 SRAS:  A good, interesting history of Russian Life magazine is available from your site.  However, can you give some of the behind-the-scenes history?  How did you find out about it, why did you decide to buy it?

Paul:  Well, the magazine has been published since 1956, first as USSR, then Soviet Life and now Russian Life. A joint venture was publishing it in the post-Soviet era, but that did not work out. So the western partner offered to sell it to us. We had been selling subscriptions to our customers (of maps and books), so we knew about it and were watching it flounder, thinking how good it could be if it was done right.
So this fellow offered to sell it to us. And we thought, "Well, we're publishing books and maps. How hard can a magazine be?" Well, of course, it is an entirely different animal, but we marched up the learning curve and now put out a pretty respectable publication, I think.
SRAS: So what has been the hardest thing about publishing a magazine?  How do you overcome the difficulties? 
Paul:  The hardest thing is the same as with any business, managing people and their egos and expectations and needs. This has some interesting permutations when you consider that we do 99% of our business by email, which can be a very antiseptic way of communicating. It would be much easier to deal with writers and artists and photographers if we met them face-to-face. But that really is not possible, because we have freelancers literally all over the world. In our recent issue, we had a contributor in the UK, one in Asia, another in Kazan, some in Moscow, and so on. Email is the only way we can reasonably be everywhere all the time. Which I guess is the answer to the second part of your question.
SRAS:  The other sections of the website, such
as Vodkaphiles (which particularly struck our attention)- how did they come about?
Paul: Vodkaphiles came about for a number of reasons, chief of which relates to a series of dinner and vodka tasting events we had – Taste of Russia – to promote the magazine and Russian culture. Incidentally, the sixth such event (which we now hold in Amherst, MA) just ended.  We had about 5,000 people show up to eat pirozhki, buy Russian souvenirs, hear Russian music, etc.
A more cynical observer might say we put up Vodkaphiles as a ruse to get free vodka. I will take the fifth.
SRAS: It sounds like you are now pretty steeped in the culture.  How did your history with Russia begin? 
Paul: It began in 1981. I was studying abroad in Carmarthen, Wales and there was this fabulous professor, Malcolm Gilbert, who just brought Russian history and politics alive. The culmination of a semester-long course in Russian history and Soviet Studies was a trip to Russia. Once I visited, I was bitten.
I went on to graduate school at Indiana University, Bloomington and got a Masters in Political Science and a Certificate (equiv of a Masters) from the Russian and East European Institute. I also did all my course work and defended my dissertation proposal. But before I could complete the research and writing on that, perestroika intervened and I went off to Moscow to run a joint venture.
I studied Russian for 6 years (including 4 intensive summers) at IU before going to Moscow in 1989.
SRAS:  Lastly, have you had any interesting travel experiences in Russia?
Paul:  Too many to recall or write about. I have traveled in country less than I like, being largely pinned down in Moscow when I was living there and working there. I have been back about 25-30 times since 1990 and mainly travel to Moscow and St. Petersburg, but increasingly I make a point of making at least one new sidetrip during each visit.
I can't say that I really have many wild or wacky travel experiences. What comes to mind are plenty of bizarre doing business stories that are too complicated or convoluted to explain without being mediated by a few pints of beer. Spending less time there now, I run into fewer of these kinds of experiences, which is both good and bad. They can be kind of tiring, but also kind of exhilarating.