Traveling throughout Poland now is a group of musicians who come from a rather unusual background. The band, Paragraf 64, is comprised entirely of current prison inmates that combine hard rock with hip-hop. They are part of a service program aimed to rehabilitate prisoners through community service. I had the opportunity to see this band perform live here in Warsaw, and it provided an interesting insight into the way these men are treated within the Polish corrective services.
The band was first formed in 2008. It's current composition has been together since 2013. The name comes from the 64th paragraph of the Criminal Code which concerns recidivism, or the tendency for someone who has been convicted of a criminal act to commit another criminal act. The band's mission is allow members to publicly apologize for their crimes and make amends though constructive community service.
The band is organized and supported by the Sławek Foundation. This group assists prisoners and juvenile detainees by supporting reintegration into society and supports convicts' families. The foundation runs job training programs and offers psychological counseling and legal assistance. The funds to buy instruments and recording equipment was more than halfway covered by the band members themselves, and the rest was provided by crowdfunding and album sales from their first record called My Guardian Angel.
The four current band members are all currently incarcerated at a prison located in Strzelce Opolskie, a small town to the west of Kraków in the south-west of Poland.
The concert I attended was hosted at the Academy of Special Education, a university for various pedagogical fields of study. I only knew the building and room number the event would be in, and after inevitably getting lost in the wrong building on campus, I eventually found the right place. In a hallway I saw a few people wearing tshirts for the band, and I followed them into an "aula," or lecture hall.
When I entered, the event had already began with a panel of speakers at the front of the hall next to where the band would soon play. It was, of course, entirely in Polish, so I only understood a few things here and there, but I could understand that they were discussing the band, the program, and their purposes. After a short introduction, the group began to play. They have four members: a drummer, bassist, guitarist, and vocalist, and a second vocalist that raps on a few of the tracks. The audience members were mostly university-aged students, and it seemed like most of the room was having an enjoyable time.
I first noticed that the bass player was one of the men I saw earlier in the hallway. I was so surprised that the guys that participate in this, all active prisoners serving lengthy sentences, are actually able to walk around freely in the facility. In fact, I didn't see a single police officer in the room, at least not obviously in uniform. It was amazing to see in action the amount of trust that they had built within the program; they do seem quite genuine in their motives for forming the group and in their message for society.
Although these band members still have considerable time left on their sentences, it's great that they have the opportunity to give back to society while serving that time. This venture gives them and everyone involved a unique chance to develop practical work skills in recording and performing, gives them confidence and something to work for and achieve, and thus, hopefully, gives them a jump start on the rehabilitation and reintegration process back into Polish society.
You can find more about the band on their Facebook page, including information about tours and performances.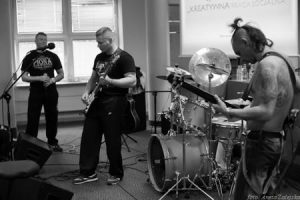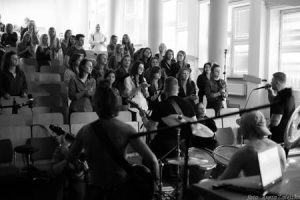 For more photos from the event, their Facebook page has an album here.
One of their more recent hits is "Mój anioł stróż" or "My Guardian Angel," which is a ballad to mothers and an apology to their mothers for how their lives turned out.