Paradox Café
2 Anielewicza Street
10am-12pm
Drinks for about $2-3
Wrzenie Świata
7 Gałczyńskiego Street
9am (10am on weekends) – 10pm
Drinks for about $2-3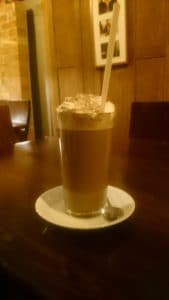 One thing that I love the most about Warsaw is that there is always a cafe or coffeehouse nearby, no matter where you are located. As I am not much of a fan of corporate-chain cafes and coffeehouses such as Starbucks (which is overwhelmingly visible and all-pervasive in Warsaw), I have made it a priority to seek out as many local coffeehouses and cafes as possible. While finding them has been an extremely easy task, finding those suitable for students (i.e. somewhere you can either study or socialize on a small budget) has not been so easy. I am therefore sharing information on my two favorite coffee spots that meet both these priorities.
The first is Paradox Café (at 2 Anielewicza Street). I found this place on accident when wandering around the city. Upon entering I was elated; it is a cafe devoted to all things science fiction and fantasy. Tons of science fiction and fantasy books line the walls — most in Polish, but they do have a few in English — along with portraits of Star Wars storm troopers. Further, they have many board games (also in both Polish and English), including but not limited to Battlestar Galactica, Trivial Pursuit, Monopoly, and various chess boards.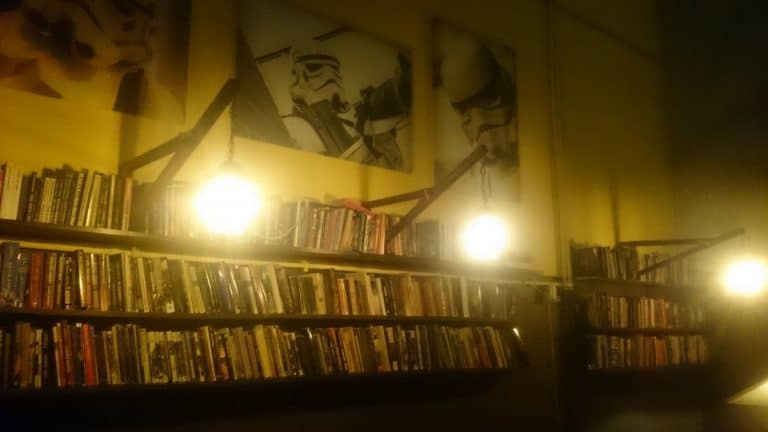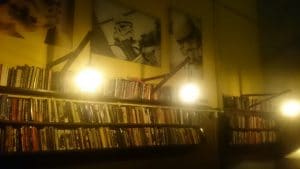 In hopes of meeting some fellow Magic the Gathering fans (this is probably one of the only things I currently miss about America), I decided to stay for awhile and ordered their specialty drink, named after the cafe itself (the Paradox Cafe). It cost me 12 PLN (about 3 USD) and was a mocha – coffee with chocolate added and whipped cream and cocoa dust on top. It was, simply put, delicious. They had pie slices up for grabs, and I was informed that the pie slices offered differ daily, but I did not indulge as I had just had lunch. At that time, around five p.m., the environment was conducive for study (no loud conversations, and the music — various indie rock artists — was at a perfect noise level), and thus I was able to read for about an hour. After that time, tables marked "reserved" started to fill up. Four girls sat at the table next to me to play a game titled "Siedem Cudów" (Seven Wonders), and so I began to ask them questions about the game. They invited me to play with them, but I lost terribly. However, as I gained four new friends, I still consider my participation a major victory. I have gone back three times since then, but always before five p.m. for reading and studying purposes. To get to Paradox from the Center, get on the Number 1 Metro towards Młociny and exit at Ratusz Arsenał. Walk north along the tram line until you reach a crossing (the street is called Andersa but I did not see any street sign), then make a right onto Anielewicza Street. The cafe is then located on the right side of the street.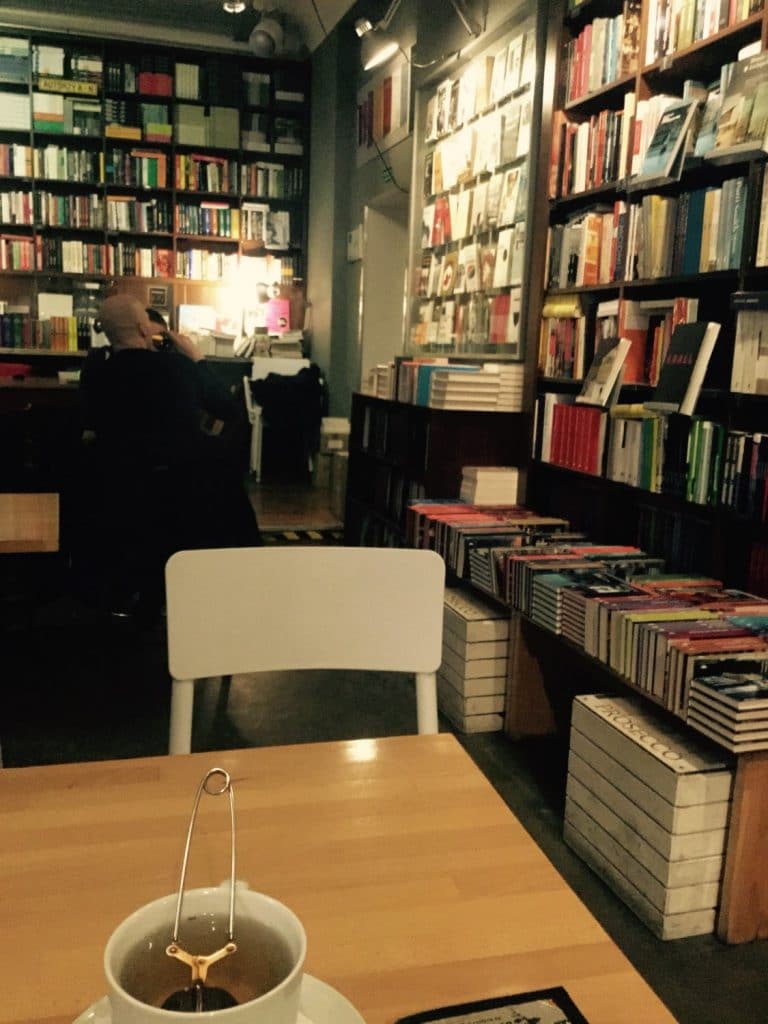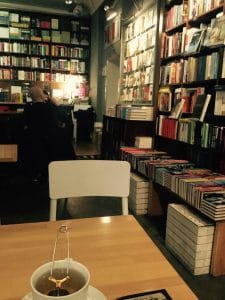 The second place I have found a personal favorite is Wrzenie Świata. It is located in Old Town on at 7 Gałczyńskiego Street. While it was not as big as Paradox, I found it to be an excellent place for study, as it has a modern library aesthetic, with books lined on every wall from the ceiling to the floor (though none in English, as far as I could tell). I ordered a white tea (7 PLN, about 1.75 USD), while the people who sat across from me were sipping beers and having a quiet discussion between themselves (so quiet, in fact, that I heard none of what they said, which was very pleasant as I was intent on getting more than half way through with Thus Spoke Zarathustra). I also ordered one of their rogal, which is a crescent-shaped Polish pastry. The place has endless pastries and, I've discovered, some of the best pastries I have ever had the privilege of devouring in my life.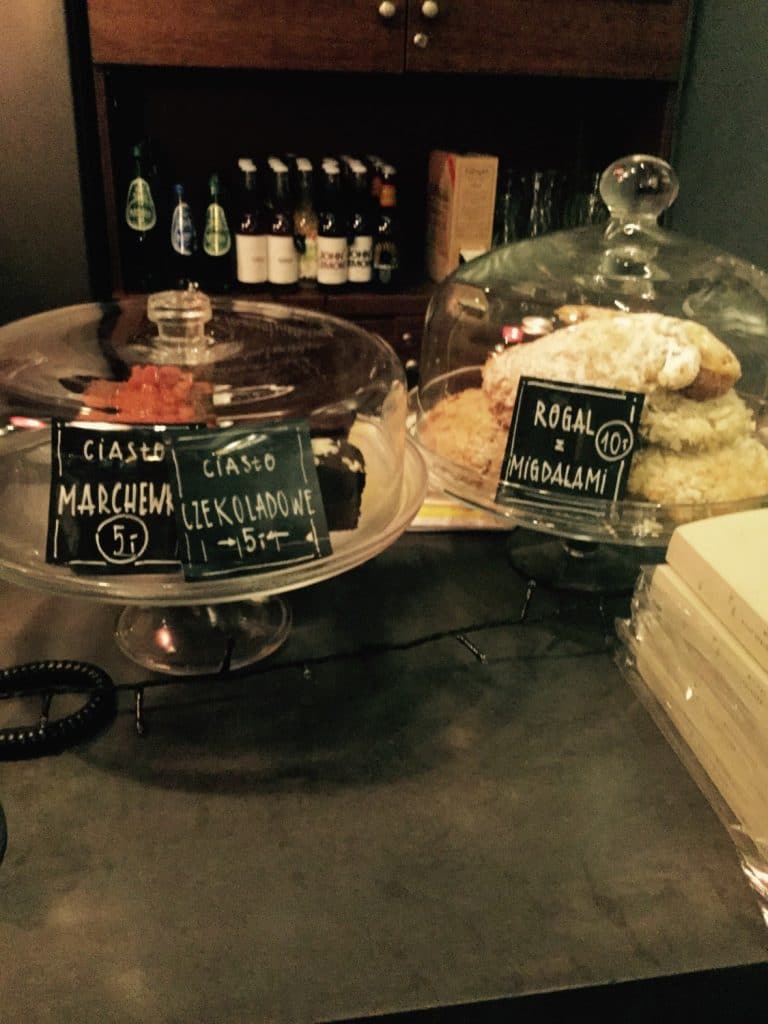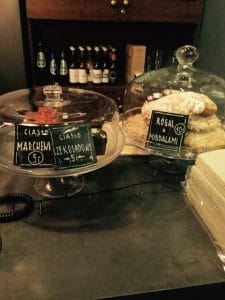 One of the things I liked most about Wrzenie Świata was the clientele. There were numerous internationals there speaking various languages, in addition to the walls being decorated with portraits of numerous ethnicities (the one on the wall next to me was a portrait of a Hindu man). I found it be a welcoming environment, especially due to the warm greeting given by the barista upon her discovering I was American (there is no hiding this fact, as trying to lose my accent in Polish has been very challenging). Alas, I was so focused on my book that I did not try to strike up a conversation with anyone, but I feel that if I had, it would have been relatively easy.
To get there from the center, take the Number 2 Metro towards Dworzec Wileński and exit at Nowy Świat-Uniwersytet station. Walk south until you reach Ordynacka, turn left, and about one or two blocks down is Gałczyńskiego street, where you will make a right.
I am still trying to find a coffeehouse that is open 24/7. As soon as I find one, I will write about it. For now, I suggest trying out these two cafes — Paradox Cafe and Wrzenie Świata — if you are in need of a study and/or socialising space. They are both warm, cozy, and welcoming atmospheres that are sure to meet your needs while respecting your wallet.