One weekend, my two friends and I decided to take a weekend trip to Olkhon. The planning for the trip was overall very simple! The best way to the island is to take a marshrutka (a small bus). The trip will take about six hours and cost 600-1000 rubles ($9-15) each way. If you have a Russian bankcard, you can buy bus tickets online, otherwise, the site is still useful for seeing the schedule. You can also buy tickets at the avtovokzal (bus station). Either way, it's best to try and book your tickets at least a few days in advance because they sell out pretty quickly in the summer!
The ride to Olkhon is beautiful – but bumpy. Be prepared if you get motion sickness. The marshrutka will drive about four hours, then board a ferry to the island, and then drive another hour to Khuzhir, the main town on the island.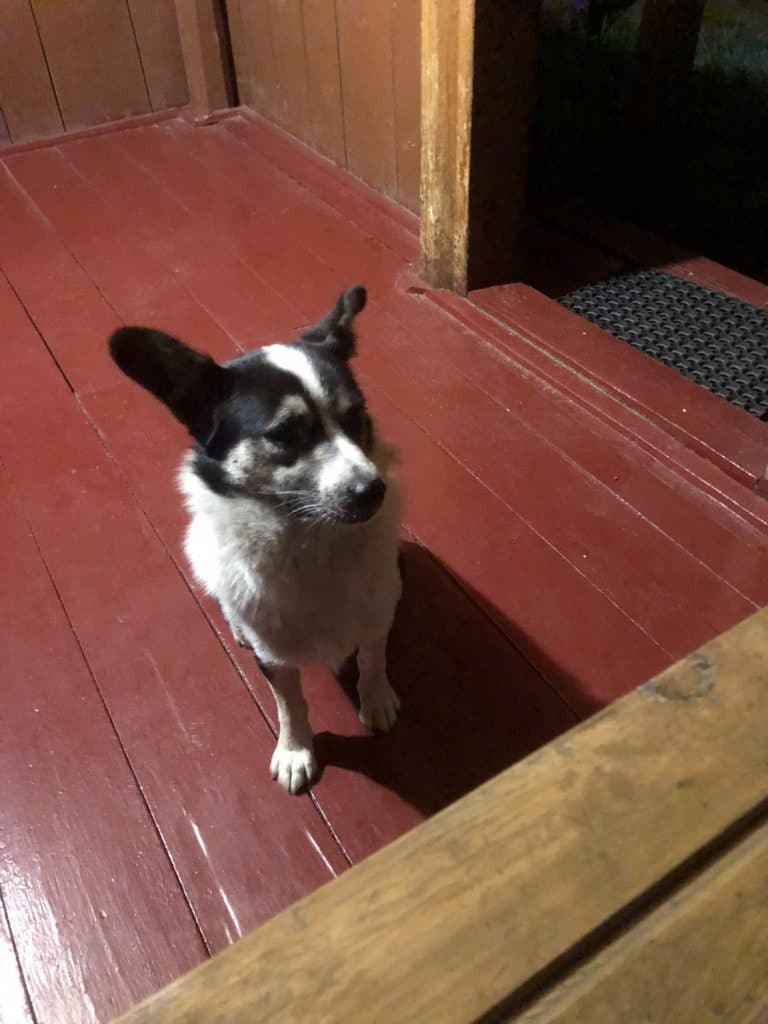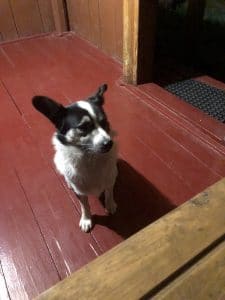 For housing, there are plenty of options in Khuzhir. We chose to do an Airbnb where we paid $15 each per night ($45 total with the three of us). The complex had several little houses, and we each had our own floor (essentially just a bedroom), with a little porch and table outside. There were about eight little houses, a large building with a dining hall, and then the restroom (that the whole complex shared). Many Airbnbs and hostels on the island are in this same complex style, and we really enjoyed it!
Once settled, we were ready to explore a bit! The main street has several little shops and restaurants, and throughout the weekend we visited several of these. Most of the restaurants serve the same food: buuzy (Buryat dumplings), plov (rice pilaf with meat), goulashes (stews), salads, and soups.
We also booked tours through Nikita's Homestead. I had read that this agency was one of the best and they were also one of the cheapest. We booked a sunset cruise (1000 rubles/$15) for that night, and a north island excursion (1500 rubles/$18) for the next day.
Since we had some time before the boat cruise, we walked over to the shore, and I finally got to swim in Baikal. This was something I had been looking forward to for so long! It was still very cold (the lake takes a long time to warm in the summer months), but bearable, and honestly so refreshing!
Our cruise that evening was lovely. There were a lot more people on the boat than we had thought (around 50 or so), but as I predicted, within 15 minutes of setting off, many people got cold and went inside. My friends and I were left with another 10 or so people (mostly Russian and French) on the deck, and we swung our feet over the side and watched the incredibly beautiful sunset!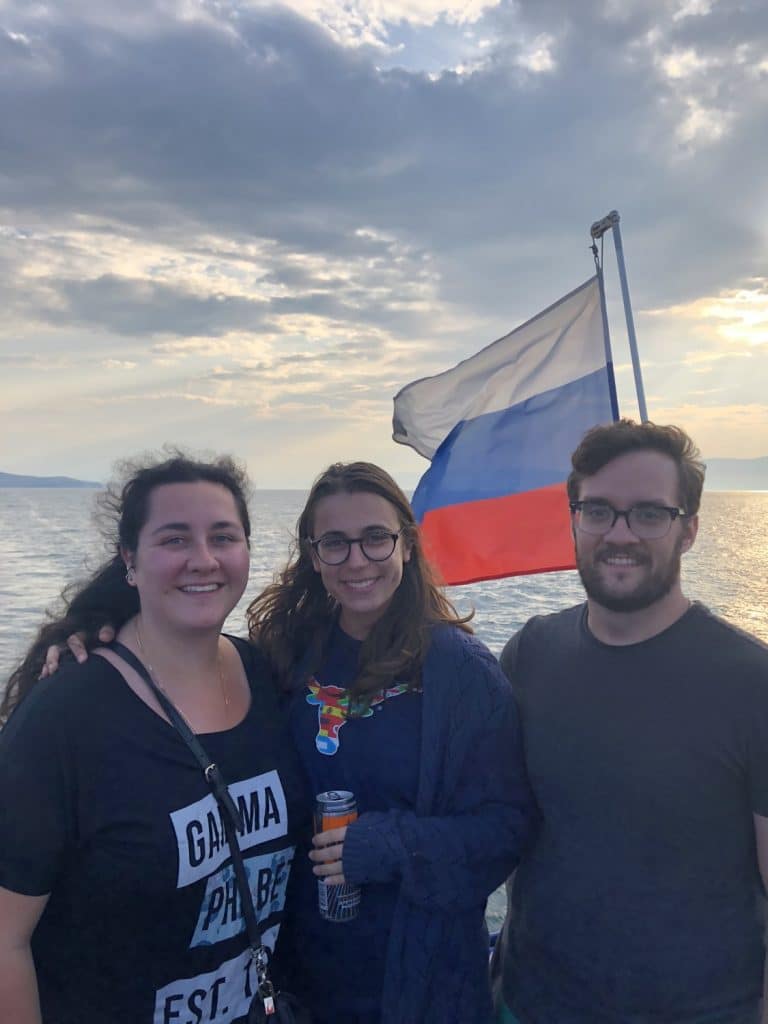 The next day we had an excursion to the northern part of the island. Most of the island's infrastructure and population (including Khuzhir) is on the southern part. The excursion started at 10 and finished around 5:30. We were in a military style marshrutka with three other Russian people from Irkutsk, and a Chinese couple. Our driver was very funny, and knew a lot about the island. He also drove like a maniac, which I learned was just how all the drivers did it. The island does not have any paved roads – so this was another rollercoaster. It was even bumpier than the first ride – and probably any other ride I have ever been in! But I honestly had a lot of fun, and even somehow managed to take a little nap for part of the ride.
We visited several sites along the coast, and throughout the north part of the island. The beauty of the island is indescribable. I compared it to Neverland (and there is even an actual rock formation in the shape of a crocodile, and another one of a skull!), and my friend described it as something out of Pirates of the Caribbean. At the very northern tip, the guide let us spend an hour hiking to the very tip while he cooked us a lunch of fish soup, sandwiches, and salad.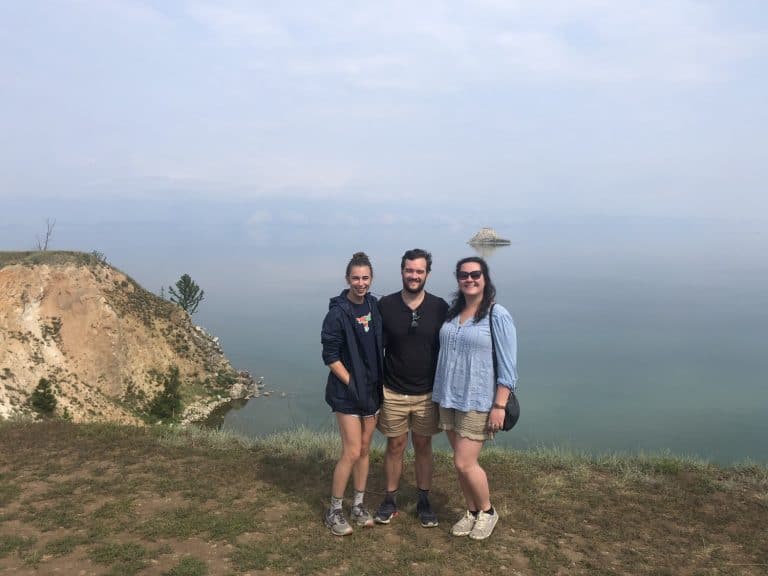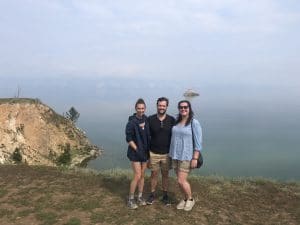 After arriving back, we decided to relax a bit at the beach again, and I went out swimming again! Once again, there was a beautiful sunset, which was an incredible way to wrap up the weekend. The next day we slept in, and after eating and relaxing, we hopped back on the marshrutka and headed back to Irkutsk. Even though it took me a while to have my brain stop shaking within my skull, unless you are very prone to motion sickness, I would really recommend doing a weekend in Olkhon!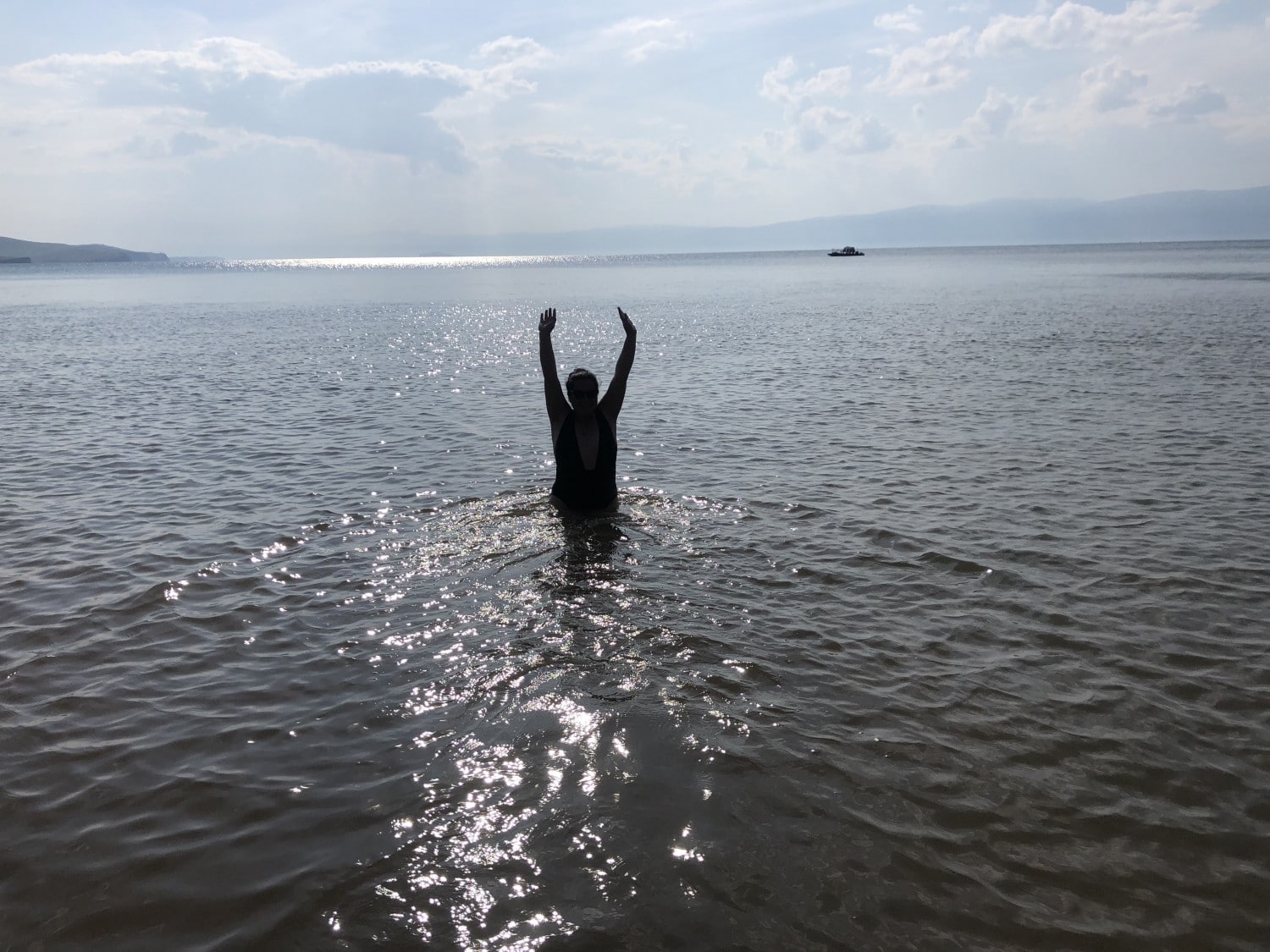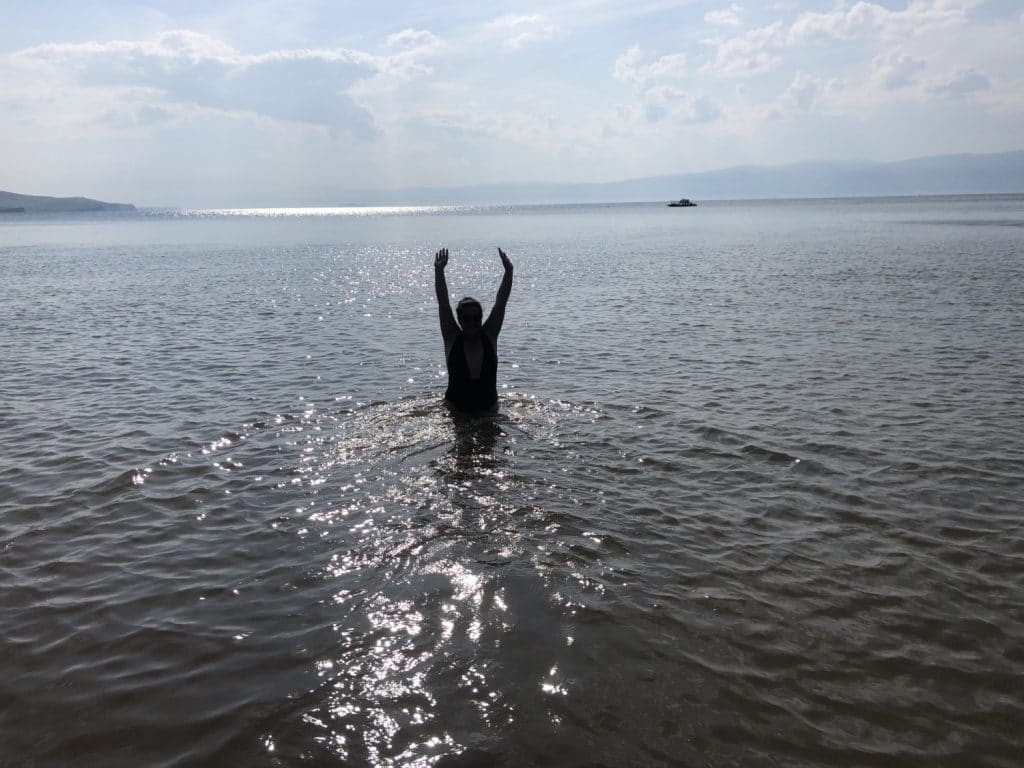 Weekend Trip to Olkhon Island
Three days (two nights) around $80 for transportation, housing, and excursions.