Under the Soviet Union, Bishkek was called Frunze. Mikhail Frunze was a Red Army leader that was instrumental in crushing resistance in Central Asia during the Russian Civil War. In his honor, the city, which had previously been known as Pishpek was renamed Frunze in 1926 when Kyrgyzstan became the Kirgiz (Kyrgyz) Autonomous Soviet Socialist Republic. The city changed its name to Bishkek once Kyrgyzstan gained independence from the Soviet Union in 1991.
The Museum of Mikhail Frunze in Bishkek was founded by the Soviets as part of their tribute to Mikhail Frunze. The majority of the museum – the top floor and the bottom floor – focus on the military and personal life of Mikhail Frunze. However, the middle floor is a tribute to Kyrgyzstan's accomplishments, both before and after independence from the Soviet Union.
Visiting this museum was a unique experience for the SRAS students, since this was the first time that we've ever had an exclusively Russian speaking guide. Thus, this doubled as a language lesson. The excursion lasted about an hour and included a lot of language pertaining to war and politics during the Soviet Union.
We were first introduced to maps depicting the territory of Bishkek and Central Asia going back to the 1920's. The purpose of these maps was to show how far Soviet rule had reached in these territories and roughly when it happened.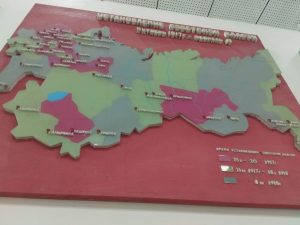 Since this first section was all about Mikhail Frunze, a larger-than-life statue of him was displayed at the far end of the first floor. Leading up to this point, we were introduced to items from Frunze's military career and from the Red Army in general. These items included hats, scarves, and weapons – guns and grenades – issued to soldiers of the time. This was accompanied by Soviet propaganda posters, pictures of Frunze at different points during his life and career, a carriage that he had once ridden in, and large and small statues of Frunze.
Finally, our attention was brought to a portion of this top floor, which was a mockup of Frunze's office. It was lined with pictures from his personal life, including one with his wife and one and only true love, Sofia Popova. This office included a piano since Frunze used to like to play piano and sing during his free time.
We then moved down to the lower level, which was focused on Kyrgyzstan and its developments as a whole, we were introduced to items dating back to the Space Race, spanning to this modern era. My personal favorite portion of this section was the portion on Kyrgyzstan's contribution to the Soviet Union's space exploration. A rocket was included in this ensemble, and what I had already learned about some of the pieces, or bolts, for the Soviet's spaceships being produced in Bishkek, which I had been told by my host dad previously, was confirmed by our guide.
In this section was also a submarine and an army officer's outfit. Army officers who were Kyrgyz and had served in the Soviet army were also displayed. A bust of one of the commanders in the Red Army, Turdubek Usulbekov, from Kyrgyzstan, was likewise displayed.
We then started moving in to general Kyrgyz items. This included things like komuz or qomuz, an ancient fretless string instrument used in Central Asian Music. There was then a section on Shoro, a Kyrgyz company that manufactures traditional Kygryz drinks: chalap, maksym, and jarma. There were two mini shoro buckets displayed. Then there was a picture of Kyrgyzstan's coat of arms, which was made following independence. There were also a few pictures commemorating Kyrgyzstan's development that included pictures of new shopping malls, business offices, entertainment centers, and manufacturing plants. It included Kyrgyzstan's newest shopping center, Dordoi Plaza, which opened within the last year. This wall was a testament to how far Kyrgyzstan has come since its independence.
After this, we made our way down to the lower level where there is a mockup of the home in which Frunze grew up in. This is probably the biggest highlight of the museum since, according to our guide, it is over 140 years old and the only one like it in the world. It is equipped with original items that were actually in Frunze's home. It included old books written by Dostoevsky and Tolstoy. We were told that Frunze's father made his own medicine. There was a section of the house reserved for that. There was a piano in the house that his mom used to like to play, which is where Frunze got his musical talent from.
Once we got to the bedroom, we learned that all of the family members stayed together in one room. The parents slept in the same room as their children. There was a rocking horse (детская качалка) in this room that had been used by Frunze as a youth.
After our tour, our guide asked us where we were from. It turns out that they don't get many visitors to this museum from America. We were asked to sign our names in a book and leave a brief memo, which all of us did. Despite taking the tour in Russian, rather than English as we usually do on program-organized excursions, I feel that I got a fair amount out of it, and would be curious to go back a second time towards the end of my time in Bishkek to see how much more I could understand.
I personally had never known that this museum was in Bishkek. I would recommend it to anyone traveling the region. It provides a wealth of information about Frunze, about the region, and the life-size, mock-up class house at the end of the tour is definitely a highlight.