Munich Pub / Мюнхен
ул. Светланская, 3, Владивосток, Россия
Hours: Noon-2am; meals from 420 rubles,
business lunch (30% off menu price) Noon-4pm
Munichpub.com
I had been making my rounds of the international fare as of late, from Georgian lavash (грузинский лаваш) and Japanese udon (японский удон) to Korean sea mustard (корейский миёк гук) and Peruvian tacos (перуанские тако). Such a track record would likely leave any analyst all but clueless as to surmising in exactly what country this rogue diner had landed himself. While my stomach is as of yet to waive the white flag of exhaustion as a result of this particular brand of cultural ingestion, I was not entirely against the possibility of finding myself behind a simple plate of western chow. As I was accompanied by a friend not so long removed from a tour of Eastern Europe, the proposition of stopping into a Bavarian pub (баварский паб) for a bite to eat sounded pretty appealing.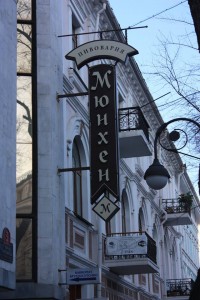 After checking our coats at the door, we were directed to the corner table in an utterly empty dining hall whose seating capacity easily outstripped any other establishment I had been to in Vladivostok. Realizing that we had arrived with but a minute to spare in the daily business lunch (бизнес ланч) 30% menu price-reduction (скидка), I was not entirely put off by the total vacancy. After all, the interior was fairly well executed in relation to their claim to pub-dom. Heavy wooden furniture left hardly any room to move under the light of faux-candle laden, wagon-wheel chandeliers. While the brick and mortar walls and exposed beams of the ceiling further contributed to an authentic, old-time atmosphere, modernity had obviously crept in as well. A giant projector streamed a hockey match with the assistance of a handful of flat screens and modern music by the Gorillaz, to my taste if not entirely fitting to the theme, played throughout our stay.
While being a bonafide pub in Vladivostok is generally distinguishment enough, Munich Pub also boasts the feature of being a brewery (пивоварня). While the craft-beer movement in Vlad (and in Russia in general) is all but non-existent in comparison to that of the American East-Coast, there are a handful of restaurants that offer in-house prepped brew. Though, interestingly, I have met many a native who has expressed skepticism as to the authenticity of such a claim, suspecting that the establishment purchases the beer in large quantities from a distributor and then just rebrands it. Regardless of the actual veracity of such claims, in my experience with the offerings provided by the handful of such establishments in the area, my taste buds have not exactly been surprised, pleasantly or otherwise, by the undistinguished flavors. Past experiences well in mind, I decided that a cup of black tea for 50 rubles ($1) would suffice on this cold, windy Friday afternoon and allowed my tablemate to try one of the four homebrews offered. For 170 rubles ($3.50), he seemed far from wowed by the pilsner (пильзнер).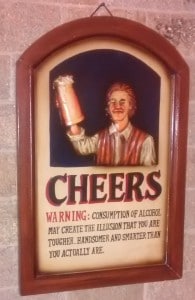 Browsing the food menu, the items were largely as to be expected: simple meat and potatoes style dishes and, of course, the obligatory schnitzel (шницель) and sauerkraut (кислая капуста). I requested the spaghetti carbonara (спагетти карбонаяа)  à la vegetarian sans bacon for 350 rubles ($7.50).  My companion initially wanted the schnitzel, but was denied on account of unavailability, forcing him into a less enthusiastic request for the European kielbasa (колбаски европейские) at 420 rubles ($9).
Being the only diners present in Munich Pub, I expected the orders to be prepared with no lack of haste. However, when within what seemed like hardly enough time to make it to the kitchen and back, the waitress returned with our food, I was not fully assured that we had not received the leftovers from the lunchtime rush. Further disappointment came in the rather insignificant portion of pasta, which when shaped into what resembled a modernist's take on an obelisk and placed in the center of a giant hybrid plate-bowl, did nothing to ameliorate my lack of enthusiasm. My friend also complained that the potatoes were rather cold and dry and that the mustard lacked the traditional kick he had become accustomed to when in the Eastern Bloc.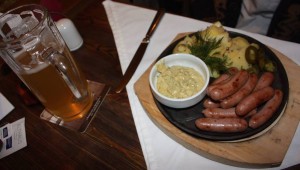 This place that markets itself as a small haven of Eastern European culture plopped down into Eastern Asia is doing a lot of things right. The furnishings and décor are spot on, the beer is, if not the most outstanding, at least not a bank breaker and weekends feature live music with a free movie showing on the projector every Sunday night. However, the total lack of natural light is a little depressing and the food is nothing worth writing to Aunt Gertrude and Uncle Gottfried about. All in all, while I see the potential and, granted, we came at a lull in the action, Munich Pub had too many marks in the negative column to compel me back down those stairs again any time soon.