Moskovskaya Kykhmisterskaya in Moscow
Embodying the Old, Embracing the New
12:00 p.m. – 12:00 a.m. daily
Meals from $10
Located conveniently just outside the heart of Moscow, not far from the busyness of the center but far enough for a quieter mood, Moskovskaya Kykhmisterskaya (Muscovite Cafeteria) can make one forget you are even in the city. This comfortable and affordable restaurant transports you back to 19th century Russia, offering a unique atmosphere and experience. Only a few stops from Moscow State University, it is as easy to get to from campus as it is from the Kremlin.
From the outside, the building that houses the restaurant looks simple and quaint, but step through the front doors and the extravagance of the decoration is impossible to miss. An ornate bar complements a spacious dining room, and the designs on the floors and walls use colors that give a distinctly Eastern feel.
On my first visit, my friends and I were led by the kind, sweet-speaking hosts to a breezy and relaxed outdoor dining area, perfect for escaping the Moscow heat. We sat in comfortable, cushioned chairs around a large table, not even able to hear the conversations of the party seated nearest us.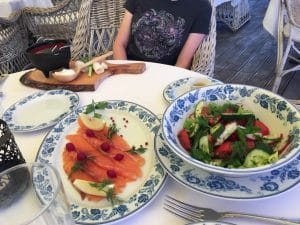 The first thing one will notice about the menu is its sheer length, with at least 25 sections of Russian appetizers, classics, vegetable dishes, meats, and of course, desserts. What took my attention next were the reasonable prices of most everything on the menu, with appetizers and side items hovering around 150 rubles ($3) and well-sized Russian classics like pelmeni (dumplings) and borsch (beet soup) running 350-450 rubles ($5-6).
After some refreshing kvas, the attentive and helpful waiters took time to recommend some dishes to us, perhaps noticing our eyes widen at the enormity of the menu. Having heard their recommendations, I ordered the Moscow-style kielbasa as a starter item, with Kuban-style pelmeni smothered in tomato sauce and mashed potatoes as my main course.
After taking our orders, we were treated to complimentary meat and cheese plates complete with selections of traditional Russian items. Our starters arrived shortly after, including my kielbasa and a few salads, all of which were passed around the table and proved to be light and flavorful dishes.
The main dishes unfortunately took a few minutes longer to arrive at the table than the starters did, but we were at the restaurant earlier than most people in Russia eat dinner, which is typically at 8 p.m. or later, so I saw no reason to complain. Plus, the restaurant's atmosphere and aesthetic made it easy to relax, enjoying the summer weather and company.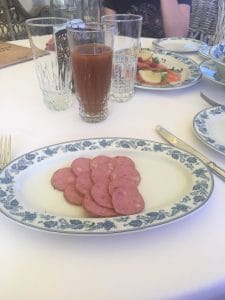 When my pelmeni and potatoes arrived, they proved to be well worth the wait. I was impressed by the size of the portions, even more so because of their reasonable pricing. The pelmeni dish was three large dumplings, stuffed with succulent beef and smothered in a rich, creamy tomato sauce. By itself, the portion was pleasantly filling, and not so rich as to deter me from enjoying further dishes. The potatoes were soft and light as well, providing a nice foil to the somewhat heavier dumplings.
The borsch received high praise from my native Russian friend, saying that it was perhaps even better than that which her grandmother makes. According to her, the selection of vegetables in the soup was varied, but not excessively so, and the tastes of all the ingredients contributed to a cohesive richness.
When we had finished our main courses, we decided to try some dessert to cool down from a long day spent out in the Moscow heat. The helpful waiters again recommended to us the best options, and I chose a Russian black bread flavored ice cream, a respectable portion of which ran only 150 rubles ($3). Very creamy, as all Russian ice cream is, it was refreshing without being offensively sweet, as some American ice cream tends to be.
Each course at Moskovskaya Kykhminsterskaya had a distinctly Russian flare, and the restaurant's food and aesthetic effectively and nostalgically harken to an older, less divided Russia without shunning a more modern taste. Between its beautiful décor, relaxing atmosphere, helpful staff, and well-priced fare, Kykhminsterskaya offers an authentic taste of Russia's national cuisine, but does so with the comfort of familiarity.