Students in Moscow report spending about $90-110 a week average over the course of their stay. This covers groceries, eating at the university cafeteria, city transport, an occasional meal out, school supplies, modest weekend entertainment, and other general living expenses. Note that this guide assumes 70 rubles = 1 US dollar. Prices current as of May, 2020.
In This Guide
1. Getting Started
Packing beforehand: Bring appropriate clothing, any electronics you need, and any prescription medication you are taking in amounts to last your time abroad. Check our packing guide for more information on preparing for your trip.
Card Fees. Call your banks and credit cards! Let them know the dates you'll be abroad, otherwise, they tend to shut them off when they appear abroad – assuming they've been stolen. Note that most US banks will charge fees for every transaction you make abroad. $5 and/or 3% for every ATM withdrawal, for instance, is not uncommon. Make sure you understand these fees and factor them into your budget. See our Guide to Managing Cash Abroad for more information.
After You Arrive: There are usually a few initial, one-time expenses for students getting started. All of these can be bought inexpensively at one of the big shopping malls in your area (can be Evropeyskii for the students living at the HSE dorm at Studencheskaya or Avenue for the MGIMO students). You may as well check Auchan on Ploschad Gagarina, a local Walmart-type store. A few common costs include:
Electric kettle: $10 (for coffee/tea/instant noodles/oatmeal)
Pot/silverware/plate/cup: $10
Water filter: $10-15 (or $2 for 5 liter bottles – folks generally don't drink from the tap) – i

n the HSE dorm, there are water filters on each floor offering boiling or cold water taps. 

Pens/erasers/school supplies: $10
Textbooks: $15 per semester (usually available on campus).
2. Incidentals & Other
Flexibility: You should always plan some flexibility into your budget. There will always be expenses that you didn't plan for – a new umbrella, a better coat, a short trip that a new friend invites you on that is too good to say no to, you get the point.
Hygiene: Shampoo, conditioner, deodorant, and toothpaste – in brands you are likely to recognize – run about $2 per package. Feminine hygiene products are around $4 per box.
Gyms: Moscow has a range of gyms including the more affordable SportLand and more upscale World Class Fitness and Gold's Gym. Most gyms in Moscow do not offer monthly memberships. A year membership can be found for around $135-235, which works out to about $35-60 per month over the course of a 4-month semester.
Laundry: If you opt to hand-wash your laundry (this is manageable but can be tedious and time-consuming), you will have the start-up expenses of purchasing two buckets, a scrub brush, laundry detergent, and a sushilka (a collapsible contraption for hanging clothes to dry). For this, you can expect to pay about $10-20. There are, however, free-of-charge laundry rooms at both HSE and MGIMO dorms (you only need to bring your own detergent). For additional laundry services you can go to Chistoff or Postirai, with locations around Moscow, including fairly near many of the dorms. Wash and dry costs between $2-6 depending on time of day and if you want your laundry washed, folded, and packed for you.
3. Food and Shopping

For general recommendations, see our Guide to Eating, Shopping, and Services in Moscow.
Groceries: Moscow has a range of supermarkets and rynoks; as an SRAS student, at least a couple of these will be shown to you as part of your orientation. Some dorm rooms may lack refrigerators, however (esp. if you are at MGIMO). Thus, students typically make infrequent grocery runs to purchase fruit, bread, coffee, other non-refrigerated snacks, or items for immediate preparation. Average weekly grocery bill: ~$10-20 per week.
University Cafeterias: Full meals of reasonable quality can be bought for $2-$5 each. Most students prefer the cafeterias as a primary source of food. Average weekly spending at the cafeteria: ~$25-55 per week
Eating out: Fast food, although not "healthy," is typically of a slightly higher quality in Russia than in the States due to strict laws on artificial ingredients and food handling. For fast food or street snacks, you might spend $2-$8. A mid-range sit-down restaurant will run you maybe $7-15.
Average weekly total food spending: ~$40-$55 per week
4. Transport
Students at MGIMO live on campus, near their classes. Thus, transport is not a daily need for most students.
For the HSE students, daily metro ride is usually a must.
Public transportation: Moscow's system uses the unified "Troika" card. You'll use it to pay for busses, trams, trollies, and the metro (subway). SRAS will supply you with a Troika. You will simply need to top up the card throughout your stay using the machines in every metro station and return the card at the end of the program.
The card comes with the "Кошелек" plan – each ride costs just 40 rubles (~$0.60). If you use another ride within 90 minutes of the first, that ride costs 22 rubles. Some students prefer to fill the card with 60 rides at time from the cashier at the Metro – this 1970 ruble (~$28) investment gets each ride down to about 30 rubles each, with no discount for second rides. This can be preferable if you usually only use the metro without the bus or don't tend to make short trips.
Taxis: Use the Uber or Yandex Taxi smartphone apps. Both use a complex algorithm to calculate the cost of each ride when you order it (weekends are more expensive, for instance). However, a ride from the center to the university is likely to run 400-600 rubles ($6-10), which you can split between friends if you all leave together. Do not hail cabs from the street. The apps are much more secure. Connect your credit card to the account for maximum security (no bargaining or cash involved!).
Marshrutki: These are vans – usually white – that duplicate city bus routes. They are private and do not accept the Troika card. You will need to state your destination when you step in, find out from the driver how much you owe, pay, and you will need to tell the driver to stop when you are near your destination. Most routes cost 45-60 rubles.
Average weekly transport spending: ~$5-15 per week
5. Communications
See our Packing List for more information about bringing electronics to Russia.
Mobile service and data: SRAS will supply you with a simple mobile phone while abroad. Students that use only these phones to call and text report spending around 100-300 rubles per month. Students with unlocked smartphones who get local SIMs for data and calling report spending around 500-1200 (see: Beeline, Megafon and MTS) rubles per month. This is recommended, as it will allow you to use online maps and taxi service apps. Cell service in Russia is usually pay-as-you-go with a monthly fee or prepaid service. You will not need a long-term contract. Students can also look into international plans through T-Mobile and Verizon that can be handy if you plan to talk a lot to folks back home while abroad. Activate these before coming abroad.
High-speed Internet: There is free Wi-Fi in both HSE and MGIMO dorms. In addition to that, HSE allows the option of free cable internet (you will only need to buy a cable – around $7). For MGIMO, cable internet will cost about $6 a month, depending on a plan (plus the price of cable).
Internet cafes / City Hotspots / Free WiFi: Internet cafes cost around $2-4/hour but are rare now in Moscow. Most of those that still exist, like Diskont, a chain with several locations, are concentrated in the city center. Free WiFi is available in restaurants and city-provided hotspots (like much of the Universities and public transportation systems). You'll need a Russian mobile number, however, to register on the free networks.
Average total MONTHLY spending for communication: $3-15
6. Free Time, Other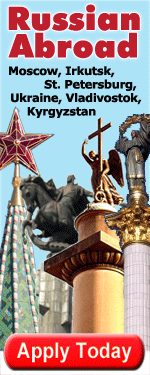 Entertainment and incidentals are the most variable expenses you'll face.
Random: Most museums will cost between free-500 rubles with student discounts, and all state museums and galleries are free on the third Sunday of every month. Bars in the center will charge around 200-400 rubles per beer, and maybe 300-600 rubles for a cocktail. Winter-time ice skating will start around for skates and ice time 700 rubles at most of the touristy areas. Run a search in the search box on the right column of our site for anything you might be interested in – nearly all entries come with budgets and logistics.
Souvenirs: never EVER buy anything in the center, and make sure to check out Izmailovsky Market. At this market, you can also haggle with vendors, and they often speak good English; however, use it as a chance to practice your Russian! Matryoshka can be purchased for anywhere from 400-40,000 rubles.
Travel: If you are going to blow some money in your budget – SRAS recommends you do it on travel. See more of the country and wider region and meet more of the people while you have the chance to do it quite inexpensively. Look at SRAS's extensive travel site for info about in (and out) of country destinations. Cities closer to Moscow can typically be flown to for less than $125 round trip (check Skyscanner), and 500 rubles per night in a hostel is a good rule of thumb while using Booking.com. The train system in Russia is extensive and affordable, but Americans and Europeans often have trouble using their bank cards online. Use Tutu.ru if the RZhD website won't accept your card. A day trip on a bus or elektrichka with a packed lunch to a nearby city to visit museums or stroll through parks or villages can cost as little as $15-50. Taking a short weekend trip to a location requiring a regular rail tickets, air tickets, and/or hotel or hostel can run as little as $200-400. You can find more information about domestic air travel in Russia or domestic train travel in Russia from our site. Let SRAS know EVERY TIME YOU LEAVE MOSCOW! This is for safety, but also because there may be registration or visa issues involved in your trip that we may need to advise you on.
Performances: A ticket to a movie will run about $5-12. Rock concerts can run from $8-infinity. Theater tickets can run about $3-200. Check out Afisha or parter.ru to find events!