Moonshine Bar
ул. Светланская 1, Владивосток, Россия
Hours: Mon.-Thurs. Noon-2am, Fri.-Sun. Noon-4am;
Entrees from 250 rubles, Beer from 200 rubles
Moonshinebar.ru
Of all of the local establishments in Vladivostok striving in one way or another to capture some aspect of American culture, no one seems to be doing so quite as successfully as Moonshine Bar. Located just down the street from many popular bars and restaurants, including Friendship Bar and The Two Georgians, this newly opened blues bar (блюз бар) is in the epicenter of the city's nightlife scene. Though it is reported that the owner of the bar, a local businessman with several other successful establishments already under his belt, took the idea from a similarly designed outfit he visited in Singapore, I felt as if I had stepped right back into the thriving new area of my hometown of Louisville, KY where a new bar, brewery or tavern seems to spring up everyday in the renovated confines of some rundown building.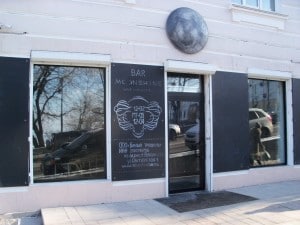 Polished cement floors, exposed overhead ducting and rustic brick walls comprise the basis of an interior outfitted with sleek black glass and unfinished wooden furniture, low hanging light fixtures which allow the overhead shadows to linger and, of course, a bar that seems to reach into the heavens. A continuous rotation of smooth to bitter blues poured over our table as I tipped back a neat (неразбавленный) Jim Beam and struggled to remember that I was thousands of miles from home.
The occasion for our gathering on this particular evening was a multi-facetted one. As the semester was coming to an end, my two American compatriots were soon to be heading homeward making an extra-scholastic rendezvous all but obligatory. Also, through our attendance of the monthly expats meetings, we had befriended an Australian student whose nearly yearlong stay in the city was also coming to an end. So, while a group-sendoff of sorts, we were also all anxious to check out one of the city's newer drinking holes.
With a beverage menu about twice the height and thickness of that of the directory of food selections, it is likely safe to say that most people are not coming here in search of savory satiation. That is not to say, however, that non-liquid items are not available for the ordering, as, with our first round of drinks on the table, the proposition of selecting something to snack on was roundly approved. With the arrival of the eggplant fritos (баклажаны фритос) for 250 rubles ($5), the mystery of the implications of the obviously non-slavic word in the menu's description of the dish were made apparent. While we had assumed as far as the likelihood of it being a fried dish, we were pleasantly surprised to find the eggplant presented as a mimic of potato wedges, or as the Spanish would call them, papas fritas. As the men went on to further explore the offerings of the drink menu, the female delegation delved into the sweets (сладости), resulting in the delivery of a small bowl of the pudding-like Spanish classic, Catalonian Cream, and the French millefeuille with apple and pear (мильфей с яблоком у грушей) each for 180 rubles ($3). Not a complaint was heard through the course of consumption and a waiter was always at hand to fulfill our requests, even despite the dense Friday evening crowd.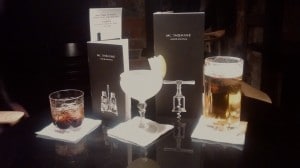 Apart from its newness and fairly unique niche in the area, this bar is also known for the creativity of its barmen who are open to suggestions and are happy to tinker with the ingredients of even the perfected classics. Trusting their judgment, a pair of requests for "something sweet" (что-нибудь сладкое) was placed to the readily accepting staff member. The resulting purple concoctions were met with much approval both in the way of taste and price tag, as they were just over the standard cocktail charge, at 350 rubles ($6) apiece.
If you are looking for a place to unwind over a drink or meet up with a handful of friends for a mellow evening, this is certainly the place to do it. The crowd here is certainly a bit older and less rowdy than what might be found at some of the other bars on this stretch of road, but it is far from a formal scene and falls fairly well into the realm of comfortable on a hipster scale that tends to tip dangerously towards the extremes of either obnoxious superiority or chaotic all-inclusiveness. A certain personal favorite and a good getaway for anyone missing their hometown pub.