Monica Belz attended Saint Petersburg University with SRAS in the summer of 2003. She had, we believe we can safely say, the quintessential Russian experience while there: living with a host family, traveling by train, and a good dose of culture shock with plenty of "banya whacking" and blini. Monica graciously gave us a bit of her time to talk about her Petersburg life, her beloved host family, and her many travels.
SRAS: What first sparked your interest in Russia?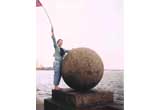 Monica: My interest in Russia was sparked when I met many Russian Americans at my high school in Vancouver, Washington. They became good friends of mine and I dated one of them for 2 years. During the relationship, I met and got really close with his family of 10. Their culture, food, language, lifestyle, etc. were so fascinating to me.
SRAS: So when you finally got "into the thick" of Russian culture, what did you find most interesting?
Monica: A major example was Banya, Vodka, and Blini Night. It was probably my 4th night in Russia, still on jet lag and still so confused about my surroundings. I come home from my day of classes and my host mom is making blini. She managed to communicate with me (mostly through a dictionary and a friend of her sons who spoke a little English) that she was making a ton of blini for the banya party that night…. they were having a going away party for her son's friend who was leaving for Europe the next day. They told me I was coming too. So we walk and walk and walk to this banya, as of yet I still wasn't sure what it was we were doing, exactly. I just followed and tried to listen as much as I could to the Russian, hoping to pick up any words I had learned the past few days. Once we got to the banya (there were 3 of us girls, and 3 guys). They heated up the sauna part and set the table with all the vodka and beer and blini with sour cream. They rolled up the blini and gave it to me. We ate tons and drank lots of vodka and beer.
Then off to the sauna we went, the guys in their underwear-looking bathing suits (I'm used to guys wearing baggy shorts for bathing suits, not underwear) and the girls in bras and underwear too. It was really uncomfortable because I'm used to more clothed people when you go to saunas or go swimming, especially around strangers. They insisted I just take off my clothes too but I stayed in my shorts and shirt. So in the sauna we went, and they carried in with them these huge leafy things in their hands.
They told me to lie down on my belly and roll up my shorts and shirt. Then they started whacking me profusely with the wet, burning banya leaves. I was already hot and the leaves intensified the heat. It was a little scary but I went with it, as I knew it must have been a cultural thing. They loved it, and after the initial shock of it all, I grew to love it as well. I got my turns throughout the evening to whack them too. Then out we went once it was too hot into this huge barrel tub full of freezing cold water. IT WAS SOOO COLD! Thanks to all the vodka I hopped right in and laughed off the icy pain. It was a lot of fun that night and full of laughter, drinking, and this seemingly endless cycle of hot sauna, lots of leaf-whacking, freezing cold water, more vodka, then all over again. It was a great introduction to the Russian people and culture.
SRAS: Why did you chose St. Petersburg to study in?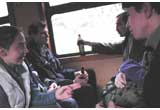 Monica: I chose St. Petersburg because I heard it was a much more beautiful place than Moscow, or anywhere else in Russia. It also had good schools. I also picked it because I heard the Russian language is the best to learn there. (It's the purest).
SRAS: So I take it your former boyfriend must have been a Petersburg native. Did the city live up to your expectations?
Monica: My Russian friends were not directly from Petersburg, but their grandparents lived there. I had heard a lot about Petersburg's beauty, and I had even heard if I chose to live in Moscow I would not have a good experience in Russia. I think both places lived up to their rumors. Petersburg was fascinating, with a lot of beauty, history, culture, and people. The city was so alive with art and theatres, museums, etc. Downtown (the center) was always breathtaking, even after a year. There was so much to see. From the bridges lifting during white nights or a dark snowy winter night, to the New Year's lighting all over the city with a giant "Grandpa Frost" lit up in front of the Kazaan Cathedral, the city never ceased to dazzle me. I often times wished I lived in a flat directly in the city overlooking one of the beautiful monuments or museums. I hadn't expected Russia to look so European, and in actuality only Petersburg did. By the time I visited Moscow I had a major bias for St. Pete. And although I loved Moscow for many aspects such as its great size, great Metro, rosy cheeked people, foreigner services and comforts, its fascinating and deep history, etc, I still believe if I would have first moved to Moscow, my experience may have been less exhilarating. Moscow seemed rougher, darker, colder, and just a tougher place to survive: a bit overwhelming actually. The metro alone could take months to figure out. I liked the smaller, quieter, yet still lively, gorgeous and explorable St. Petersburg.
SRAS: And did you get a chance to travel much outside of St. Petersburg?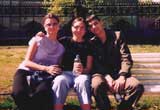 Monica: I went to Moscow several times for excursions, for play, and to catch the TransSiberian railway to go to Lake Baikal. That was the best trip ever! It was 5 days on a train to get to Irkutsk. We spent 3 days at the lake, then 5 days by train back to Moscow. I went with 4 other American student friends. We rode lowest class on the way there, WHAT AN EXPERIENCE! We definitely didn't get the lowest class tickets for our return trip home; we learned that lesson. I thought lowest class would be something like lowest class in US. I didn't realize we would be sharing an entire train cart with like 50-80 other Russians. It was a blast but I think we made a lot of people mad. We made a lot of friends but at the same time kept a lot of families up at night because we were not quiet after hours. I loved the pit stops where the Russian babushkas would sell peroshkey. That was my favorite food by far.
We were always so scared of missing the train if we went in the train stations for too long. One time my friend almost missed the train. She just got turned around and didn't remember which train was ours. She didn't speak enough Russian to know what people were saying about which train was which. The trains were taking off so she had to make her decision in panic. Thank God she picked the right one. After running through all the carts panicking she finally got to ours where she recognized our stewardess. We were all so scared because we thought the train left without her… she didn't have her jacket or her wallet or anything! We are thankful we all made it back, with only a couple close calls like that one.
Also, Lake Baikal was AMAZING! We went there in the winter so we got to snowmobile all over the lake, then went ice fishing out there, caught some of the common Baikal fish, went back to the lodge and the Russians prepared the fish for us and we ate it. Then we toured more of the wilderness area on the snowmobiles. That night we had a great banya at the hotel on Baikal. It was the best trip of my life.
I also went up to Helsinki by bus, so I got to see some of Russia's wilderness, in the winter time its spectacular. Looks just like a winter wonderland.
SRAS: We know that you didn't speak much Russian before traveling abroad to Russia. Do you think this was a help or hindrance to learning Russian in Russia?
Monica: I went 2 months before my semester started in order to learn as much as I could and because I did this I entered at the same level Russian language classes as students who had been studying in the states from anywhere from 2-6 years. If I had had time to learn some in the states it would have been nice but in general I think if someone wants to learn the Russian language, don't waste your time learning it in another country, just go there and learn it.
If I want to learn any other language, which I do, my plan is to move to that country for a year or so instead of taking classes here in the US. It's so much faster and purer. I was even told I had less of an accent than a lot of US students who had been studying it for so long in the states. In that sense, it was not a hindrance at all to come over cold turkey. One last note, Russian grammar is so difficult, it may have helped me out to learn it in the states before coming to Russia, I still can't comprehend all of it.
SRAS: And what are your plans now? Are you still using Russian in your schooling or work experience?
Monica: My plans now are to get my JD in International Law and hopefully dual degree that with an MA in Russian, East European Studies at UT-Austin. I want to continue studying the Russian language because: A. I love it and B. being bi-lingual is such a great trait to have, among many other reasons. Hopefully one day I can land a job where fluency in Russian helps a lot, possibly in Russia!
SRAS: So you have plans to come back to Mother Russia, then?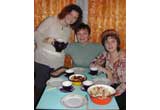 Monica: Absolutely! If not for work or study at least to visit my host family who became just like a real family to me. I still talk to them about 3-5 times a month on the phone… we love and miss each other dearly. It was one of the hardest things to do in my life, to leave them. We all balled and wept for days, and most of us were not emotional people. The bond was just so strong. And when it comes to the Russians, once you get into their heart, you never leave it. The same became true about them with me. It's a special relationship, I think it goes along with their extreme culture. I hope to study in Moscow or Petersburg for at least a semester during graduate school. I also may go there during a summer or two just to study the language more intensively in-between school years.
SRAS: So with your experience, what advice would you offer students looking to Russia for opportunity?
Monica: If you are not an open, patient, and flexible person, jumping into another culture and lifestyle coming from a U.S. lifestyle can be rough. Most people love it or hate it. I felt so bad for the people who hated it, some left early, some swore they'd never return… the others, although it may have taken them a while and more effort, found that mysterious passion and deepness of the Russian people and culture… and they will never be the same, and never look at Russia the same again. It will always be deep in our heart, like blood.