Mon Cher is a small Lebanese restaurant that's popular among NovaMova students for a number of reasons. First and foremost: it's literally a minute walk away from the school! This has come in handy many times, both in regards to my hectic schedule as well as the crazy weather in Kyiv. Secondly, Mon Cher is warm, cozy, and has an overall great atmosphere. The interior is decorated with bright colors and dim lighting, which makes it both peaceful and sociable. Thirdly, the service is extremely efficient. Most restaurants in Kyiv require at least an hour of your time, if not more. The waitstaff at Mon Cher might not waste time with pleasantries, but they certainly move at a quicker pace than anywhere else in the city.
My hectic schedule with the PCON program, hosted at NovaMova with SRAS, included extensive regional travel throughout Georgia, Armenia, and Moldova, an intensive Russian-language component (three hours per day), and a superb policy and conflict course. Also included were individual speaking practice twice a week, and countless excursions around the city. If you take the PCON program – you'll be glad that Mon Cher is there.
The restaurant is most popular for its "business lunch," which includes a glass of Uzvar (a Ukrainian drink made from fermented fruits and that tastes like spiced cider), a bowl of soup (typically borscht or shchi), a main course, and a small dessert. The business lunches, unlike the normal Lebanese meals served, are always traditional Ukrainian dishes. Some of the lunches I've enjoyed at Mon Cher include chicken Kiev, buckwheat with chicken cutlet, and solyanka (soup).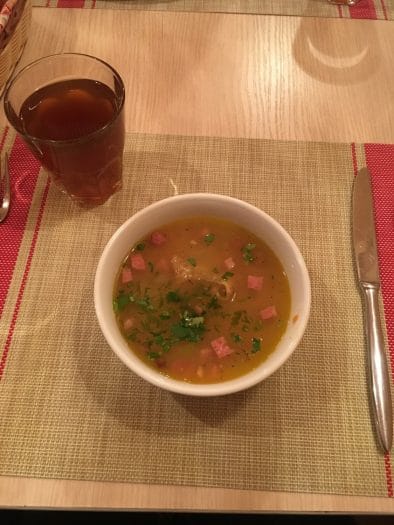 Upon arrival, a waitress will walk you to a table, confirm that you want the business lunch, and immediately bring bread and glasses of uzvar to your table. Within five minutes, you'll be served your first course (soup). Once your bowls are empty, your main course will appear. It's always amazing to me how attentive the staff is, especially considering how rare it is to find quick service in Kyiv. You can easily be in-and-out of the restaurant in under thirty minutes!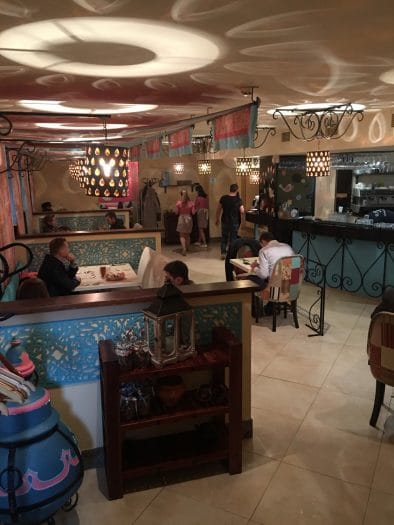 Mon Cher really couldn't be any more convenient in regards to location, efficiency, and quality. If you have a chaotic schedule like I do, be sure to stop by the Mon Cher restaurant for a delicious lunch!
Mon Cher Restaurant- Kyiv, Ukraine
Location: Yaroslaviv Val St, 11, Kyiv (1 minute walk away from the NovaMova Language School)
Cost of meal: 88 UAH (~$3.25)