Mimino Georgian Restaurant/Мимино Грузинская Кухня
27 Киевская улица
Meals from about $5 and up
My tongue may be burnt and I may have come home later than my host mom expected (oops, sorry Mira!), but my evening at the Georgian restaurant, "Mimino" was definitely worth it.
Before class this morning, when I heard a group of American students at the London School in Bishkek were heading out to find a highly-recommended Georgian restaurant, I scrambled to join them. Georgian is probably one of the most exciting of the post-Soviet foods, featuring strong cheeses, rich wines, and lamb. Ohhhh, how I love lamb.
After all our classes wrapped up, our little troupe headed out on a Friday excursion to find our new friend "Mimino." We had a little bit of trouble finding the location (not that it's hidden or anything) and had to ask a couple of people on the street for help with directions. In case you're planning a trip there yourself, walk North on Baitik Baatyra (though it's only referred to as "Baitik Baatyra" on street signs, everyone here still calls it Sovetskaya Ulitsa) and take a right on Kievskaya – it's past the hospital (on your right) and a future shopping mall site (on your left). You enter the premises through a gigantic piece of Georgian pottery adorned with colored lights and the word "Mimino."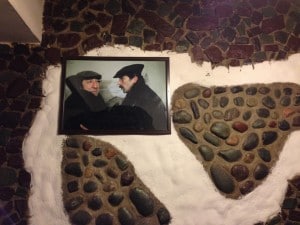 Named after a Soviet comedy about a fictitious Georgian pilot, the Mimino restaurant in Bishkek has an inviting, cozy atmosphere not unlike what I would imagine a little Georgian mountainside restaurant to have. It was cozy, not incredibly brightly lit, and covered in intricate wooden carvings and pottery I can only hope were made in Rustavi or Tbilisi or a tiny Georgian village I haven't heard of yet. A couple of walls also paid homage to the restaurant's namesake himself with a few framed photos from the movie.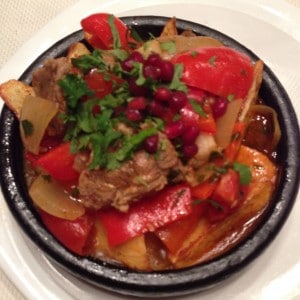 After being seated in the middle of the dining room, our team faced the real challenge of the afternoon – trying to decide what to order from pages and pages of delicious options. Our server kindly offered to help me out when I told him I was overwhelmed by the billion choice menu; he narrowed it down to a few good options. I settled on Odjahuri: a lamb, vegetable, and potato dish (yum, lamb) that came served in it's own little clay pot and continued to cook on the table in front of me long after the server delivered it. It smelled fantastic and was topped with seasonings and pomegranate seeds, so I started in long before it stopped sizzling – a decision I only slightly regret. Delicious.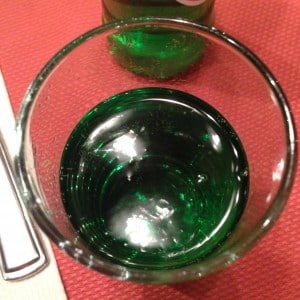 I cooled my half-melted mouth with Tarhun, a terrifyingly green-colored Georgian soda, which is popular all across the former Soviet Union. I'd never braved to try it before today, but was pleasantly surprised with its licorice-y sweet flavor. Another friend, Corinne, (who, like me, is studying Russian through SRAS at the London School in Bishkek) ordered Hachapuri – a Georgian food that's kind of like two cheese pizzas on top of each other, baked/fused together. Unfortunately, she just couldn't finish her portion and I dutifully ate her last piece. Most members of our group were full when we finished our respective meals.
The only difference between my imaginary mountain getaway and this restaurant was the live music – a funny karaoke station amongst the cozy, homey, Georgian set up. The large, black speakers and computer were oddly juxtaposed against the shelves of brown clay pots and wine-themed décor. For most of the evening, a very talented woman sang versions of old Russian and (possibly?) Georgian tunes, in addition to such hits as Daft Punk's "Lucky" and Frank Sinatra's "The Way You Look Tonight" from the corner of the dining room. Her presence added an extra 80 som (less than $2) a head to our check, and although she looked a little out of place, she sounded pretty good. It was kind of a funny add-on to an enjoyable evening.
Overall, Mimino is more pricey than the average restaurant here in Bishkek, but it's definitely worth the extra few soms.