Michel's Bakery/Пекарня Мишеля
ул. Суханова 6а, Владивосток, Россия
Hours: 9am-11pm everyday; Meals from $9
Michelbakery.ru
Rumors of western culture crossing the border into Russia have a knack for creating quite a stir. This is especially true when their arrival is expected in the Far-Eastern, long-time closed city of Vladivostok. As the city's primary external influences largely hail from its fellow dwellers on the orient such as China, Korea and Japan, European and American cultural imports are valued all the more for their modest quantity. Thus it follows that when news came to light of Michel's Bakery, a chic international French bakery with locations heretofore only in Tokyo, Paris, and Moscow, deciding to make Vladivostok the fourth on its exclusive list of host cities, it had the locals' attention.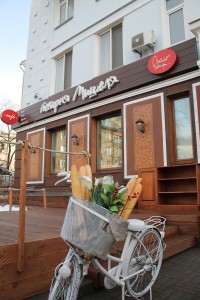 Making its grand opening at the beginning of 2015, Michel's entry into the market was not a humble one. Not only did it arrive in a time of a falling ruble in the world market, but chose to make its neighbor one of the most popular restaurants in town, Milk & Honey, which, moreover, is perhaps best known in its café capacity. While only time will tell the lasting results of this plucky endeavor, a premature assessment would seem to promise only positives.
Strolling in on a Friday afternoon between the rushes of lunch and dinner, we found the interior solidly populated with only reserved and a handful of twin-seater tables unoccupied. Our twosome slid comfortably into one of the troika of half-booth tables in the center pit of the room.
First impressions of Michel's Bakery are bombarded as not even the ceiling was off limits when it came to adornment. The decoration scheme is a hybrid of southern comfort and modern style. Metal placards sporting sappy sayings in English and famous faces line the walls, overhead is a whirling pool of words in French that look to be as if done in chalk on a blackboard and a large panel window painted over with flowers and hot air balloons inscripted with items menus colorfully displayed in Russian divides the room. Our center seating area – half wrap-around booth, half patchwork-quilt chairs – is surrounded by an L-shaped, slightly elevated congregation of four-seater sets. While the patio area has as of yet to open for the summer, this does not seem to be the place to bring a crowd of people. Groups of more than four would likely be stifled by a coziness clearly intended for more intimate parties.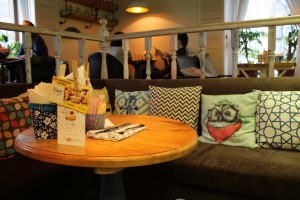 Having seated ourselves, we noticed a sign indicating that orders are placed at the register (у кассы). Glancing through the glass display case of pies and browsing the rich selection of breads and pastries, we kept things light on our afternoon run through grabbing a classic baguette (багет) for 50 rubles ($1), a serving of chicken quiche (киш с курицей) for 150 rubles ($3) and splitting a teapot (чайник) of Milk Oolong tea (молочный Улун чай) for 240 rubles ($4.50).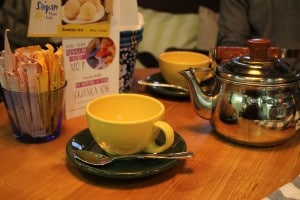 While those so desiring can drop a considerable sum here as Michel's Bakery also boasts a full bar of wines, liquors and beers, a simple meal of soup and salad will put you back at least 450 rubles ($9). That is not to say that Michel's Bakery is utterly off limits to the cash-strapped student. All of the French bread (французкий хлеб) comes in at less than 100 rubles and, in addition with all other bakery products (выпечка), is half-off (скидка на 50%) after 9pm during what they refer to as "happy hours" (счастливые часы). They are also currently running a buy two cupcakes, get the third free (купи два капкейка, получи третий в подарок) promotion. So don't let the fact that you can't swing a four-course meal and three bottles of wine keep you from picking up something from the bakery to go with your coffee. I'm especially awaiting the chance to do so on a warm summer evening when the patio is open. Situated across from Sukhanova Square (Сквер именин Суханова), the location is a tough one to beat!