Tequila Boom
57 Voznesenski Ave. (on the corner of Voznesenski and the Fontanka)
Other locations: 11 Komendantski Prospect and 42 Prosvesheniya Prospect
Meals from 250 rubles
When you put a Californian, a Texan, and a New Mexican in St. Petersburg, Russia, it's really only a matter of time before the hunger pangs kick in for the cuisine that they took for granted back home – Mexican food. After a few weeks of pining for burritos bigger than our faces, we got a group together and headed to Tequila Boom.
Yes, it's called Tequila Boom. If you're not planning on drinking, don't let the name worry you. It's as if the people at this establishment have already thought ahead about how to keep everyone wildly entertained, margarita or no margarita. "Wildly entertained" might seem a bit like hyperbole, but read on and you can be the judge.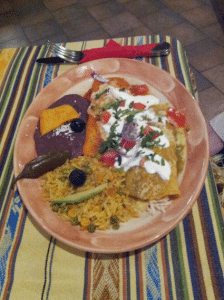 The restaurant is on the corner of Voznesenski and the embankment of the Fontanka. Whether it was our combined hunger, sheer anticipation, or the cold weather that day, the trek to this place caused a few gripes. However, had we consulted a map or looked up bus routes, we probably would have had a quicker, easier time. Those helpful forethoughts, however, are easily lost amid excitement about the promise of tortilla chips and melted cheese. Once we reached the intersection, it was incredibly easy to spot – it's the only establishment in the vicinity with bright, multi-colored tapestries and sombreros in the window display. Really, you can't miss it.
Walking in, we were taken to group seating in an area that looked like it could hold a small dance floor and a performance. In fact, we were lucky enough to stumble upon a band setting up for a show. As we got settled in to our seats, the music was mostly just instrumental – the pleasant sound of the acoustic guitar, a flute, a hand drums. But later, we were excited to find the group singing a cover of Lady Gaga's "Alejandro," to which our group couldn't help but sing along. Other favorites were Enrique Iglesias' "Bailamos," and the 1994 international sensation, "The Macarena." Audience participation was of course encouraged, and many in the restaurant, including our group, happily obliged. We were quite proud of our new ability to say we've done the Macarena in St. Petersburg, Russia.
As for our meals, we decided to start off by splitting a plate of nachos, loaded with tomatoes, olives, and jalapenos. Despite the Doritos-like powdered cheese dusting on the tortilla chips, they were quite tasty. Our formerly excited, jabbering table went quiet while finishing off the plate, just wanting to savor a familiar favorite. When it came to order our main dishes, our friendly waiter had to come back twice because it took us a long time to decide what we wanted. For a group of kids just excited at the prospect of a burrito and maybe a few tacos, we were surprised to see such a full menu. Tequila Boom has so many options to choose from, including burritos, tacos, enchiladas, chimichangas, taquitos, nachos, fajitas, mole, carne asada, chile con carne, quesadillas, empanadas – and probably anything else you might expect to see. The also offer sides of Spanish rice, corn and flour tortillas, corn on the cob with butter, and, a bit inexplicably, French fries. Ordering a side of tortillas (or even French fries) with your meal is just 80 rubles.
I ordered albondigas (400 rubles), which means "meatballs" in Spanish. Albondigas is usually a meatball soup, but at Tequila Boom, it's a plate including a beef patty, mashed potatoes, refried beans, corn, salad, and sliced avocado. Regardless of the difference, my plate was really delicious. The accompanying vegetables tasted fresh, and made me feel slightly better about eating all that melted cheese earlier. Two others had chicken burritos (390 rubles), which were truly a sight to see. These giant burritos came topped with red sauce and queso, then more melted cheese, and included a small side of beans and a salad. The chicken enchiladas (350 rubles) were served similarly, but came with rice instead of beans. The enchiladas were also fried, which was a bit unexpected, but it was well received.
While we were digging into our meals and the cover band played on, there were intervals where two dancers took to the floor and entertained the audience. They danced three times during our hour and a half at the restaurant, and each time donned different flashy outfits and showed off some really skilled moves. They were also all about audience participation, and the female dancer got one of the guys in our group involved in a number, which led to a lot of laughs.  They were amazing to watch together, and the whole audience cheered on their twirls, lifts and dips.
 Tequila Boom is probably not a go-to restaurant for a quick, simple meal, but is definitely a fun spot for a special occasion (say, marking the halfway point in the semester). Most of the dishes are in the 290 – 360 range, making it pricier than a more average dinner run. However, it seemed worth it when considering we got much more than just some of our hard-to-find favorite dishes. We really felt treated by the band, the dancers and the general atmosphere of being in a place that encouraged some singing and dancing with dinner. We're already planning our second trip.
For groups and faculty-led tours, Tequila Boom could be your place, depending on your needs. For a night of group bonding and relatively inexpensive fun (free music and dancing!), it's actually a pretty great place to check out. But to cap off a walking tour or to lead a culture shock seminar, however, a better option would be a quieter restaurant.