If you find yourself wondering what to do in Bishkek on a Friday night, then you should check out Metro Pub. It has a massive dance floor in the back that plays electronic dance music, while the front has a smaller dance floor with a live band. The dance floors are packed on the weekends, but the big dance floor is closed during the week. There are live bands occasionally during the week, but the pub is far less busy then. They also serve food, so it's a dinner option as well, though I've never gone there for a meal. It would feel more like eating at a bar than at a restaurant.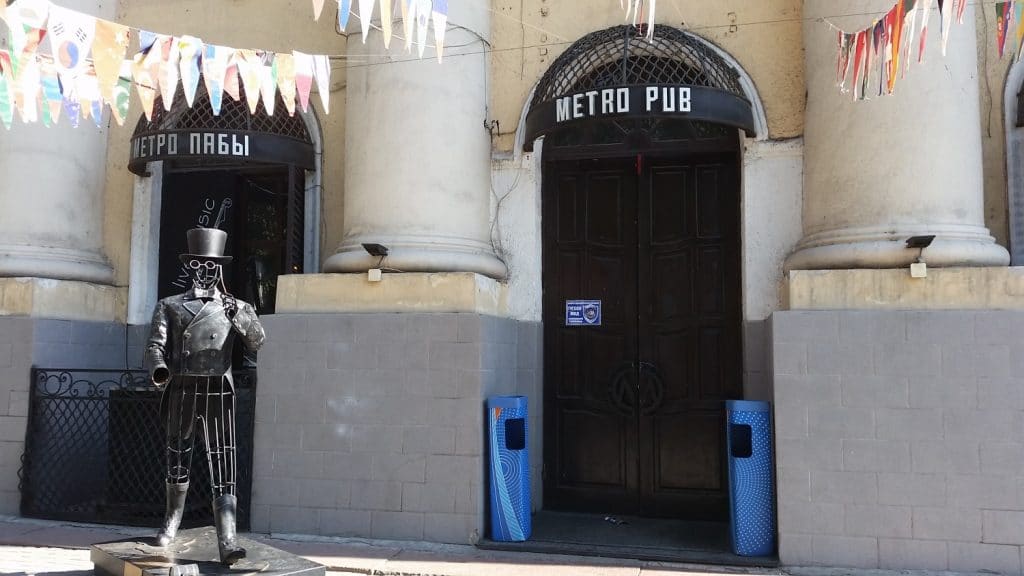 Metro Pub is a great place for dancing. The bigger dance floor has flashing lights of all colors and occasional bursts from a fog machine. Metro is also a popular place for tourists, so there is a chance you may run into other Americans or English speakers. Our first night there, we met a group of Peace Corps volunteers with whom we then celebrated the 4th of July. There is a sign inside that mentions a cover charge, but I've never paid to enter. Metro Pub has a good selection of mixed drinks, but they take a long time to make. The mixed drinks range from about 250-450 som (about $3.50-6.50). Their cheapest shots are 150 som (about $2).
The friendliness of the crowd at Metro Pub varies by night, so, it's best to go to with a group so that you don't end up dancing alone or standing awkwardly by the crowded bar. The dress code is generally casual. Some people are dressed up in heels and dress shirts, while others are wearing t-shirts and pants (I'd advise against shorts for guys). Girls fit in whether they're wearing a nice top and shorts or a flashier dress.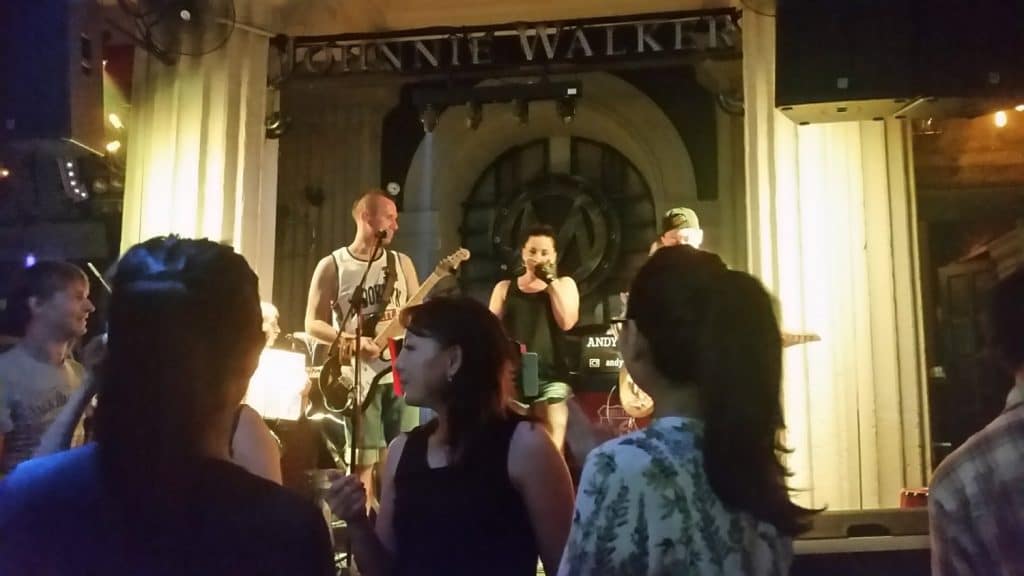 The interior of the front half of the pub has a cool feel. The flooring and bar are made of dark wood with contrasting white pillars. The back is designed in a different style, more like the ballroom of a manor than the back room of a pub. Overall, the weekend crowd is younger, making it a good place for college students.
Metro Pub is by far my favorite place to go out on the weekends. One week we went there four times. It's a different experience every time, but it's always great for dancing. If you want to dance on a weeknight, make sure to bring a bigger group to create a dancing atmosphere during  live band performances. Metro Pub is located past Bishkek Park, about a 20 minute marshrutka ride from the school. Taxis are always waiting outside at night, so if you can't call a cab you will still be able to find a ride home. There is also a Nathan's Hotdogs about a 5-10 minute walk from Metro if you want a snack after a night of dancing. If you want a taste of Bishkek nightlife, make sure to give Metro Pub a try. It's a high-energy place with good drinks and endless dancing.
Metro Pub
168 Chuy Ave, Bishkek, Kyrgyzstan
+996 558 050 505
Open 24 hrs
Instagram
Facebook