What do you expect from your experience when you come to Russia? When I first traveled here two years ago, I wanted to learn about the average Russian's life and how they lived. I wanted to take part in their everyday activities, and I desired to make a connection with the Russian people. Unfortunately, I realized that in larger cities, ambitions like this can be difficult to achieve. Especially when there is a language barrier, building relationships is a complex process. Without relationships, temporary stays in Russia tend to lack deep connections with the culture.
For these reasons, I was very excited when the Moscow SRAS program included an excursion to a dacha! A dacha is a traditional suburban home Russians escape to on the weekends or even live in full time. I did not have the chance to experience one the last time I was here! However, I was a little nervous that the coming excursion would have more of a forced feel to it. I did not know whether Masha, the host of the event, would actually enjoy our presence in her suburban home.
This excursion, however, was definitely an authentic, amazing experience, and I recommend that you do everything in your power not to miss it! This trip was a unique combination of an exotic location, great food, music, and crafts. Masha made us feel a part of the family—you could tell that her mother, father, and son were all very proud of their dacha and unique heritage. After spending a day and an evening in such a hospitable environment, I finally felt that deep connection for which I had been looking.
The Location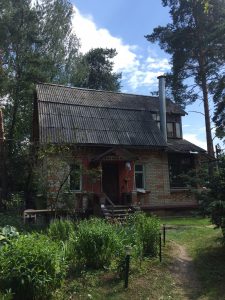 The dachas were beautiful with metal roofing and multicolored bricks surrounded by bushes and other plants. There were also little areas where there were benches surrounded by flowers. This was most definitely a place for relaxation and escape from the busy Moscow life.
Masha's Dacha is located is about a one-hour trip outside of Moscow via electrichka (electric train). It was a beautiful day, although very hot! Masha met us at the metro and helped us find the electrichka station, and we all rode together. Arriving at the station, we had a little bit of a walk to reach the dacha. The atmosphere of the rural town was completely different than that in the city. The town was very lively, although more laid back. Children were playing near the quaint churches while parents and grandparents watched. Pigeons, as usual, were all over the area, but here, there was an old woman putting out bowls of water for them. There were men fishing in a pond, and teenagers riding horses near it, and Masha told us that the pond served as a gathering area for holidays and fireworks.
Once we arrived at the dacha, I was blown away by all the vegetation that surrounded the home. I felt like we were in the middle of a forest! Masha's son took us on a quick tour. The family had their own small banya (sauna/bath house) and a large garden where they were growing all sorts of vegetables, fruits, and herbs. Next to the large dacha, they also had a smaller one. Here is where there was a canopy with a table set up for us all to sit, and there was already a spread on the table of compote, musk melon, cherries, bread, and cheese. The heat was almost overwhelming, so the cold compote and musk melon were very welcome.
The Food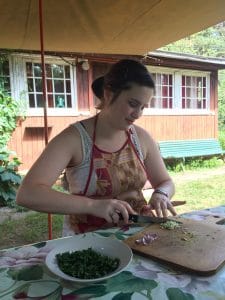 In addition to the light refreshments offered when we arrived, we also helped prepare several traditional Russian dishes. We started with a soup, borscht. We were each given specific jobs, such as slicing up cabbage or grating beets. We were handed the cutest little aprons that had been purchased in the Kamchatka region of Russia—Masha is an avid traveler. Then we watched Masha cook the ingredients in her little dacha kitchen. She had us sample the soup every now and then to make sure it had been salted enough.
Next, we made pelmeni, a type of dumpling. We were given some dough and told to roll it out and cut it into small circles. Masha then brought us some seasoned meat. We put a little bit into the dough circles and then pinched the edges in a half circle. Then we joined the corners to make more of a round shape. Finally, Masha took them away to be boiled. Putting some sour cream in the borscht and on the pelmeni, we ate our creations as soon as they were ready. Everything tasted delicious, and Masha seemed satisfied with the results!
For dinner, Masha's son made pork shashlik for us. In Russia, shashlik is typically a food cooked by the men (similar to how dads are associated with grills in America). The meat is put on a kebab and then grilled over an outdoor Mangal grill. It was very simple but very effective.
After dinner, Masha prepared tea in a samovar. The tea itself is not made in the samovar. The contraption is just for boiling the water. A fire is made in the top of the samovar with wood chips and pinecones, and this is what creates the heat. Then, a concentrated version is brewed in the kitchen. Masha directed us on what to do next. We placed a slice of lemon in our teacups with some sugar and mashed them together. Then she poured a bit of concentrate into the cups. Finally, we poured boiling water from the samovar. This was unlike any tea I'd had before! It was made even better by little brown cookies which we dipped into the tea. It had the effect of moistening the cookie just enough that it melted in our mouths. Even though it was blistering outside, the tea was perfect!
Music and Crafts
While we ate and drank tea, Masha's father came out and played his accordion for us. We even sang a couple songs along with him, such as "Kalinka Malinka" and "Katyusha." Music always has an emotional effect on me, but this time, I felt an almost nostalgic feeling despite never having been a child in this country. It was a similar feeling to what I feel when someone sings "Wagon Wheel" back in the states (I'm a Texas woman). I was reminded of how music has a bonding power that I think helps everyone look back on the past and remember it fondly no matter how bad that time might have actually been.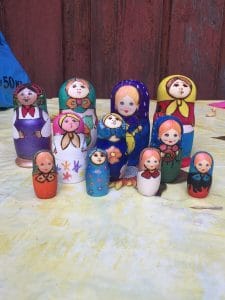 Perhaps one of my favorite things about this excursion was getting to paint our own Matryoshka dolls. It was surprisingly therapeutic, especially since we were sitting outdoors, just enjoying the sounds of the trees, birds, and Masha's occasional exclamation on how nice our dolls looked. It was interesting to see everyone's style when painting their dolls. They ended up being the perfect little souvenirs to take home from such a memorable experience.
After living in the city for the past few weeks, it was so nice getting to spend the day outside. The air was so clear, and the people we ran into seemed so genuine. It is usually a completely different experience with people in the city. Moscovites are used to tourists, so foreigners are not interesting for them. However, the people we met on our way to Masha's dacha seemed excited to share the history of the area with us. Masha's family in particular seemed so excited to be able to share their culture with us. Masha's mother was always looking on with a little smile on her face, and Masha's father seemed to be having a great time playing music for us and then later teaching us how to cut wood with a two person saw! I am very thankful for the atmosphere we experienced, and I recommend that you do whatever you can to go, because you will have a unique chance to experience country living in Russia as well as to practice your Russian!