Masal Cafe/Масал Кафе
Эркиндик и Чуй
Meals $4 and up
The Masal Cafe is in an ideal location, just a block from Ala-Too Square in one direction and Oak Park in another. It sits on the corner of Erkindik and and Chuy right across from the end of one of Bishkek's typical, long parks. Because of its convenient location and reliable Internet connection, I've been a frequent visitor to Masal. It's not a place I'd go across town to visit, but when I'm nearby and need a pick-me-up, it's a perfect little teahouse.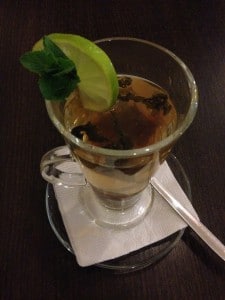 Masal feels very "hip." You enter and walk upstairs to a seating area full of well-spaced tables and comfy leather booth seating.  You can fit a group of about five friends around one of the inside tables and go halfsies on a bunch of desserts. The lights are just the slightest bit dimmed, not so much so that it's dark and you can't see, but it's definitely not bright. They usually have a local radio station on that plays stuff I've heard at home (Ylvis's "What Does The Fox Say," Eiffel 65's "Blue") and stuff in Russian (and other languages) that has a kind of dance-y beat. It's very "cool" but honestly, I'd say pass on inside seating and grab a table on the patio. There's more space for a bigger group, especially if you move a couple of the tables together.The outdoor seating at Masal is perfect for enjoying the nice weather, and people watching (again, location is key) because you're close to a park on one side and across the street from part of the main square on the other.
I'm pretty into tea and I've tried a number of their choices. They've got regular run-of-the-mill stuff, and they've got "Mohito," "Vanilla Dreams," and a number of fruity mixes that sound sugary. My favorite so far is the "Спокойствие трав" (calm grass), which is a light green tea. They're all served in big glasses with a twisted color straw, very bright and cheery – unless you're sharing with a friend, then you can get a big teapot to split for 100som (2USD) more.
As far as food goes, the desserts look delicious and I'm getting cake if I go back again. The slices are decent sizes, and look a lot more filling than the conservatively-portioned albeit tasty salads, and блины (Eastern European pancakes) served with small side toppings. It's mostly light stuff, it's a café, so the focus is really the tea and coffee anyhow. Stop in, use the Internet, and relax on the patio with something cool to drink, it's a great little spot.
For group and faculty led tours, this is an ideal location to regroup and take a quick break in between Bishkek museums and parks. There's space enough for a decent sized group and the staff is excited and willing to serve guests of varying levels of language confidence.