Of all the different types of cuisines and national foods that I've tried throughout my time studying abroad, it's safe to say that Georgian food is hands down my favorite. Having traveled to Georgia and tried the national dishes as made there, I find myself constantly searching for a restaurant in St. Petersburg that can match the level of deliciousness that I found in the country itself. I'm not always successful in finding a close replica; however, I discovered a restaurant that offers the closest thing to true, homemade Georgian food that I could find. You may never get the opportunity to try handmade khinkali in the beautiful land of Georgia, but dining at Mamalyga is the next best thing!
I've been studying in St. Petersburg for three months already, which is why I was so astonished when I recently realized that one of the best Georgian restaurants in town is only a 5-minute walk away from my dormitory. In hindsight, it's probably best that I didn't realize this sooner; I certainly would have spent far too much money eating there every week. Nonetheless, the restaurant is fairly priced, especially in comparison to other Georgian restaurants around the city. The menu is quite large, with specialty dishes from other countries as well such as Uzbekistan, Armenia, and Russia.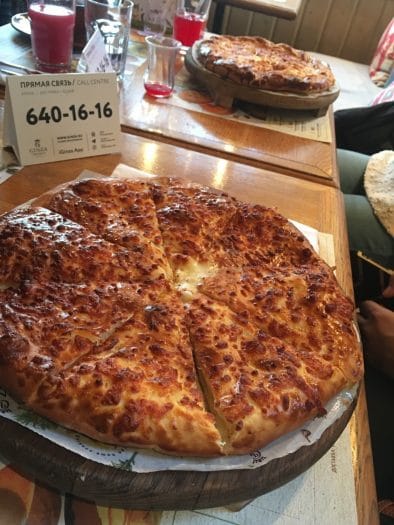 A large group of fellow classmates and I went for dinner at Mamalyga this past weekend, and there was one gentleman who had never tried Georgian food before. I'm such a fan of the cuisine that I had already introduced several of our other classmates to it, so almost everyone at the table bombarded him with recommendations. When our food arrived, our table was stacked with khinkali, kharcho, and three different kinds of khachapuri. The only thing we were sadly missing was mamalyga itself.
Personally, my favorite dish is khinkali. They resemble large dumplings that are traditionally filled with lamb, but are most often filled with a still-delicious but more inexpensive and readily available mixture of pork and beef. The dumplings have a special tradition attached to them, as well. In the past, Georgians would eat however many khinkali they desired, then leave the tops of the dumplings (which are uncooked dough) to show how many of them they had eaten. This was both an act of pride over how much you'd eaten, as well as a way to let the restaurant owners know how much they needed to charge for the meal. For those who couldn't afford to eat, they would eat both the khinkali and the knobs, in order to trick the owners. Now, this national dish is only eaten with hands and not consumed with wine, all in the name of those who once survived off of and worshiped khinkali the most.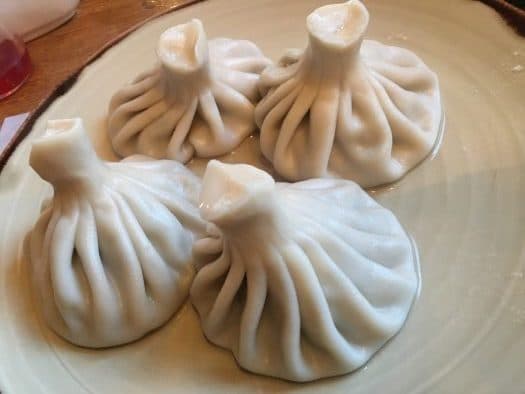 If you're ever in St. Petersburg, whether it be for studies, work, or simply tourism, I highly recommend you try Mamalyga! No reservation is needed (most of the time), and the staff are some of the friendliest you'll meet. With great prices, a cozy interior, and being located in the heart of the city, Mamalyga should be at the top of your list!
Mamalyga Restaurant
Spring 2018
Cost: 360-900 RUB (~$6-$15)
Location: Kazanskaya Street, 2, Saint Petersburg, 191186
Hours of Operation: Weekdays from 10 am-1 am, Weekends from 12 pm-1 am