This article originally appeared on SRAS.org in 2007. It is reproduced here, in updated format, as an excellent guide to using travel to bolster cultural understanding and professional insight. 
A guide to scholarly growth through travel and the literary richness of the Trans-Siberian
If you are studying abroad in Russia and you have an opportunity to do some traveling, hop on the Trans-Siberian Railway and head east! Many Russians will tell you that leaving the two densely-populated Western cities of Moscow and Petersburg is the only way you may truly get to know the "real Russia."
Having studied Russian literature and culture as a literature major in college, this idea of "real Russia" has always interested me; for centuries Russian literature has grappled with what it means to be Russian, often leaving the foreign reader with conflicting or ethereal conclusions. Along with my desire to escape the city and explore Russia's hinterland, this elusive and near-mythic idea of "real Russia" inspired me to embark on a Trans-Siberian journey. I hoped that after traversing the vast landmass myself, I would have a better idea of what Dostoevsky and Tolstoy were talking about—and perhaps the mystery of the "Russian soul" one so often reads about would also begin to unravel.
However, now that I have returned to Moscow and may reflect on my journey, I must admit that I still cannot concretely say what "real Russia" is, and the "Russian soul" still both mystifies and fascinates me. In correspondence with the old adage "the more you know, the less you know," perhaps the more you come to understand a culture, the more inexplicable it becomes. As Stepan Trofimovitch in Fyodor Dostoevsky's The Possessed («Бесы») declares, "We [the Russians] have been striving for something utterly, utterly different. I can make nothing of it. I have given up understanding." Dostoevsky's contemporary, the poet Fyodor Tyutchev would seem to agree in his famous quote, "You can't understand Russia with reason… you can only believe in her."
With this said, I will now recount my journey, what I experienced, and what I learned about Russia from the stand point of a literature major in the hope that you, too, may be inspired to embark on a Tran-Siberian trip to better "believe in Russia."
Into the Depths of Russia
Beginning in Moscow, I divided my trip into two parts. First I visited St. Petersburg for a few days in late December. Although St. Petersburg is not part of the stretch of railway between Moscow and Vladivostok which is properly called "The Trans-Siberian," St. Petersburg is an important literary capital for Russia, and I decided to include it in my journey. Then, in early January I began my eastbound journey which included a return to Moscow and stops in Perm, Yekaterinburg, and Irkutsk near Lake Baikal on the far eastern side of Russia.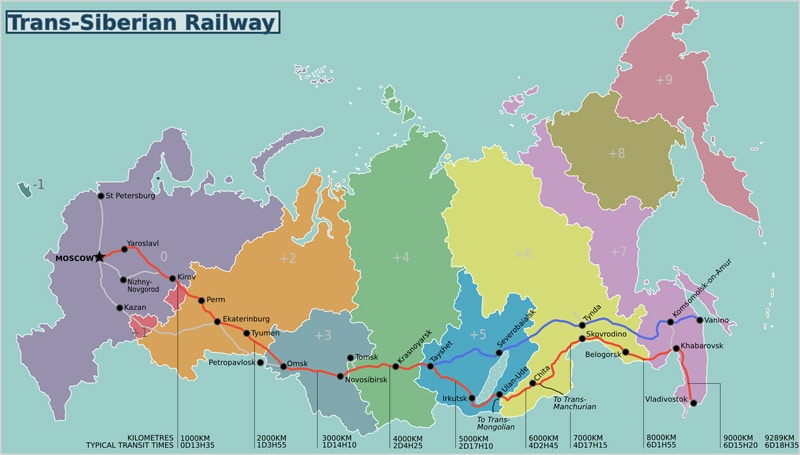 Many of my fellow passengers gasped in either amazement or fear for my life when they learned that I was a foreign, young woman traveling alone to so many different cities in Russia. "My God! Why? And your parents let you do this?" they exclaimed. I described my strong interest in Russia stemming from my love of literature, and explained that after my return I would be writing articles about my journey.
Upon hearing this, many did their best to educate (perhaps even edify) me about Mother Russia. I absolutely needed to try dried Siberian fish, real Siberian beer, and "prostokvasha" (a sour, salty milk beverage). I also needed to hear about Russian history. One man enthusiastically gave me a detailed summary spanning all the way from Kievan Rus to the Mongol invasions to Putin today. "And what did you in America learn about Russia in school?" he asked with curiosity after his lengthy account. "Well to be honest, in my Russian history class at college, pretty much the same as what you just told me," I admitted, hoping not to be too anticlimactic. "Ah well, we know all about your history as well," he said. "Russians know about a lot of different histories and cultures. We read a lot. Have you noticed? We're always reading. We are the most intelligent people." "Hm, maybe," I said. I had already grown accustomed to the strong (but generally harmless) nationalism that pervades Moscow, and since I was more interested in just listening, I wasn't about to begin a debate on whether or not there exists a "most intelligent" country. Although this Russian pride could be negatively received by the sensitive foreigner, I must conclude that it is simply an inherent part of the Russian character and soul.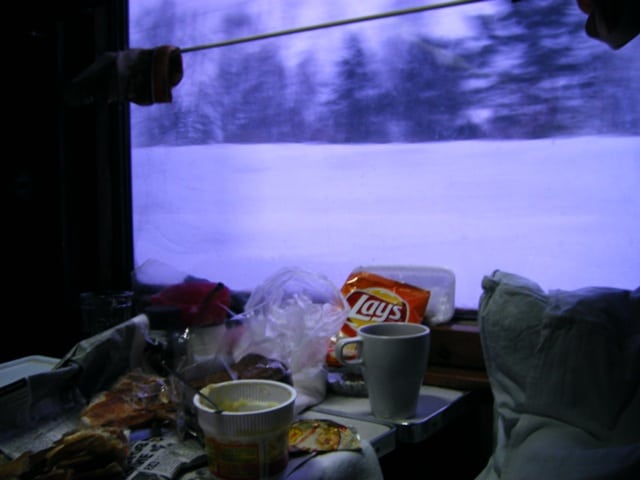 National pride and mysteries aside, I found that the farther east I traveled, the bigger the fur hats grew and the friendlier the people became. I met some of the warmest people I've ever met, many of whom stuffed me silly with food, stories, questions, and of course, vodka. I often found myself remarking, "People in Siberia are completely different than Muscovites. They're just so much…friendlier!" My observation was more often than not met with, "Ну, конечно! Москва—это не Россия." ("Well of course! Moscow is not Russia.") Of course, this could also be that we were trapped together in a train car with not much to do, and entertaining oneself with the conversation of interesting strangers can be a great way to pass the time.
The Trans-Siberian Railway: a Gateway to Russian Literature
As a foreign student, you may find the railway to be much more than a gateway to Russia's heartland and cultural roots. If a specific passion or academic interest has brought you to this vast country, the Trans-Siberian Railway will certainly provide you the ticket to a more intimate education. The railway can lead you into a deeper (and never boring!) exploration of whatever your heart desires, whether it is history, religion, ecology, or in my case, Russian literature. As the train took me from city to city, I was able to explore the lives of many writers and poets I studied throughout college—as well as learn about new ones.
In her memoirs, Nadezhda Madelstam (wife of Osip Mandelstam, a poet who lived briefly in Petersburg) wrote: "Only in Russia poetry is respected—it gets people killed. Is there anywhere else where poetry is so common a motive for murder?" As one strolls Petersburg's handsome streets adorned with countless monuments of Russian and Soviet literary figures, one cannot help but agree. Where else is there a city so physically steeped in poetry and literature? At every turn one is reminded of Russia's deeply respected literary tradition.
In literary history St. Petersburg is most closely tied with Fyodor Dostoevsky. Over the course of his life, he occupied over 20 different apartments throughout the city. His last apartment, where he wrote The Brothers Karamazov («Братья Карамазовы») before passing away in 1881, is now a museum of his life. Walking the area nearby around Sennaya Square (Сенная площадь), one may explore numerous places connected with both Dostoevsky and characters from his major work, Crime and Punishment («Преступление и наказание»). One can go on a walking tour of Dostoevsky with the help of a guide or on one's own; the Dostoevsky house-museum sells a postcard set called "The Petersburg of Crime and Punishment" (Петербург героев «Преступления и наказание») which conveniently maps out numerous pivotal moments and locations from the novel. Sights include the apartments of Raskolnikov, Sonya, and the old money-lender, as well as the apartment Dostoevsky occupied while writing the novel. Finally, see the Alexander Nevsky Monastery where Dostoevsky lies buried along with other prominent cultural figures such as composer Tchaikovsky.
Lovers of Soviet poetry must visit the house-museum of Anna Akhmatova, a Soviet Acmeist poet best known for her critical poem, "Requiem" («Реквием»). Acmeism was a poetic movement following Symbolism that valued precise clarity as opposed to mythical, ornate metaphor. Even if you are not familiar with Akhmatova, this house-museum is not to be missed. Audio guides in English or Russian may be rented, which allow one one to feel as though they are living as a poet under Stalin. Incidentally, just recently (December 2006) a monument to Akhmatova has been unveiled on the Robespier Embankment (Набережная Робеспьера), which depicts her gazing at the prison, Kresty, mentioned in "Requiem."
Another point of interest is The Stray Dog Café (Подваль бродячей собаки) located in the southwest corner of Arts Square (Плошадь искусств). This is the old haunt where many famous writers and poets from the early 20th century met to discuss poetry and literary theories. The café is especially known for the Acmeist poets that frequented it, including Akhmatova, Gumilev (her husband), Mandelstam, Kuzmin, and others.
Undoubtedly, Mikhail Bulgakov's Master and Margarita («Мастер и Маргарита») is the most popular portrayal of Russia's capital to date.
There are numerous sites connected to Bulgakov's life and works. Bulgakov worked at the Moscow Art Theater (МХАТ имени АП Чехова) as an assistant director and his experiences there most likely fueled his Theatrical Novel (Black Snow) («Театральный роман») in which he satirizes the period of the 1930s when the theater was under tight censorship and had to largely limit its repertoire to plays by Gorky and other supporters of the regime. Additionally you won't want to miss Bulgakov's House Museum (site only in Russian) at 10 Bolshaya Sadovaya St. (д. 10 Большая садовая ул.) in which parts of his satirical novel, The Master and Margarita are set. The flat, covered with graffiti painted by enthusiasts of his work, has recently been turned into a house-museum complete with a black cat to welcome visitors. Not far from Bulgakov's flat is Patriarch's Ponds (Патриаршие пруды) where Bezdomny and Berlioz meet the devil (disguised as Woland) in the opening scene of the novel. Also in the vicinity is the lovely Café Margarita (in honor of the novel's bewitching heroine) which holds nightly musical performances in a quaint, intimate atmosphere.
The Mayakovsky Museum (Музей-квартира ВВ Маяковского) of poet Vladimir Mayakovsky is also of interest to lovers of Soviet poetry, and is perhaps the most striking literary museum in Moscow. The exhibit leads the viewer through his life in chronological order with each room creatively designed to physically reflect the abstract, splintered style of his work. Conveniently, it is located next door to Biblio Globus (Библио глобусь), a gigantic book store.
One may also visit the graves of prominent literary figures such as Mayakovsky, Bulgakov,  Gogol, Chekhov, and others at the cemetery in Novodevichiy Monastery (Новодевичий монастыр).
Perm / Пермь
Perm may not have the most exciting reputation—known as a bland, industrial city in the Urals and once home to a harsh GULAG. In fact, "(Anton) Chekhov used Perm as inspiration for the city that his Three Sisters («Три сестры») were so desperate to leave," says the Lonely Planet guidebook. However, Chekhov isn't the only writer who found inspiration in this city. In his mid-twenties, Boris Pasternak briefly lived there and subsequently based Yuryatin (Юрятин), the fictional town in Doctor Zhivago («Доктор Живаго»), on Perm.
Walking the streets, one may see other buildings from Pasternak's famous novel such as the Pushkin Library (Библиотека им. Пушкина) where Yurii sees Lara in the reading room. Today there hangs a portrait of Pasternak in the library. After this third time of glimpsing her, Yurii finds out her address from the books she has just returned and decides to visit her at home, thus commencing their affair. Like the library, Lara's house also indeed exists in Perm, across from which stands the House of Caryatids (Дом с фигурами).
Commemorating Pasternak are a couple busts throughout the city in addition to a Dr. Zhivago café/restaurant. Perm is very proud of its role in the novel, which wasn't published in Russia until 1987, well after Pasternak's death in 1960.
Additionally, you won't want to miss Perm-36 (located 100 km. northeast of the city in Kuchino Village), the only remaining GULAG in Russia which has now been turned into a memorial-museum. Built under Stalin in 1946, Perm-36 was notorious for being particularly harsh, imprisoning only the most "dangerous"  opponents of the government, human rights advocates, dissidents, and authors/distributors of anti-communist literature. See firsthand some of the harsh conditions writers such as Solzhenitsyn, Shalamov, and Ginzburg wrote about.
Yekaterinburg / Екатеринбург (Свердловск)
This booming city in the Urals, lying at the continental crossroads of Europe and Asia, was once home to writers Pavel Bazhov and Dmitri Mamin-Sibiriak. Bazhov is most known for his collection of fairy tales, The Malachite Casket
 («Малахитовая шкатулка»). There is a house-museum of the writer, and the Ural Mineralogy Museum (Уральский музей минералогии) offers excursions on Bazhov tales for children in Russian. Like Perm with Pasternak, the Sverdlovsk region is proud of its role in Bazhov's tales. There is a street named after him (Ул. Бажова) as well as statues and metal placards in memorandum throughout the city, such as a bust of the writer overlooking the City Pond and the placard on Bazhov St. in honor of the hundredth anniversary of the writer's birthday. Bazhov also now has a literary award named for him, the Bazhov Award.
On Pushkina St. (Ул. Пушкина) stands the old red-brick house where Mamin-Sibiriak lived from 1885-1891, now a house museum of his life and works. Unfortunately, the museums of both Bazhov and Mamin-Sibiriak were closed due to the holiday season when I was in Yekaterinburg, but since Mamin-Sibiriak's works are so closely tied to the Ural region, this former place of residence is not to be missed. Mamin-Sibiriak studied at the Yekaterinburg Theological Seminary (Екатеринбургский духовная семинария) (1866-1868) and he again returned to the city in the late 1870s when his family moved there. He wrote a number of sketches including "At the Border of Asia" («За рубежом Азии») and "In Bad Souls" («В худых душах») which were all published in journals. Many of his stories depict the harmony of nature on one hand and the heavy struggles of man in everyday existence on the other. Major novels include The Privalov Fortune
(«Приваловские миллионы») and Mountain Nest («Горное гнездо»).
Most famous for being the place of exile for the Decembrists of the political uprising in Petersburg during December 1825, Irkutsk occupies the banks of the Angara River (the only river that flows from Lake Baikal). I was pleasantly surprised by city's beauty; much of its ornate 19th century architecture built by the exiles still stands. (By the way, if traveling eastbound to Irkutsk, keep your eye out for Zima (Зима) several hours before arriving. This is contemporary poet Yevgeny Yevtushenko's hometown!)
Many of the Decembrists exiled to the Irkutsk region made extensive educational, ethnographical, and literary contributions to Siberia. However, these particular Decembrists did not, as a rule, engage in literary pursuits; the writers of the movement were not exiled to Irkutsk but to smaller towns throughout the region. As a result, the city has a dearth of literary museums, and I began to wonder if any kind of literary history exists in Irkutsk at all.
However, while perusing a book store one evening on Karl Marx St. (Ул. Карла Маркса), Irkutsk's main artery, I came across a large display featuring poets of an apparently vibrant local literary scene in the area today. I learned that the city is home to many contemporary poets including Tatyana Yasnikova (Татьяна Ясникова), Izislav Livshitz (Изислав Лившиц), and Marina Yakovenko (Марина Яковенко). Livshitz, who works professionally as a doctor, and Yakovenko, who works as a director at the sociological center, Opinion («Мнение»), are both Irkutsk natives. Yakovenko on the other hand (who is not a native) has lived not only in Irkutsk, but Moscow, Krasnoyarsk, and other cities throughout Siberia while pursuing post-secondary studies. All three poets often refer to or write about Irkutsk and the region. For example, in her collection entitled Return («Возвращение»), Yakovenko grapples with poetry, culture, and a hopeless life in "To Irkutsk" («В Иркутск»). Additionally, for Livshitz especially, the region serves as a rich quarry of inspiration. In his collection, Everything Is («Всё бывает»), he writes about Lake Baikal. There is, unfortunately, very little information available about these authors and their work online, but for a sample of Livshitz's work, see "My Baikal" («Мой Байкал»).
A Memorable Trip
My time spent on the Trans-Siberian Railway not only allowed me to travel to some of Russia's lesser-known cities, but also to explore one of my passions on a personal, "hands on" basis. The soul of "real Russia" may still remain inexplicable, but I can safely say that it no longer appears so mysterious. With experiences ranging from late night conversations on the train to a visit to a new friend's banya in Perm or staying in homestays across Siberia, I returned to Moscow with a different perspective on the Russian people. A people that was once a mystery I had only read about in books now seemed familiar and real. Upon leaving cities like Petersburg and Perm, I suddenly desired to read Crime and Punishment and Doctor Zhivago all over again with new eyes, knowing firsthand many of the places the writers had in mind while writing their novels.
Educational and cultural experiences such as these will make your time spent here in Russia truly memorable and unique. As a student studying in Moscow for the year, I felt that traveling beyond the big city was essential to experiencing the many dimensions of Russia. After all, if a Russian were to visit New York City, would he return home with an understanding of the United States as a whole? A country's major cities may showcase the diversity of its people and the richness of its culture, but in order to experience a people's common, everyday life, one must go beyond the large population centers. My travels along the railway have only solidified this belief in me.