Лефортовский Pынок / Lefortovskii Rinok
Ул. Авиамоторная, 39, Москва, 111024
Hours: 8:00-20:00
Although newer students might feel inclined to head to a familiar supermarket style store for groceries, I urge you to give the local рынок a visit. A рынок is a bazaar-style market that often has clothes, meats, tea, vegetables, fruits, cookies and candy. Sometimes a specific рынок will specialize in a particular kind of good – such as vegetables or even electronics.
Don't get me wrong- "Дикси" and "Пятёрочка" are great, but shopping in a bazaar is another unique experience of living in Moscow. Lefortovskii Rinok is located on ул. Авиамоторная, is located just 10 minutes walking distance from the main dorms of the Higher School of Economics. It is open everyday from 8 am to 8 pm. The side of Lefortovskii Rinok facing the street, which you will pass everyday on the way to school, is mainly restaurants and stores. Behind it are market stalls that make up a traditional pынок.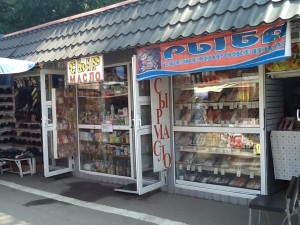 Those who run the market stalls often come from Central Asia or the Caucasus. They sell bread, pastries, cookies, spices, and teas that are unique to Central Asia and the Caucasus. There's a huge variety of meats and sausages – even horse meat. I'm not a fan of exotic meats as much as I am a fan of exotic fruits and vegetables. Luckily, you can also buy hard-to-find fruits, vegetables, and preserves that are unavailable in the local discount supermarkets, such as avocado and spinach.
Prices at Lefortovskii Rinok are comparable to those at the discount supermarkets, but there are unique perks to shopping at a pынок. Sometimes you can taste the product before you decide to splurge. You can request that meats and cheeses are sliced for you. There is even a tank of live fish – herring, trout and so on. If you want to buy fish, you can even ask that they clean it for you. Even better, if you build a relationship with a seller, they might even reserve the freshest and most unique products for you.
Of course, another perk is being able to practice your Russian- especially if you're a beginner and need to learn how to buy things. Or, if you can manage a break in the hustle and bustle of Lefortovskii Rinok, you can talk to a few of the many immigrants that make up Russia's population. Otherwise, just make sure you have an idea of what you want and how much- there is often a sense of hurry and sellers often try to quickly service you and then move on to the next customer.
For groups and faculty-led tours, this is a great way to get acquainted with nearby resources. It is also a good opportunity to introduce students to some of the local food, or even to teach some useful vocabulary.