Latsio Café-Pizzeria /
Лацио кафе-пиццерия
37 Светланская ул.
Hours: 10am-Midnight everyday;
Meals from 350 rubles
Laziovl.ru
It's not easy for an eatery to stand out on the central, bustling stretch of Svetlanskaya Street (Светланская ул.) in downtown Vladivostok (Владивосток). This is especially true when that establishment is located in a basement. Had I not briefly scoured a map of the area's offerings a few hours prior, I likely would have found myself dining in one of Latsio's many competitors. However, to the relief of my pizza-craving companion, we easily located our target and descended the stairs to be seated at a quaint corner table in the space-economizing dining room of the Latsio Café-Pizzeria.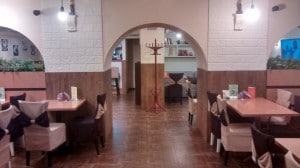 We found ourselves at a table with hardly room enough for another fork as goes most of the seating, which will generally accommodate 2-4 individuals. However, the café does feature two larger booth areas for groups of about eight people.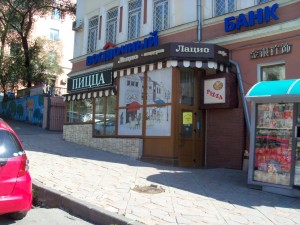 Perusing the Latsio's menu, you won't be met with any shockingly unexpected offerings: appetizers, salads, soups, pastas and a full selection of alcohol-infused refreshments. The base-level margarita pizza (Пицца маргарита) starts at $6, while their specialty Seafood pizza (Пицца с морепродуктами) comes in at $12.50. Further, the Nice (named for the Italian city presumably, though the pun applies in my opinion) Spaghetti with vegetables runs $5.50, as does the Greek Salad (Салат Греческий). And the bar does not merely serve the full line of cocktails, wines, liquors, and a handful of beers, but their baristas can also prepare a range of coffees. With free Wifi available to customers and an $1.75 Americano (Американо), one might find a convenient and inexpensive temporary office here below the chaos of the city streets.
However, we were there to eat and refill after a morning at the Close of Biker Season (Закрытие байкерского сезона) gathering on the Tsarevich's Embankment (Набережная Царевича). For my pizza-deprived fellow traveler, it would be Latsio's seemingly inconspicuously titled Cheese Pizza (Пицца сырная) at just over eight dollars. When the requested item arrived, to our mutual surprise, we found that their interpretation of what we expected to be a simple "cheese pizza" turned out to be a quartered medley of cheeses, with each fourth of the pizza sporting a different cheese. The Nice Spaghetti with Vegetables I went with wrought no particular impressions either way. A dish prepared with evident practiced execution, it featured a substantial variety of vegetables and mushrooms in sufficient-enough portions to leave me satiated. Complimentary to the meal were a pair of Kozel (Козел) beers we split for three dollars apiece.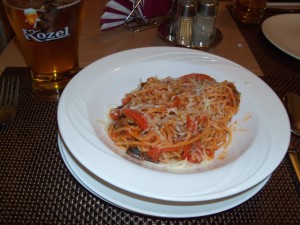 Overall, the Latsio Café-Pizzeria, tucked away on one of the city's most popular stretches offers fast, polite service and relatively affordable food. It's doubling as a café with free WiFi may make it a viable place to spend the day working and additionally enjoy a meal without setting you back a great deal. However, it is fairly small in terms of general space and would not be ideal for a large gathering. Also, depending on your preferences, the lack of natural light due its subterranean quarters may be a bit unappealing. The food itself was good, but certainly isn't distinctly Russian and better quality and larger portioned pastas and pizzas can be had at other nearby locals, such as Coffetory, for the same, if not a lower price. If I find myself here again, it will likely be due the necessity of a quick bite to eat while still being able to sit back and enjoy the meal. Not the best of its kind in town, but Latsio Café is all the same appreciable for its own handful of advantages.