Lapshin-San/Лапшин-Сан
Ул. Адмирала Фокина, 23 б
Hours: 10am-Midnight everyday
Meals from 375 rubles

It is said that all good things must come to end. Accordingly, I was beginning to wonder when my streak of rather successful dining endeavors would meet such a fate. Although Russia has a reputation for not exactly being vegetarian-friendly, I had almost begun to forget that aspect of my lifestyle, finding my way through the city's culinary offerings without any surprise missteps. Unfortunately, my run of luck ran out as some friends and I sat down to dinner one evening at the Lapshin-San noodle shop in downtown Vladivostok.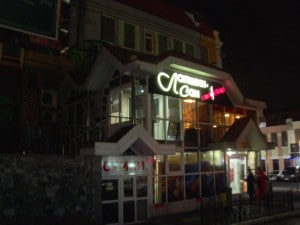 The really impressive thing about my heretofore vegetarian triumphs in the oft stereo-typified 'meaty' mother Russia is the meager amount of effort I have typically allotted to pre-meal investigations. Apart from heeding a handful of recommendations as to where largely plant-based fair could be easily had, I often went in blind hoping for the best. On the other hand, I suppose it is not so terribly surprising I have been able to find much that is meatless here in Vlad. The local influence of the surrounding Asian cultures and their culinary traditions, many of which are historically plant-centric, along with many Russian dishes (блюда) in reality being anything but plant and vegetable deficient despite the stereotype, has dealt me a naturally advantageous hand. However, on this outing, our short, undirected stroll from the large central bus stop, Семёновская, landed us in the nearby café advertising Japanese cuisine (японская кухня). Coaxed in by the name itself which is composed of the Russian word for noodles (лапша), altered into something that sounds like a Russian last name (and which would mean "he of the noodles"). They also added the transliterated Japanese honorific, san (сан), often equivocated to the English 'Mr.', for good measure.
Although Asian cooking is often vegetarian friendly, upon entering Lapshin-San, I soon found that I had landed myself chopsticks-deep in meat culture.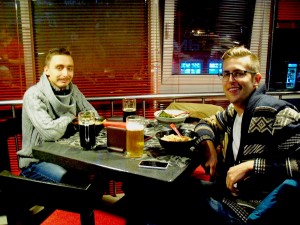 I must admit, however, that my initial impressions of the place were generally positive. Sitting one floor above a street level convenience store (продукты), the 'noodle shop' overlooks a small square inhabited by various little shops and eateries and the daytime vendors who are generally early to arrive and late to leave. Lapshin-San's modestly proportioned interior is one of modern elegance, both unique and unostentatious. A small, two-man-tended bar doubles as the kitchen putting the whole of the restaurant into immediate perspective. But from the moment the lone waitress set out our menus, things quickly went south.
First the music, which had upon first notice featured the traditional South American pan flute epic, "El Condor Pasa," quickly turned to an abominable mix of international '80s soft-pop ballads whose overdramatized pleas did not cease until I was able to put sufficient distance between myself and the outdoor speakers upon departure. Woe number two came where aught but happiness is expected: the beer. The round of brews we ordered from the two they offered was a brand whose name I made no effort to remember as it seemed to be composed of 50% club soda for all the carbonation. The silver lining was the relatively affordable 130 ruble ($2.50) asking price for the half-liter.
When it came time to order food, the level of comprehension on the attendant's face after an inquiry about vegetarian options and the accompanying explanation of what exactly vegetarianism is resembled that of an adolescent after a lecture on thermodynamics. However, being assured that there was no meat in the tofu udon (тофу удон), a Japanese noodle soup, and having spied none in the menu's description of the dish myself, for 350 rubles ($7.50) I gave it the go ahead. To her obvious relief, my companions' requests were easily fulfillable. Tori udon (тори удон) and tori ramen (тори рамен), both chicken dishes with different noodle varieties, were respectively requested for 400 ($8.50) and 370 ($8) rubles apiece.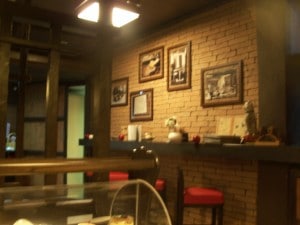 After a short wait, the food arrived. I was happy to see what looked to be a substantial serving of soup complete with appetizing garnish and, of course, the frustration-free fork and ladle for the dexterously less inclined. It wasn't but a few bites in, however, that my positive reception dissipated as I realized that the broth was clearly made from beef, a taste I had managed to avoid for some years passed. More sensitive to food waste than my own dietary guidelines, I decided to finish the dish in spite of my discomfort with such a decision's attendant implications. Though, as it turned out, I was not alone in my dissatisfaction. No one, in fact, would finish their serving, all being roundly dissatisfied with their orders. While mine caused me to bend my personal principles regarding sustenance, the flavors of the other two dishes were simply not in agreement with the palettes of my fellow diners.
Having found much to our disliking, we found solace in having not shelled out a fortune at Lapshin-San, having checked another local experience off the list, and taking a few free mint flavored toothpicks.