Lake Song-Kol/Сонкёль
Weekend Trip from Bishkek
Horse Treking
Budget: 11,300 soms

Lake Song-Kol (Russian Сонкёль, Kyrgyz Соңкөл), the largest fresh water lake in Kyrgyzstan, lies at 9,895 ft in the peaks of mountains in Naryn Province. It's one of the most magical places I have ever visited. I loved it more than the larger, more widely known and visited Lake Issyk Kul. At Issyk Kul, the mountains just visible on the opposite shore are both towering and impossibly far away, and the lake is endless to the right and the left. At Song-Kol, the whole lake sits well within your field of vision, as do the slopes of the mountains around it. Because so much space is visible here, everything appears small. I almost thought I could walk around the lake in an afternoon, or run up the seemingly-smooth side of a nearby peak. It's only when you start to walk that the space stretches out around you.
Two friends and I arranged a weekend trip to Song-Kol with Community Based Tourism (CBT), an organization I highly recommend. The purpose of the company is to simultaneously promote tourism in Kyrgyzstan and traditional Kyrgyz lifestyles. To that end, travelers are housed with local families, assisted by local guides, and driven by local drivers. Most of the (reasonable) fee for a trip goes to the local people hosting and facilitating it.
CBT has an office only a couple of blocks away from the London School in Bishkek, at 58 Gorky St./ Горького 58. There, my friend and I were greeted by a man at a desk who immediately assisted us. We asked about prices and itineraries for a trip to Song-Kol for the coming weekend. There were several options available to us for lengths of stay and quantity of horseback riding. We decided we wanted to spend a single night, and spend one day riding horses around Lake Song-Kol. The total cost would be about 11,300 soms ($205), or about $68 a person. The price included: a taxi drive from Kochkor to Song-Kol (about three hours) and back; a night's stay in a yurt next to the lake; dinner and breakfast; a night's stay and meals for the driver (who stays with the family as well); three horses for the three of us for a day; and a horse guide for the day (and his horse).
This information was explained and written down for us at the CBT office, and we were given the number of the local CBT office in Kochkor. When we called, we were told we couldn't formally arrange the trip in advance – we should call upon our arrival in town on Saturday morning and arrange everything with the office there.
The marshrutka ride to Kochkor is about 3 hours. We called the office from the center of town, and were met a few minutes later by a friendly, professional woman who spoke to us in English and led us the few blocks to the small, pretty house that serves as the CBT office. About ten minutes later, we had arranged everything with someone in the office (also in English). A few minutes after that, we were picked up in front of the house by our taxi driver.
The drive from Kochkor to Song-Kol is a stunning three hours on narrow mountain roads. We wound around peak after peak after peak. Once, the driver said "yak," and we looked down the slope beside us to see enormous, shaggy, slow yaks eating grass and resting in the sun. Later, in one of the narrowest sections of road, we crossed paths with a small truck, carrying a family and the piled pieces of a disassembled yurt. We stopped at the edge of the road and our driver spoke to the people in the truck through the window – they were his relatives (as were, it turned out, the people we stayed with by Lake Song-Kol).
We finally turned off the mountain road onto a narrower lane, driving up a short incline so steep it seemed the car would tumble over backwards. We wove around a hill or two and then drove along a dirt road across a plane towards the white yurts clustered by the shining lake. Horses and cows and the occasional donkey stood in groups across the field, grazing.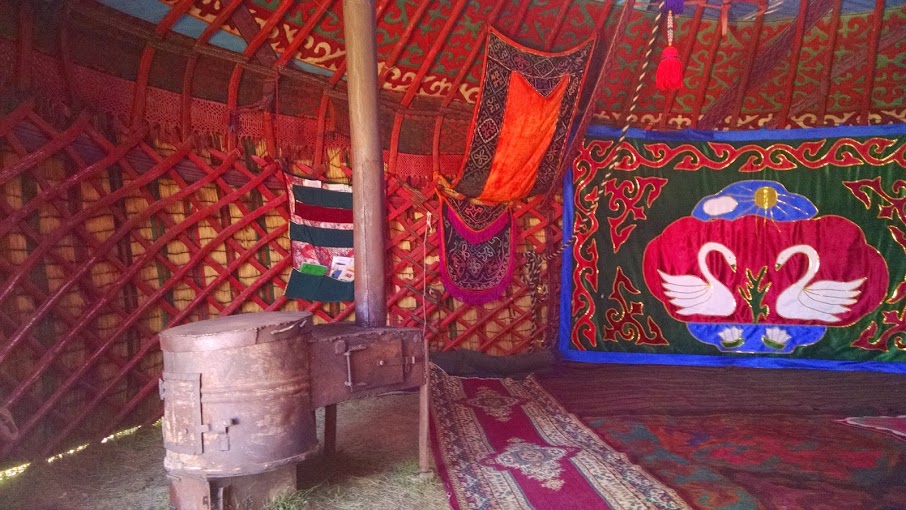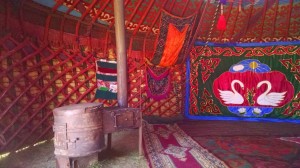 The three of us had a large yurt to ourselves, with three mattresses laden with heavy comforters, which we needed during the cold night. The walls were decorated with multi-colored, multi-patterned fabrics, a small metal furnace promised coziness after dark, and the тундук, capping the hole in the center of the peaked roof, opened onto a bright blue sky.
I was nervous about my vegetarianism – not because I thought I'd be hungry (I rarely travel far without nuts and bread and cookies), but because I didn't want to offend our hosts by refusing their food. But when we met our hostess and I began to say "I don't eat…" she finished for me: "You don't eat meat?" Relieved, I joined my friends for an evening walk before dinner.
It quickly became apparent that walking around Lake Song-Kol was laughably unrealistic. Space seemed to get larger and larger as we walked. The earth along the water was a Dr. Seuss-like terrain of grassy, bulbous mounds, which exhaled disconcertingly, like small animals, as we hopped from one to another. We met cows who stared us down, and baby horses nursing beneath their chewing mothers. We passed a second small yurt camp, a small distance from ours, and then saw no other signs of habitation in front of us, or across the lake. We felt very far away from everything and everyone – and were all the more surprised when a backpacker rounded the next hill, and spoke to us in English. He was German. Next, we met two women from France. Even in late September, even on top of the mountains, we were not so remote. The animals who seemed to own the place in fact spoke of a vibrant жайлоо, ("jayloo," summer pasture) and fellow travelers were enjoying the unusual beauty with us.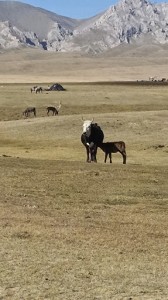 We ate dinner in our host's yurt, three doors down from ours. There was hearty vegetable soup, and the now familiar piles of bread, cookies, борсоки, and (most importantly, as far as I'm concerned) glass bowls of iridescent jams, in vivid purples and oranges and reds. There was fish as well, for the non-vegetarians. And endless чай (tea), of course. We ate with fellow-travelers, from Germany and Japan.
The day had been hot and bright and sunny, but the night was sharp and cold. The stars, which I'd been eagerly awaiting, were as bright as I had hoped, and I saw the Milky Way clearly for the first time.
We wore sweatshirts to bed under our heavy blankets and stayed warm in our yurt. We woke to a much colder day, and a breakfast of rice каша (porridge) and fried eggs, bread and jam, tea and cookies. And then we mounted the horses waiting tied to a post outside, with the help of our guide, a boy of about sixteen who said very little that day other than "Right!" and "Left!"
My most substantial horseback riding experience had been a half-hour ride a few weeks before, near the Tian Shan Mountains on an SRAS trip to Issyk Kul. I had learned "chu" (go) and "drrr" (stop), and had a vague sense of how to pull on the reigns to turn. And that was really all I needed. We rode slowly, across the expanse of field and around the hills that had looked small and compact from afar, but which hid streams and herds of sheep and small valleys between them. In addition to our quiet guide, who pushed or pulled our horses when they turned the wrong way or stopped too long to eat, we were accompanied the whole way by an enthusiastic dog from the camp, who ran ahead, loped back towards us, barked at cows, and looked up at us and around at the hills and stream and sky with pure pleasure.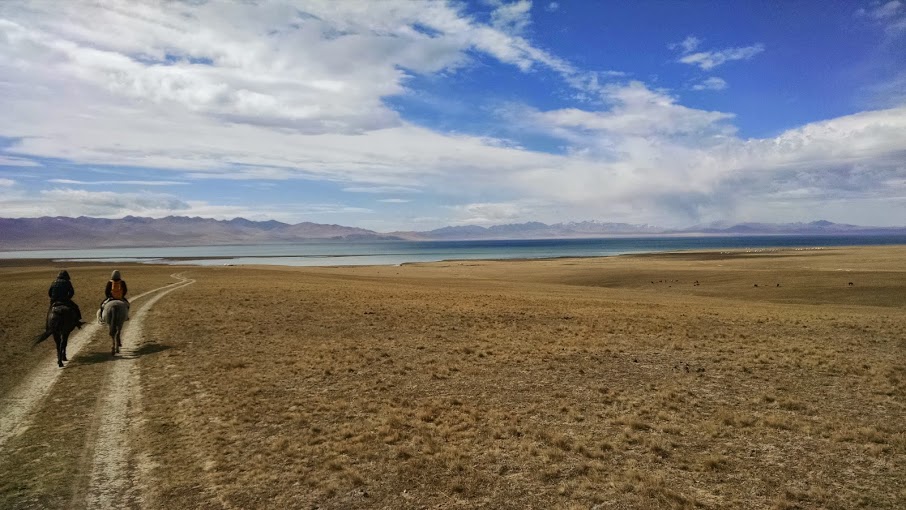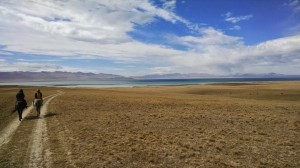 We rode for a couple of hours, went back to our yurt to snack, and rode some more. By the afternoon, thick white fog was over the mountains in the direction we'd driven from yesterday, and not long after we started riding, small, fast snowflakes fell around us. We worried that our driver, who'd had to go into town on business concerning a sick sheep, wouldn't make it back to pick us up. But he did, and the snow had stopped by the time we left the camp, to resume for only a few minutes during our ride through the mountains.
Our hosts told us as we left that they were getting ready to pack up camp, and drive back to town like the relatives we'd seen on our way, carrying the yurts that disassemble so cleverly. Many families had already left.
The drive back to Kochkor was as beautiful as yesterday's drive had been, and it was made more interesting by the neighbor we picked up on the way, with his small, carsick dog, who spent the three hours wrapped in a shirt on the floor. We made it back to the CBT office by about 7, a shared cab was called for us, and we waited for it to fill up in the main square (it fit 7 passengers, and cost 250 soms, or $4.50, a person). A fellow passenger passed out pears, and we were dropped close to our respective homes back in the city.
I'd love to see the Lake Song-Kol in the winter, empty and white, and in the brightly-colored spring, and the busy summer. I'm looking forward to going back.