Laflafel
Malyy Kazennyy per., 16,
11 am – 11 pm
Budget: 600+ Rubles
Laflafel has recently made its full entrance onto Moscow's restaurant scene, serving up Middle and Far Eastern dishes with Russian dishes interspersed throughout the menu. The friendly owners speak English and will take time to explain the dishes to you.
The foreign dishes on offer range from Israeli to Indian, with a small menu ensuring that food is always out quickly. The soup of the day runs 170 rubles and arrives within minutes in its own cast iron pot. Make sure to ask which soups are available that day, and I recommend the sambar, a south Indian spicy lentil soup.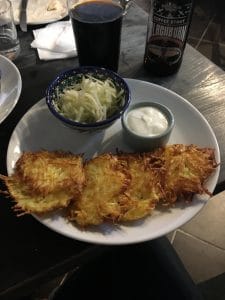 The daily selections are listed via placards on the wall, and usually include hummus served with pita and salad (290 rubles) and a falafel burger that will delight burger enthusiasts and vegetarians alike (299 rubles).
Each dish on the menu is unique, complete with its own flavors and spices. Follow the Sambar with Palak-Paneer (380 rubles), or something milder like the Israeli favorite latkes (potato pancakes) for 290. The Russian breakfast dish kasha is always available on the menu as well.
Two rooms make it easy to gather with friends, or sit and enjoy a book paired with tea or coffee. Sit at the large, rustic bar and order an iced latte (150 rubles) while vinyl records of Western pop and oldies give the café a hipster buzz.
Vegans can enjoy Laflafel's signature Spielberg (340 rubles), a Russian-style cutlet of falafel, chopped and tucked with hummus and served with a side of vegetables.
No matter the origin, Laflafel's dishes are authentically exotic, yet done subtly enough and in such a casual settling that they are incredibly approachable. Portions are very well sized, and at reasonable prices, one can easily order several dishes without feeling full or as if the wallet has taken a hit.
Combine this with the charm of the place and the fact that you'll likely be served by the restaurant's owner, and Laflafel certainly stakes its claim as a great spot for a casual get-together or getaway.