La Fiesta Tequila Bar
Foksal 21
Hours: 12pm-3am, Mon-Sun;
Meals from PLN 25
LaFiesta.pl
Being a student abroad (without a source of income and only my savings to support me), it is quite rare for me to go out to a restaurant to eat. Since it is a requirement of my internship to review some restaurants in Warsaw, however, I took it upon myself to find the best-priced deals and plan where to dine out ahead of time.
One place in the US that I like to start looking for deals or coupons to eat out is Groupon. And it just so happens that Groupon has a relatively strong presence in Poland as well, particularly in Warsaw. Groupon.pl is only offered in Polish but if you're familiar with the US version, it's not hard to navigate. And if worse comes to worst, there's always pons.eu (my favorite Polish-English online dictionary) and pl.bab.la (my second favorite).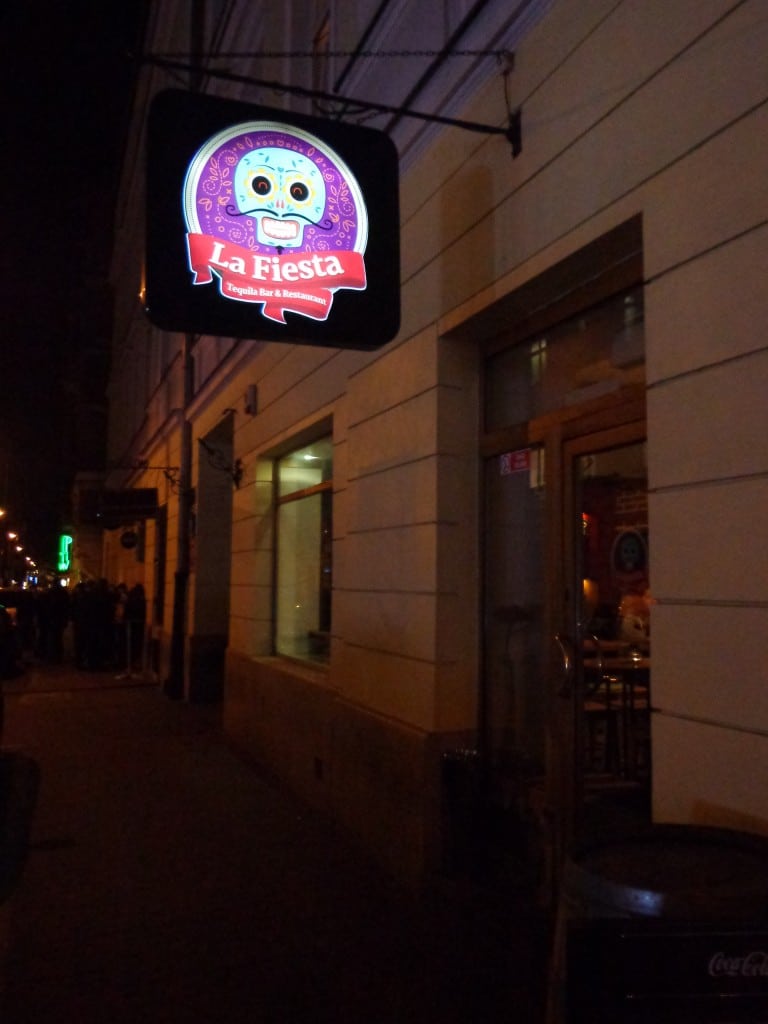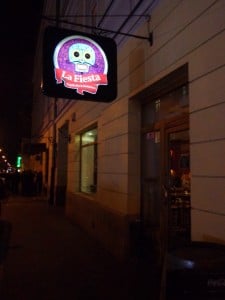 In any case, Groupon.pl regularly offers over a hundred restaurants of various specialties in Warsaw, so I usually search for a restaurant by cuisine (e.g. Japanese, Mediterranean, Georgian, etc.). Having been abroad for almost a year now, I realized that I hadn't had any Mexican food in quite some time. After filtering down the restaurant deals to places specializing in Mexican cuisine, the best-priced and most conveniently-located deal turned out to be "La Fiesta Tequila Bar," located in the city center on Foksal, right off Nowy Świat (one of Warsaw's main drags).
As a student at Collegium Civitas, I was glad to find out that La Fiesta Tequila Bar is within walking distance of the Palace of Science and Culture: it's just a 15-minute straight shot by foot down ul. Chmielna. On your way there, you'll pass a number of lively bars and restaurants that are teeming with people until late into the night. There are also a number of bus connections, if you don't feel like walking or are coming from somewhere else.
Since my girlfriend was in town last week, we went together to the restaurant. The Groupon required making a reservation 24 hours in advance, so that may be a problem, if you don't speak Polish (the staff may speak English but when we called we spoke in Polish so I'm not sure).
When we got to the restaurant we told the waiter that we were using a Groupon at 18.00 and he seated us. The restaurant was relatively small (there were only about 7 tables upstairs and one big table downstairs across from the bar) but it was well adorned, furnished and colorful. You could also see the chef cooking the food, which I always appreciate, since it seems to ensure a certain level of cleanliness and order as the chef cooks under the watchful and hungry eyes of his patrons.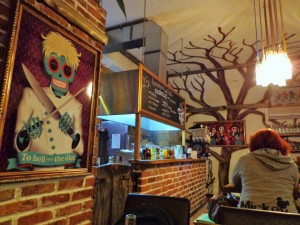 The Groupon that I chose cost about 50 PLN (about $14) for 100 PLN worth of food at La Fiesta. The 100 PLN coupon was nearly enough to cover a three-course meal for each of us: we ordered two soups (Sopa de Tortilla con Pollo y Limon and Chili con Carne), two entrees (Fajitas con Pechuga de Pollo and Quesadillas con Pechuga de Pollo), a dessert (Tortilla con Manzana y Canela), and one liter of lemonade (Limonada). (In English: Tortilla Soup with Chicken and Lemon, Meat Chili, Fajitas with Chicken Breast, Quesadillas with Chicken Breast, Tortilla with Apples and Cinnamon).
The two soups were both delicious with just the right amount of spices so we had high hopes for our main dishes. The Fajitas were also quite yummy and when arrived at our table, they were literally on fire and I had to blow on them to put it out. Everything was obviously quite fresh but I do think the Fajitas would have been slightly better if they were a little less burned (the cooked vegetables and chicken were nearly swimming in a black oil) and if they came with more than just two tortillas. That being said, after having already eaten the chili soup, I hardly had room to eat it all – it was all quite filling.
I didn't try my girlfriend's Quesadillas (I'm not a big fan of cheese) but she tells me they were good…just not delicious perhaps or much better than what she could have made herself. The dessert (a Polish-Mexican interpretation of a fried apple cake) was served with vanilla ice-cream and cinnamon. The apple cake was delightful and left nothing to critique.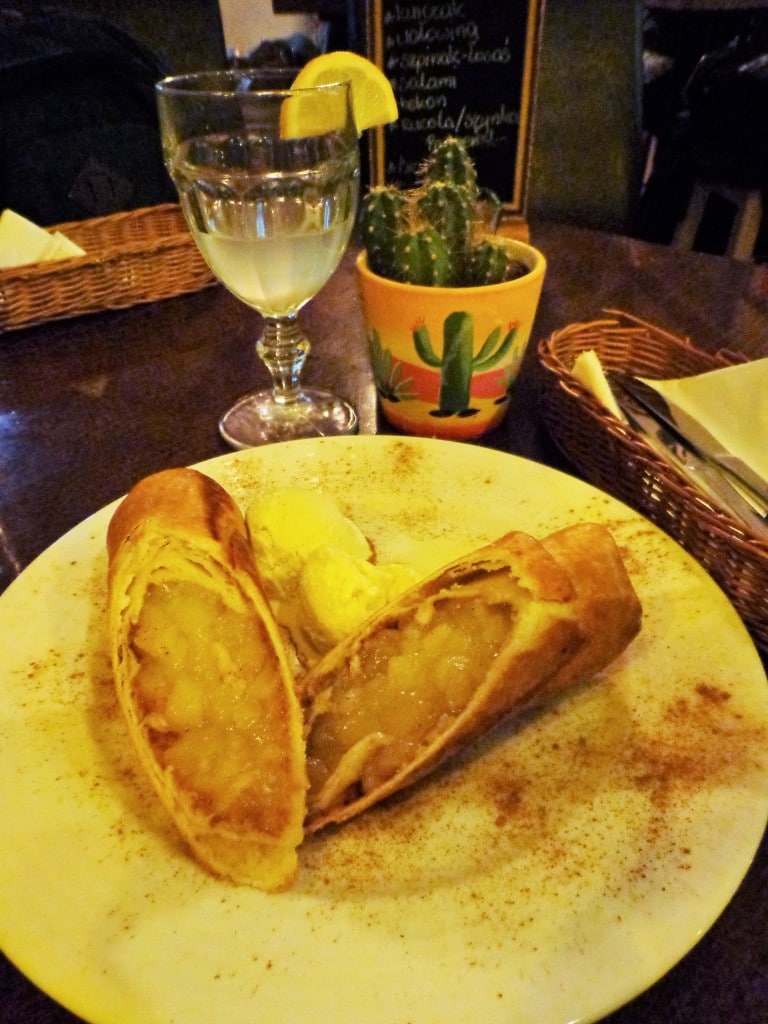 All in all, the soups and the dessert were basically perfect, which raised our hopes for the main course. And, the Fajitas and Quesadillas were good, but given our high expectations, they weren't quite as delicious as we had hoped. Overall, however, I think we had a delicious, top-notch meal and good service.
The total cost of the meal was 130 PLN so (after the 100 PLN coupon) we paid 30 PLN at the restaurant. Considering the 50 PLN we already paid to Groupon online, the total cost for both of our three-course meals with a 500 mL drink each was 80 PLN (or about $21.50). For what was essentially a feast, I think the price was quite good, particularly considering the location and how tasty it was. I can really only recommend La Fiesta, especially if you come either with a Groupon or during their lunch special. From 12.00 to 17.00, you can get a soup and Quesadillas for 25 PLN, which is also not bad for a restaurant in that area.