Students on SRAS study abroad programs in Kyiv stay with a host family. Each Kyiv homestay includes two meals per day and are generally 10-50 minutes away from classes by public transport. Homestays in Kyiv vary, sometimes housing you with a family and sometimes with a single, older person. In all cases, however, your host(s) will be experienced and ready to include you in coversations and daily life. Home stays are a phenomenal way to boost your Russian language and immerse yourself in the local culture.
My Kyiv Homestay Experience (Spring 2020)
By Jonah Helwig
My arrival in Kyiv can be summed up in two words: CULTURE SHOCK! Driving into the city from the airport I saw dozens of Soviet-style apartment buildings. Rundown and leftover from the Cold War, they were 20-storey-tall, real-life pieces of history that I had only ever read of in books and seen in pictures.
I found the layout of the city also strange. As I grew up in suburban Florida, I was used to seeing tall apartment buildings mostly in the center of the city. Kyiv is basically a whole city of apartment buildings, however, with almost no houses in sight. Thus, the city itself provided me with my first moment of culture shock.
The second and most major moment of culture shock, however, came when I arrived at my homestay. I had been abroad before, but this time was different as I would be with a host family for the first time. It is a strange enough experience to be living in another person's home, but it is much stranger when you speak different languages; I currently speak very little Russian and my host family does not speak English.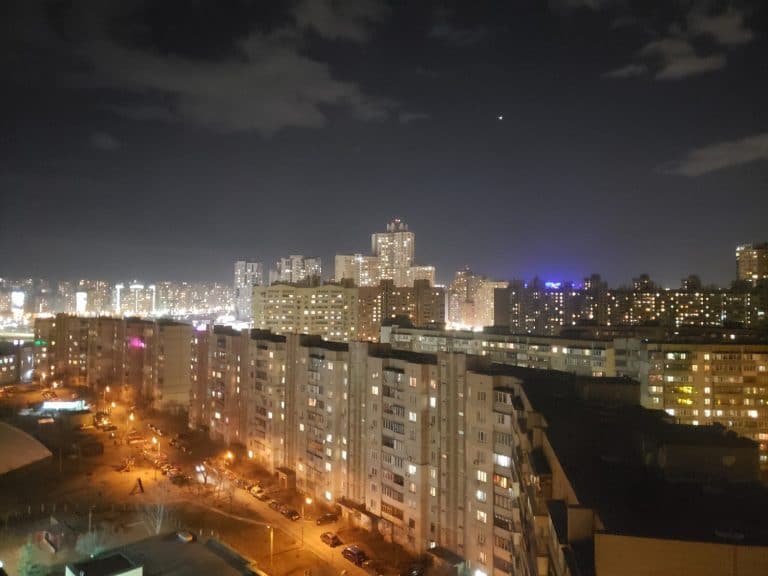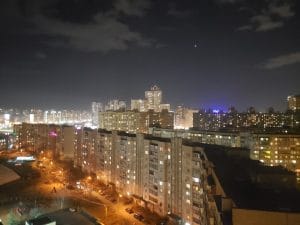 The Cold War stigmas were very present in my head: the people of East Europe were supposed to be cold and mean. However, my host mother is a very kind women who welcomed me with a hug. My entire host family made me feel welcome from the beginning. However, I was still troubled by my struggles to overcome a language barrier for the first time. As the situation became more uncomfortable for me, I made a poor decision to go hide in my room.
There, I called my parents. It was nice to hear from them, but it only highlighted the fact that I was alone in a foreign country. I missed them terribly, I felt homesick, and I missed the warmth of Florida, as temperatures below 30 degrees are also something new to me. I reached my tipping point and became extremely emotional. I was in desperate need of a pep talk and I knew exactly where to turn. I emailed my professor and adviser at Stetson in a panic, wondering what I had gotten myself into and asking for some moral support. She emailed back quickly with the simple advice: "get out of your room right now!" She told me to go attempt to speak with my host and eat something. I was skeptical but I decided to follow this advice.
I left my room and went to the kitchen for something to eat. My host mother prepared a delicious soup and gave me more than I could possibly eat. We attempted to have a conversation in the language I had come abroad to study. My sentences were broken and google translate was used frequently, but I was able to communicate where I am from and some other simple facts about myself. I had brought a box of saltwater taffy as a gift for my host family and we used the map of Florida on the box to discuss my home. This small interaction was extremely helpful in putting my mind at ease. Despite all the negativity I experienced at first; I realize now that this experience was the beginning of a grand adventure. More importantly, I learned a valuable lesson: sometimes you just need to get out of your room and engage in things that are far outside of your comfort zone.
My Kyiv Homestay Experience (Fall 2017)
By Charlie Bacsik
When I was preparing to study abroad, one of the hardest decisions I had to make was where I was going to live: with a host family or in the dorms. This was a topic that I pondered over for weeks, trying to weigh the pros and cons of both options. Several of my friends had studied abroad before me, and they all seemed to have varying opinions. Some said the language immersion of a host family outweighed the "lack of freedom" they had, while others said that the dorms simply offered a more studious environment and kept them focused on classes. In the end, the PCON program in Kyiv only offered homestays, so the decision was ultimately made for me based on my program choice. However, looking back on my fall semester, I realize that living with my host family was hands-down the best thing that could have happened to me.
My host parents, Nelli and Bohdan, live on the left bank of Kyiv with their son and daughter, Yaroslav and Maryana. Nelli, a native-born Russian from the Ural mountain region, married her proud Ukrainian husband almost thirty years ago, and they've lived in Kyiv ever since. Their apartment is warm and cozy, but most importantly, it felt like home almost instantly when I arrived.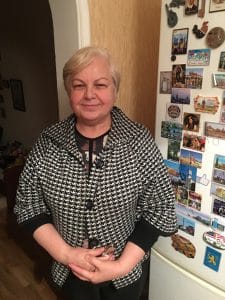 When I first landed in Kyiv and was on my way to meet my host parents, I was practically shaking with nerves. At the time, my Russian language skills were beginner, so I was concerned about the language barrier, but, hey, that's what the experience is all about, right? I'm not quite sure what I expected to find when I arrived at my homestay, but the little lady with white hair and a big smile was more than I could have asked for. Within thirty seconds of meeting her, I was being pulled into a huge hug and shuffled into what would be my new home for the next three months.
My host family didn't just make an honest effort to welcome me into their home, but they also did everything they could to ensure that I learned as much as possible. My host mom used to work as a Russian-language school teacher, so she was able to assist me with not just my speaking, but also my grammatical comprehension. Bohdan only speaks Ukrainian, but he would sometimes try and speak a little bit of Russian with me. For native Ukrainian speakers, the pronunciation of Russian isn't always proper (for example: it's common for Ukrainians to pronounce their g's as h's). When my host dad spoke Russian with me, he spoke with a heavy Ukrainian accent, and occasionally mispronounced Russian words. Whenever this happened, Nelli would run into the room and correct him (this happened countless times), to ensure that I understood and would pronounce the word correctly myself.
Nelli exercised unwavering patience with my poor language abilities, and truly made me feel comfortable to practice with her. She would ask me everyday what lessons we completed in class and then proceed to incorporate related words and topics into the daily conversation. I attribute a large part of my language improvement to Nelli's steady and encouraging assistance.
Besides my language immersion, my host family offered me something that the dorm-life couldn't have. While living with them, I got to observe the intricate dynamic of a mixed-nationality household. Considering the current political climate in Ukraine and my host dad's adamant support for his country, I got to observe the way my ethnically-Russian host mom viewed the conflict. I was pleasantly surprised at how open my host mom was about her political views, both domestic and international. She didn't just outline her opinion, rather she wanted to hold conversations with me and fully make sure I understood all of the moving parts within Ukraine, the country she now considers to be her true home.
Most of these complex conversations took place over dinner, when Nelli would serve me some of the best home cooked meals I've ever had. Since my host mom retired from teaching several years ago, she's since been a housewife who takes great pride in her cooking skills. Throughout my entire semester in Kyiv, I can't recall eating a single meal that wasn't restaurant-worthy.
While living with my host family, I had my own room with a bed, desk/chair, piano, and wardrobe. Nelli refused to let me change my own sheets, and unyieldingly persisted on doing my laundry. While having my normal chores done for me was nice, my favorite part of living with a family was the comfort of having people around. Studying in a foreign country can be lonely sometimes, especially when the language barrier is thrown into the mix, so it was nice to know that I always had people to come home to and just relax with.
After living with my host family for three months, I can safely say that my time in Kyiv wouldn't have been nearly as impactful without them. They didn't just offer me meals and a warm bed, but rather a genuine, loving environment that I will forever be grateful for. The memory of their tender-hearted hospitality and sincere kindness will stay with me long after I leave Ukraine.