Kraken Bar
Sverdlova 23a
M-T, 12–12; F and S, 12–2
Kraken is a very comfortable bar/café situated a five- to ten-minute walk away from the faculty of foreign languages building of Irkutsk State University. With a pretty long European/Russian menu, though not a very exciting beer list, it's great for a weekday lunch or dinner near school. I haven't yet tested it in its capacity as a bar, though.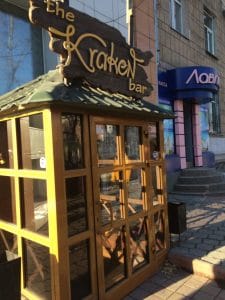 While Kraken may not be the most exciting, Russia-y experience you'll have in Irkutsk, it's one of the better places I've found to eat near school. I got a Nicoise salad, which turned out to be super fancy-looking, with squares of salmon and some sort of poached egg in a cool shape. It was both really good and a great change from stolovaya fare—no disrespect, but sometimes you need a break! The friend I was with got a beer-snack plate that included some more Eastern European/Russian snacks, including grenki (гренки), the fried garlicky squares of rye bread. The bar also has hookahs available, so it's not exactly your standard American-ish bar.
Prices are a little higher than I've been accustomed to in Irkutsk, though nothing outrageous. You can definitely stick to a $10 budget, though you won't be getting an enormous meal for that price. Most entrees ranged from about $5 to $10, with the more filling-sounding dishes on the higher end of that spectrum. The atmosphere on a weekday late afternoon was quiet and pleasant; it would have been a fine place to do some homework. Overall, I don't think it'll become my go-to Irkutsk café, just because it's not super unique to the area, but I did like it, and the sea monsters all over the walls are of course a definite plus.