On a rainy Friday afternoon in late June, a few of my friends and I decided to brave the weather to check out one of Moscow's many cat cafes. Kotissimo, the largest such cafe in the city, is located slightly outside the ring of metro stations that make up the city center. After a brief but sodden walk from the station, we stumbled upon the cafe. To prevent the cats from escaping, we rang the doorbell and waited for an employee to unlock the door. We were then ushered into a small antechamber that smelled strongly of cats, where we deposited our coats and swapped our shoes for single-use socks and crocs. An employee explained pricing and cafe etiquette – pet, play, but don't pick up – and opened the inner door to the cats within.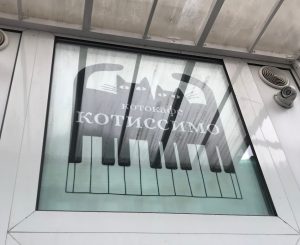 My first few moments in the cafe were a blur, as my excitement at finally getting some quality cat time had me flitting around the room, not knowing where to begin. Resembling a house more than a cafe, the main room featured a large table at one end and an assortment of plush couches and armchairs at the other. A Maine Coon sprawled on top of a fish tank, his immense size dwarfing the fish swimming beneath, while cats of varying coloring and age lounged in beds situated within the deep window seats. A smaller room lay further back, in which lay more couches and tables, as well as an assortment of board games. For the cats' entertainment, videos of birds, complete with sound, played on a loop on a nearby screen. The remainder of the rectangular space was blocked off, doubling as a place for storage and a place for the cats to get away.
The cafe was an anticafe, so the selection was limited but complementary. We could choose between coffee, hot chocolate, and tea, serving ourselves as desired while snacking on cookies and fresh strawberries. Soon enough, we all settled down with a cat or some coffee – or both, as some of the cats seemed very interested in our drinks and snacks. One cat was so brazen as to swipe a strawberry directly from my friend's plate. We constantly had to shoo them away from our plates and cups, but all of us did so very good-naturedly, being used to doing so at home.
Although the sheer number of cats – between 20 and 30 – and their tendency to flit around the cafe at will made it difficult to remember names, there was one in particular who stuck out. Mao, an elderly caramel-and-black-colored cat, spent most of his time on top of the table where we enjoyed our refreshments. He tried to stick his head directly into one of our cups multiple times, as well as took a bite directly out of my friend's cookie. It was obvious that Mao was a favorite of the employees from the way they chided him, smiles on their faces, and gently placed him on the floor or pushed him to the other end of the table.
When I wasn't sitting with a cup of hot chocolate or wandering from room to room trying to pet as many cats as possible, I sat on the floor with one or two of the cafe's residents, tempting them with various toys. The cafe had a wide variety of feathered wand toys and smaller catnip-filled pouches of various shapes and sizes. Thus began the age-old challenge of finding which toy a particular cat prefers and how they prefer it to move. There was one moment when I had found success with two cats simultaneously, both of them leaping and running around me – utter bliss.
Too soon, my friends were ready to go, so we paid, said our last goodbyes, and trekked back out into the rain. All of us felt completely relaxed, stress a foreign feeling. I recommend the Kotissimo Cat Cafe for all animal lovers visiting Moscow, particularly those who are missing their own furry families at home.