During one of my many afternoons of wandering around the city and exploring the streets of St. Petersburg, I stumbled across the Koreana Restaurant. Having never tried Korean food before, I texted one of my fellow classmates who was familiar with the cuisine and invited her along with me. She mentioned that she'd heard fabulous things about the restaurant and that many locals recommended it to her. Apparently, she'd also seen countless cars with Koreana stickers on the back windshields, which made me that much more curious to see what made it so special.
On the Koreana website, they request all guests to make a reservation ahead of time; however, we showed up on a Wednesday afternoon, so there was no problem with seating. The restaurant is sit-down style with a cozy atmosphere and a large menu that includes just about anything you could want from the Korean cuisine. We visited there during lunch hours, and they provided us with a Business Lunch Menu. This included a main dish, a small soup, a side dish, and a drink. The prices ranged from 320-370 RUB (~$5-$6) depending on what main dish you chose. Many restaurants in the city provide tasty business lunches, and it's a great way to try different restaurants for a cheaper price!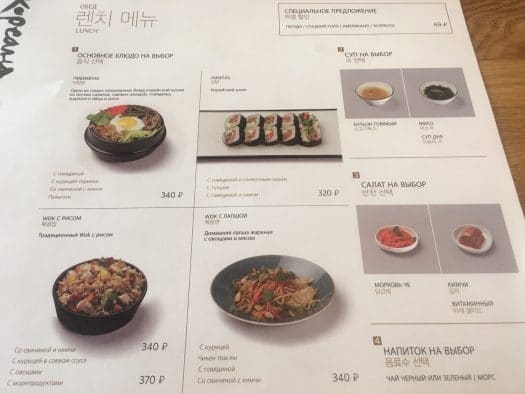 The entire menu had descriptions in Korean, Russian, and English, and the wait staff was quick to recommend a few dishes for us to try. My friend and I ended up choosing dishes from the main menu, which were still reasonably priced. For the price I was paying, I expected much smaller meals, but was pleasantly surprised by the large serving portions when the dishes were brought to our table. I ordered Ojingeo Bokkeum, a spicy squid stir fry, and my friend had the traditional Haemultang, which is essentially a spicy seafood soup. According to her, both dishes tasted like authentic Korean meals, so we definitely were not disappointed!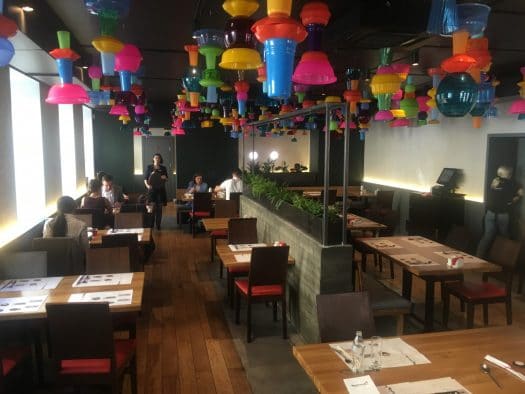 There are several Koreana locations across St. Petersburg, but the closest location to campus is only a seven-minute walk! You can also place your order ahead of time through their website; however, online ordering requires a minimum bill of 1000 RUB (~$16). You can also find the entire menu on their website, Koreana St. Petersburg.
Overall, my first experience trying Korean food was a success! On one of my last days in the city, I'm glad I got the opportunity to explore the popular restaurant with a fellow classmate before we all part ways. For all the SRAS students soon to be traveling to St. Petersburg, I highly recommend adding the Koreana Restaurant to your activities list!
Koreana Restaurant 
Spring 2018
Location: Gorokhovaya Street, 17, St. Petersburg, 190000 (Nearest location to university)
Hours of Operation: Sunday- Thursday: 12 pm – 11 pm & Friday- Saturday 12 pm – 1 am
Average Meal Cost: 400 RUB (~$6.50)