Korea House
ул. Семёновская, д.76
Hours: Noon-Midnight everyday;
Meals from 450 rubles ($7.50)
koreahouse.su
One of the greatest benefits of studying abroad is inarguably the direct insight into a foreign culture that, with but a little analysis, widens and enlivens our own outward perceptions of the world and its immeasurably varying inhabitants. However, this was more or less my expectation when making my decision to get out of the country for a bit. What has been a more unexpected, and perhaps all the more pleasant for that reason, learning experience is the insight into the cultures that other likeminded ex-pats additionally bring to the table.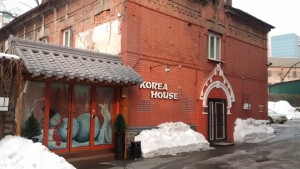 While these culture exchanges take place, and are to varying degrees fostered within the classroom, as the universal rule of thumb states, the truly interesting things happen beyond the borders of the official sphere! For this reason, getting out of the classroom every so often with fellow foreign students is highly conducive to mutual brain-picking. I have found this is most easily done by having a complimentary goal in which all are interested. I am of course talking about food. Thusly was a sort of tradition initiated amongst a small section of our group; one which I feel I am taking no excessive liberties in describing as having developed into an eagerly awaited weekly event for all.
Our most recent outing landed us in an eagerly awaited eatery, having already been denied entrance on previous occasions, as there were no free tables. This was easily understandable upon entry as the single dining room is not meant to serve the masses. One, however, immediately got the feeling that all sacrificed space had been compensated for in quality. The interior was spotless and quaint in its compactness. The tables were meticulously set by a staff that seemed to take particular pride in the perfecting of their tasks. The décor enlivened the atmosphere without bringing it to a level of distraction. Finally, of utmost personal importance, the music consisted of light jazz covers of American '70s hits, which, by the way, was not the first time I have met such circumstances in a Korean restaurant here in Vlad. Luckily, the selection is appealing to me. On a side note, the music selection always seems to be where these restaurants claiming foreign extraction throw in the towel. This question of why, however, is one for another time and place. Back to the food.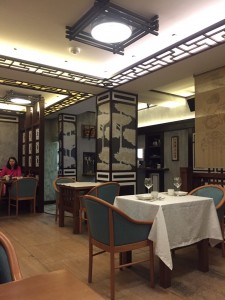 Apart from the good reputation Korea House holds, one of the things that had been drawing me here was the Lenten menu (постное меню) the website advertised. Indeed, separate from the average Korean establishment, there was a fairly diverse selection of not only meatless, but also fishless entrees. We all made our selections, opted to have our drink orders brought earlier than the food, an option many restaurants do not provide and simply bring everything at once, and sat back as the table was soon carefully arranged with the repertoire of appetizers to which I have now become accustomed. Here the kimchi was a little sweater than elsewhere, while the green beans (стручковая фасоль) had a noticeably fresher crunch to them. Unexpectedly there was also a small serving of meat where generally only vegetables are present. This is likely yet another sign that we found ourselves somewhere of a slightly higher grade than those we tend to frequent.
Somewhat caught up in the excitement of having multiple vegetarian options I ordered a vegetable salad further accompanied by spinach (шпинат) and, one of my favorites, sea cabbage (морская капуста) sides salads. The meaty yin to my vegetable yang came in a full spread of beef ribs in a spicy sauce (ребра говяжьи в остром соусе). However, not all were caught up in extremes as our third diner ordered kimchi with fried pork (жаренная свинина с кимчи).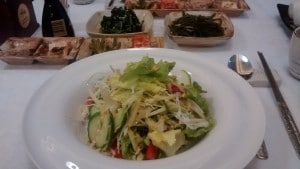 Again taking the liberty of speaking for our group, I'd say this was a decidedly successful endeavor. Not only was it nice to enjoy a dining experience a notch or two refined compared to our more habitual selections, the increase in quality seemed to be under-compensated by the price increase. While the ribs came in at a steep-ish 880 rubles ($15), the kimchi and pork rang up at 460 rubles ($8). Even my triplet salads only totaled 570 rubles ($9.50). For this reason, I might suggest Korean House for a celebratory occasion that won't break the bank. And don't worry, they offer a full assortment of alcoholic beverages. Just be sure to call ahead as, knowing from experience, they tend to fill up quickly – especially on holidays!