Korchma Taras Bulba 
Pushkinska St, 2-4/7
9:00-24:00
Entrees from $4 – 9
Before you even set foot inside of Taras Bulba Tarven (Korchma Taras Bulba), you can tell from the exterior of the restaurant that you aren't walking into a hidden cache of authentic Ukrainian culture. It looks exactly like what it is — a tourist trap, and when you step inside the restaurant to witness waiters and waitresses dressed in elaborate Ukrainian folk garb, fake fireplaces, and fake flowers everywhere, your suspicions that locals might consider this place a bit on the tacky side, are confirmed. Kormcha Taras Bulba is in fact a chain of restaurants, so if you're looking for a one of a kind Ukrainian dining experience, the kitsch level may be a bit too far over the top.
Now, taking everything I've said into account, let me candid with you — it's totally fun, I had an unexpectedly good time, and you should go eat there. I owe the experience to a fellow student studying at NovaMova. I had walked by Taras Bulba at least two or three times before during my daily lunch spot searches, and bypassed it for the aforementioned reasons. However on this day I was not wandering alone, and my new friend, a Swiss guy called Olivier, lead me down Yaroslaviv Val about 4 blocks to the restaurant's seedy doors, saying "We have to try it."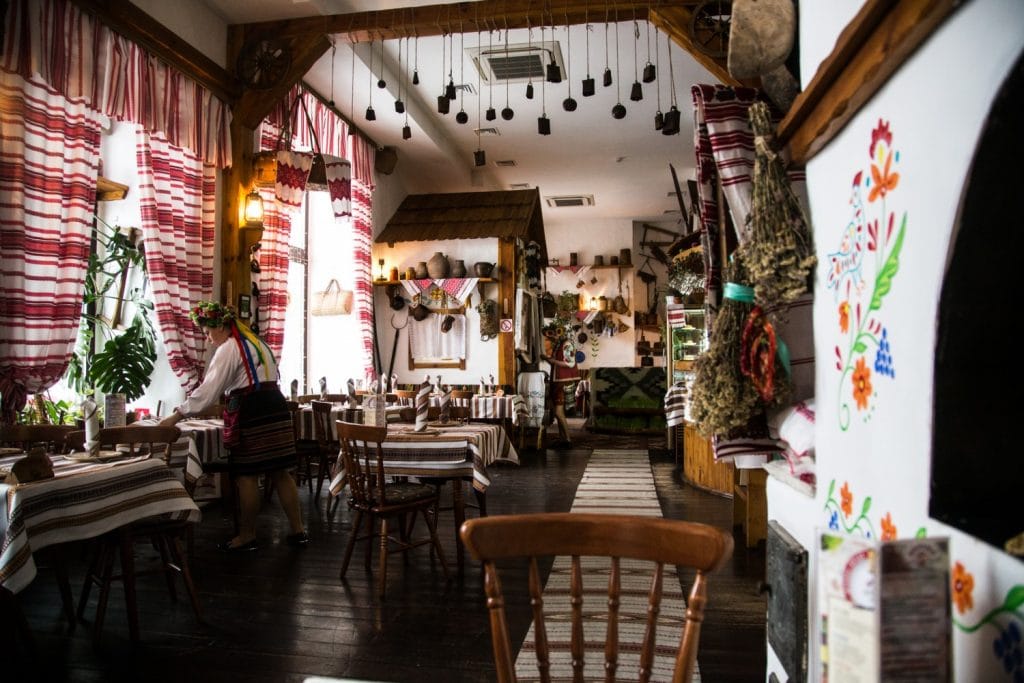 After taking in the extreme decor, the first thing I noticed was that the restaurant was significantly less crowded than many of the cafe's I've tried during lunch hours –a bonus if you're from a smaller town like me and struggling to acclimate to city life. The second bonus for Oliver and I — English menus. Although sometimes it's fun to play entre roulette with an all Ukrainian menu, it's also fun to know what you're ordering. Though our waitress spoke Russian, she spoke slowly and simply enough for me to understand at my intermediate level.
The quality of the food at Taras Bulba is comparable to the atmosphere. It's certainly not the most delicious restaurant in the city, but, if you're a poor international student trying to get full, I'm confident you'll be pleased. First you get a basket of bread and hummus. Oliver chose Chicken Kyiv (somehow he'd never heard of it before), while I had a bowl of  "traditional hearty borscht" with bread and something called "childhood's favorite olive salad". I chose the meatless option, and discovered it's basically just potato salad. The specifically homemade mayo that menu mentions did not disappoint. I was able to get away with all of this for about 140 грн, or a little less than 7 dollars. If you manage to get out of there before your waitress has convinced you that you also need to order dessert and coffee (we caved), you've gotten out of there pretty cheap.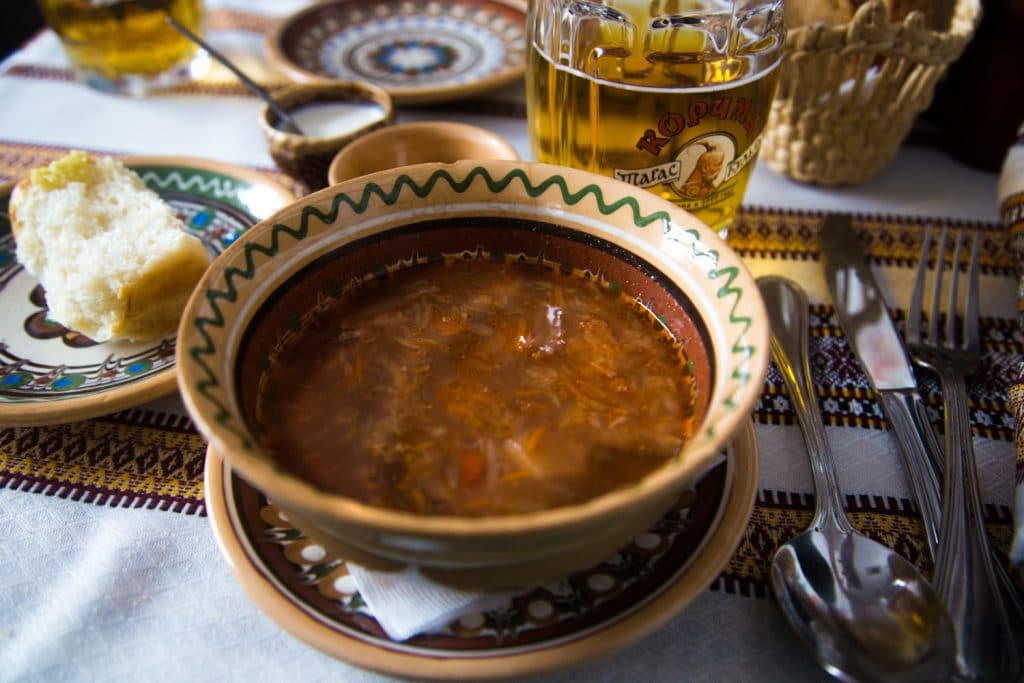 Noticing my camera, our waitress encouraged us to take the cheese level one step further, bringing me a fake flower headdress like all the waitresses wore, and Oliver a straw hat to match the waiters. Then of course there were pictures. So, if you can handle your meal ending in a ridiculous photo, then by all means, give it a try.