Kitchen
ул. Пограничная 12
Hours; Noon-Midnight (Sun.-Thurs.), Noon-2am (Fri & Sat.);
Meals from 500 rubles ($10);
10% off menu prices Noon-5pm everyday
Izbrasserie.ru
Hailing from the fairly humble stylistic environs of my Kentucky hometown, acclimating to the fashion norms of the international port of Vladivostok has been anything but an overnight affair. The high life in this city on the far eastern edge of the continent is much flashier than the flannel and denim draped scenes of my youth. Not only applicable to how people choose to outfit themselves, these trends are reflected in the eye-drawing cars the wealthy drive, the illustrious gated residences (ironically known in Russian as "cottages" – коттеджи) they construct beyond city limits and, of course, the social display rooms they attend that are many of the local restaurants, bars, and clubs. Even after spending the better part of a year here, I continue to find myself in intriguing new aesthetic experiences.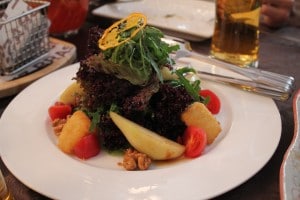 Needless to say, a recent meal at one of the newer, and perhaps premier, restaurants located in the city's center provided no exception. The not-so-humbly entitled "Chef-Restaurant" Kitchen is just one the four dining establishments begun in 2008 as part of a collective business endeavor. While rounding out the foursome are yet two more restaurants (Iz Brasserie and Трактир на Миллионке) in addition to a confectionary (Кондитория Iz Brasserie), it would seem safe to label Kitchen the flagship of the quartet.
Plush, inviting booths, wall-spanning mirror-backed bars and a kitchen open to the diner's gaze are meshed together by a theme of rustic luxury. While the atmosphere was a pleasant one for a Saturday afternoon lunch, it is clear that the restaurant is built with the evening hours in mind. However, with a 10% discount in effect (действует скидка) during lunchtime hours, this is perhaps the best time for students to get a taste of what the city has to offer in terms of upscale dining.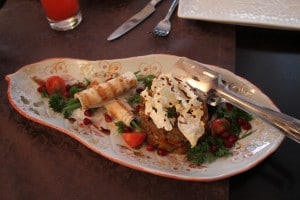 Navigating the menu here was a pretty simple task as, apart from the appetizers, vegetarian options were few. Luckily my hosting party was kind enough to cater to my tastes in choosing starters and ordered a baked vegetable salad (салат из печёных овощей) prepared according in the Caucasian fashion with the vegetables grilled before being skinned and baked. Another salad of leafy greens with camembert cheese and caramelized pears (листья салата с камамбером и карамелизованной грушой) also found its way to our table along with rabbit liver pate and fried black bread (Паштет из печени кролика, ржаные гренки). For those plates which I took part in consuming, I have nothing but high compliments. The portions outweighed those belonging to the inhalably meager variety of delicacies that are a signature of 'fine dining', the full flavors of the various ingredients were individually distinguishable through the light seasoning and the presentation made me almost feel guilty bulldozing my utensils through the culinary masterpieces. Luckily, I quickly overcame my reluctance.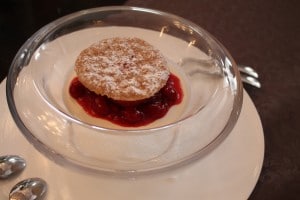 For the main course, my order of spaghetti with pesto sauce left little to be desired. Various other soups, salads and fish-topped pastas filled every last bit of open table space. Despite having already made a hefty dent in the menu's offerings, the meal would not be complete without a crowning dessert. To this end arrived a dish of the Italian heavy cream based Panna Cota topped with fresh raspberries and a scoop of raspberry sorbet (Панакота с ягодным сорбе). While the contents were nearly consumed before they even came to rest on the table, the unusual hollow glass bowl in which they were served was a thing of wonderment in its own right.
While I was lucky enough to find myself here under another's patronage for thе meal, a modest lunchtime visit for a student is not an outrageous proposition. However weekly menu samplings aren't recommended. If nothing else, stop in some time for a drink and an appetizer and soak up the atmosphere. Located on the city's most popular street for nightlife, this could be the perfect launching pad for your evening out.