Kim Gan San Restaurant/Кым ган сан ресторан
ул. Крылова 10
Hours: Noon-Midnight everyday; meals from $10 
In the handful of weeks separating my decision to spend some time abroad after graduation and my eventually selecting Vladivostok as my destination, I did my fair share of "pro and con" weighing. One of the aspects that I had decidedly labeled as "pro" was the city's proximity to the enigma of North Korea. While I wasn't exactly chomping at the bit to hop the boarder in search of firsthand experience regarding life in the People's Republic, I was at least hopeful that there would be some bleed over by which I could learn something about the reality of life within, without the selective mediation of news networks. I quickly found my hopes to be not the least bit grandiose. Not only did I quickly come into contact with a handful of Russians who had made the trip for both business and travel purposes, but I even found myself in a university group alongside a North Korean student. However, I still did not truly feel like I was getting the inside scoop until the evening I walked through the doors of Kim Gan San Restaurant in Vladivostok.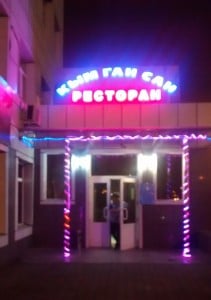 Located about a block up the road from the university itself, Kim Gan San does not exactly stand out and they certainly make no point to overtly advertise their exotic extraction. In fact, had it not been for a) my being accompanied by a student from South Korea and b) the peculiar choice of media displayed on the room's lone flat-screen TV, I likely would have played the odds and assumed it to be one of the many South Korean establishments inhabiting the area. However, as the other American student and I were told by our Korean friend over a round of 100 ruble ($2.50) Baltika 7s (Балтика «семь»), the intonation of the speaker, in our case the waitress, is a clear giveaway for natives when trying to decipher from which side of the demilitarized zone one hails. I am sure this was only a drop in the ocean of cultural distinctions that would be simply over my head.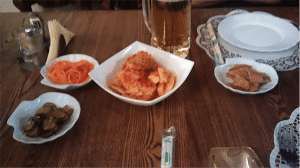 Then of course there was the food at Kim Gan San. As Korean food in general tends to be a very meat-centric cuisine, I was thankful to have a helpful friend as well as a kindly obliging staff to assist in accommodating my vegetarianism. Luckily, an absolute staple to the Korean diet, kimchi (кимчи), is entirely vegetarian. This spicy fermented cabbage dish served cold with separate sides of rice was supplemented by small sides of spicy sliced pickles, seasoned pickled carrot strips and a sort of crispy fried legume plate whose appearance deceived my taste buds into expecting Cinnamon Toast Crunch. Despite the completely alien nature of such flavors, I found it all, including the price of 210 rubles ($5) split between us, to be much to my liking. Indeed, the fact that he was witnessing an American enjoying kimchi at first taste so amazed my friend, that he was compelled to obtain hard evidence of the event by photographing me in the act of consumption.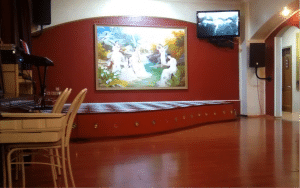 Next came the main course. When my first choice of fried eggplant with potatoes and peppers was shot down due to unavailability, I opted for a soup known as miyeok guk (миёк гук), whose primary ingredient is sea mustard. The rather chewy, yet still tender green was seasoned with onion, and served with a side of rice which one may add to the soup for a thicker consistency. For 390 rubles ($9.50) the soup was not the most filling in and of itself, but with a beer and the first course already down, to my tastes, it was the perfect addition. Rounding out the table, my companions respectively requested stewed beef cutlets on the bone with sweet peppers in a thin glaze (говядина со сладким перцем) for 470 rubles ($12) and a dish of calamari with sweet peppers served in a cast iron dish (кальмар на чугуне) for 530 rubles ($13.50). If the scene of destruction that was our table post-meal did not serve as evidence enough, I can personally attest to the enjoyment of our meal!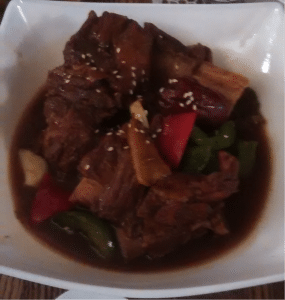 While I may not have fallen down in tears at the sight of the supreme leader during a parade in support of the Worker's Party of Korea, I certainly felt like I took in at least as much new culture as I did food; not that these are by any means mutually exclusive. The staff was some of the friendliest and attentive I have yet encountered, an observation my cultural interpreter agreed with, several times remarking upon the "kindness" of North Koreans. The atmosphere, of course, was a little strange from my perspective. Instrumental, oriental takes on famous western pop hits played overhead while decidedly pro-North Korean political media streamed across the television screen amidst a conservatively decorated, spacious dining room. Yet there simultaneously was a warmth I felt for which I am not willing to grant sole credit to the soup. As far as price goes, it was a little more than I like to spend on a dinner, but the experience was worth the extra expenditure and is one I'll certainly be partaking of Kim Gan San again. Especially if I can figure out when karaoke night is!