Kilikiya/ Киликия
 ул. Гороховая 26/40
Open 10:30 a.m-6 a.m.
Meals range from 200-600 rubles
Restorankilikiya.ru

While my roommates and I enjoy traditional Russian food, we also like to explore other exotic fare. Therefore, we have designated "foreign food Fridays," and this week focused on Russia's neighbor in the Caucasus, Armenia. Therefore, we headed out to the restaurant Kilikiya (whose name comes from a historic Armenian kingdom, located in modern-day Turkey) to fulfill this ethnic taste-test.
Kilikiya is a cavernous basement establishment, with Mount Ararat tapestries, dim candles, old photographs of traditional Armenian dress, and other such mementos of Armenia decorating its brick walls. These details, coupled with the traditional Armenian music in the background, offer a tantalizing glimpse into this fascinating, underrepresented country. After ogling over the atmosphere, a friendly waitress seated us at a table, and handed us menus stylized after Oriental carpets. The menus came in both English and Russian (good for double- checking orders), and included trivia tidbits on Armenian culture alongside the order items.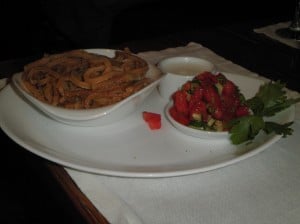 After consulting the menu, we decided to start out with two appetizer items: камац-матун (kamats matun), a tangy fermented milk spread for 180 rubles, and eggplant roll-ups filled with nut paste for 180 rubles. As for the main courses, we ordered we ordered a refreshing Greek salad with olives, tomato, and chunks of feta cheese for 180 robles; a mountain grass quiche concoted from Sibekh (сибех) falcaria herbs for 400 rubles; and Arishta (аришта) pasta, a traditional Armenain wheat noodle dish for 400 robles. If we had been hungrier, we might have split an order of traditional Caucasian dessert, such as pakhlava (baklava) for 120 rubles or dried fruit, nuts, and honey for 210 robles. However, we were very satisfied with our main meals, as our daring choices turned out to be delicious. After finishing the meal, we left Kilikiya feeling full (but not painfully so) and pleased with our Friday night choice.
Therefore, if you are curious to try a type of ethnic cuisine less well-known in the United States, Kilikiya is the way to go. The atmosphere evokes the mystique of Armenia, the service is very friendly (though perhaps a bit slow), and the menu offers an extensive array of dishes that spans Armenian, Middle Eastern, Russian, and European cuisines.
For group and faculty-led tours, Kilikiya makes a good choice. Although it might be a bit crowded due to its small size, the dishes cater to a wide range of taste preferences, and the exposure to the Armenian setting makes for a nice cultural experience.