Khmelnoe Podvorye (Хмельное подворье)
130 Kvartal, Sedovaya 10
12–12 (2 on Thurs, Fri, Sat)
I dragged my friends to Khmelnoe Podvorye for a late lunch after an arduous bike ride one Saturday afternoon. It's a brew pub, with a big selection of housemade beer, but I wanted to go because I'd heard they also make their own infused vodkas. The name of the place, "Khmelnoe Podvorye" actually translates to "Bitter Compound," apparently a reference to their drinks specialty.
My teacher at IGU was actually the one who told me about this—during the course of a conversation about how not all Russians like vodka, she started telling me a story about a friend of hers who will only drink vodka, and how, embattled by rain and wind one afternoon, they'd stepped into this restaurant and drank some delicious brusniki vodka. (Brusniki is some kind of red berry; they're translated as bilberry or cowberry, on the off-chance you've heard of those…) So after an afternoon of falling into thorn bushes and almost killing a variety of living beings, including myself—cough, I mean biking—this sounded fantastic.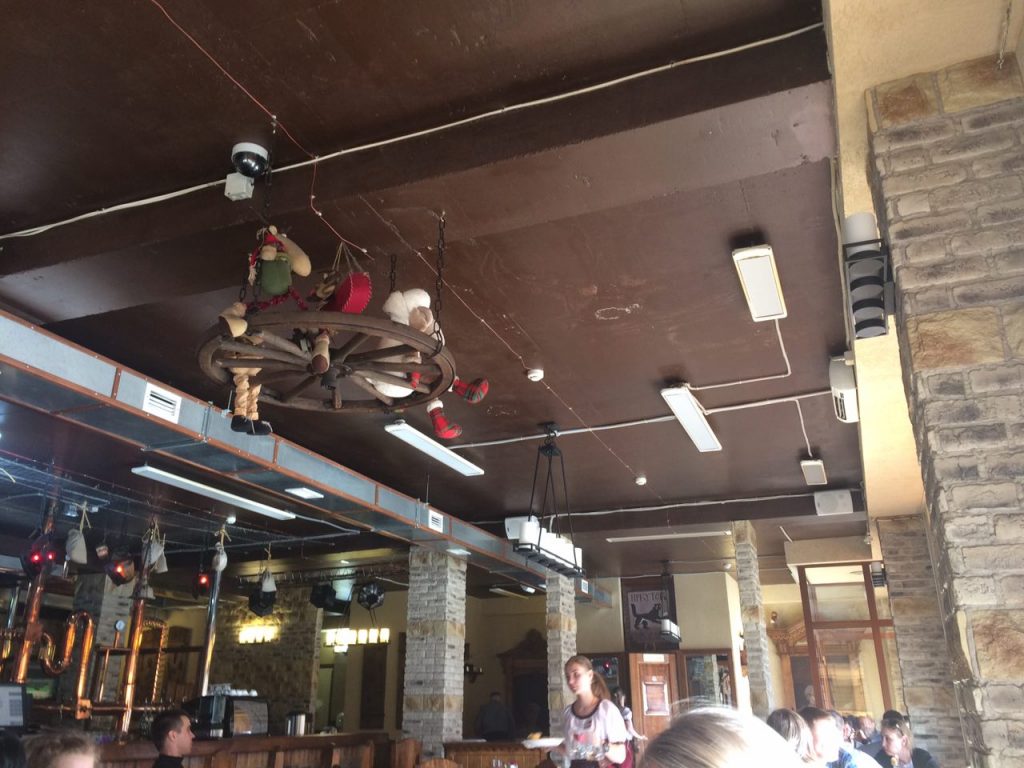 After we collapsed into our seats, we surveyed the menus with some amount of alarm; it's kinda expensive, and there's almost nothing for vegetarians, as usual. We did all eventually find something, and I think we all managed to cap our expenditures around $10, but I wouldn't call it a budget place. It was sunny and warm and cheerful, though, full of the noise of people enjoying the rare good beer in Russia, and our big wooden table was comfortable.
My friends both had potatoes with omul, the local fish (I feel like I've written this sentence in every one of my Irkutsk posts!), while I had a salad with smoked salmon and some potatoes with dill, which I was entirely pleased with. And of course we all got brusniki vodka. We weren't sure if they'd be cocktails, but they were just little ryumki (рюмки; like shotglasses) with bright red liquid, so basically just straight-up infused vodka. I really liked it—for me it was just sweet enough to distract from the vodka taste. This was far from a universal opinion at my table, though.
Overall, I really liked it here, and definitely hope to go back to investigate their beer situation. I might be more likely to check it out after a cheaper dinner elsewhere, though. (But be careful—they have a 1000-ruble minimum on weekend nights!)