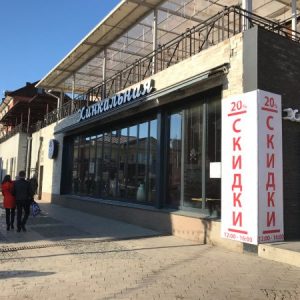 Khinkalnaya is a Georgian restaurant in downtown Irkutsk. Located walking distance from the university in the 130thDistrict this is the perfect place for a get together with friends for a fun evening or to grab a bite after shopping at Modniyy Kvartal. While the prices are a bit higher than the standard meal in Irkutsk, Georgian food is sharable and therefore one can order a few dishes for everyone.
One thing that sets this restaurant apart from the rest is the interior décor. There are large windows opening the interior to the picturesque wooden buildings along the street. On the inside there is modern music and two floors of seating. There is no reservation needed, but if it is a weekend and you want a booth near the window it is best to call ahead.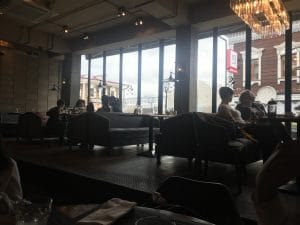 The menu offers a large selection of Georgian cuisine and a few vegetarian options. I ordered the khatachpuri, Kavkaz-style meat, and khinkali. Khinkali can be ordered with either lamb or beef and one must order a minimum of three. Khinkali are dumplings that look similar to Buryat pozy but are eaten slightly differently. One should grasp the closed "lid" end and flip it upside down. You should then bite the khinkali and drink the soup inside and once all the liquid is gone, you can eat it normally. In addition, while one can eat the top it is not traditional to do so (it is said it brings bad financial luck). Khatachpuri is a bread and cheese dish that is simply delicious. It is slightly salty and very cheesy which is something very hard to find in Irkutsk. Finally, the kavkaz style meat was delicious. It was beef with cheese, tomatoes, onions, and a tangy/salty sauce. This dish was so flavorful and had spices that I have missed in most restaurants in Irkutsk.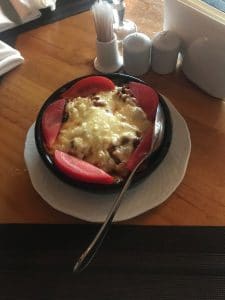 There are also many options that come with impressive displays including a pyramid of shashlik which are set on fire. Obviously, that's a more fancy option on the more expensive side and therefore I did not order this but it could be a good option for a birthday or holiday celebration. Overall I highly recommend khinkalnaya as it is a great place to get more unique flavors and spend an evening with friends.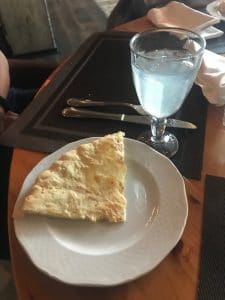 Khinkalnaya
Price: 6-15$
Hours: 11AM-12PM
Address: Ulitsa Sedova, 130thKvartal