When one of my friends first asked me about singing karaoke, I was a bit hesitant. It's not something in my normal realm of preferred activities, but I didn't have any other plans for the evening. So in the interest of trying new things, I acquiesced.
The space we used is nestled in a corner room of the area known collectively as The Underground (Андерграунд) at VSUES. Underground is VSUES' event venue, which has a main auditorium, two smaller event rooms, a coffee bar, and a coat room. The whole area is very nice, and I have had the opportunity to attend several other events here. Certainly, the facility is very modern and can accommodate a wide range of shows or activities.
The atmosphere of this karaoke group is very relaxed. We only had about 15 people total, so it's not like singing in front of a whole bar or restaurant. Everyone is there for fun and they are quick to applaud at the end of a song or laugh along with you if your vocal chords don't act as planned.
As we got started with the evening, the karaoke coordinator, Alex, said that they usually get to use the full auditorium just for the small karaoke group. The smaller room was fine by me, but I will be interested to see how the dynamic changes in a room with 500+ seats.
The list of karaoke songs to choose from was truly impressive. I can only assume that the computer was connected to an online database, because it had seemingly everything. We sang quite a diverse repertoire of Russian and English songs, and I don't think that there were any instances of people not being able to find the song they wanted. The technology backing the karaoke is very high-tech. At other times this venue is used for smaller concerts, so it has a sound board and a wireless microphone setup. The room is equipped with four large screen televisions and one projector. Lyrics are always within view.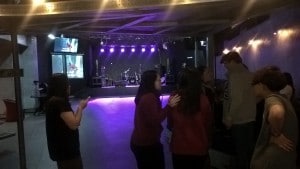 I chose some personal favorites from Creedence Clearwater Revival, Billy Joel, and Bon Jovi; then I finished off my evening with Semisonic's "Closing Time." Somewhere in the middle, I also sang a duet with a German student who also studies at VSUES. We managed a rendition of John Denver's "Country Roads." But the version we picked happened to be the electronica dance remix. I didn't know that existed.
Currently, the karaoke time runs from 5:00-7:00 each Friday evening. It is free of charge and very low key. It is a student-run activity, so there is no guarantee of permanence associated with it. The more I get to know this university and the people who attend it, the more I realize that there is a vibrant student life. Simply realize that many of the activities are not well advertised, so it's always worth asking your fellow students about what kind of clubs and activities they take part in around the university.