Minorities Abroad Project
Name: Jessica
Destination: St. Petersburg, Russia
Time abroad: Summer 2013
Ethnic Self-identification: African-American
The First Day
I remember the first day very clearly when I look at the following picture:
Why was the first picture I ever took in St. Petersburg, Russia a lilac bush? Because I was scared on the first day.  Let's be real, with all the people telling you horror stories about being a minority in Russia, it is hard not to be scared at first when you get there.  On the first day I hung out mostly in my room, pretending to read the origami books (in Russian) that my host family had, and pretending to be recuperating from jetlag and the massive headache I developed on the plane.  My host mother had told me the night before not to walk around at night by myself, since, as she put it, I am an inostranka (a foreigner of the female gender). This is reasonable advice for anyone in a big city, but it did nothing to dispel my fears. At some point, I realized that I must go outside.  Desperately scanning the map, I looked for a destination.  About one kilometer from my host family's apartment was a nice little park.  It was at the intersection of Sadovaya street and Rimskovo-Korsakova.  Anyway, I figured that the park would be a reasonably safe place, and the walk not so long that I should get lost, so I cautiously headed out.  I remember being ready to flinch at any sign of unusual activity.  Stiff as a board, I walked to the park.  When I got there, I saw that the park was decidedly normal, and the people feeding pigeons were decidedly uninterested in bothering me.  I took a picture of the lilac bush, since I have one at home in my yard, and it looked so ordinary.
The Market
Here is a picture of the woman who sold me delicious pickles at the market.  I bought them for lunch and ate them with yesterday's black bread, which I got from the local bakery at a reduced price.
I walked up to her stall, and asked for half a kilogram of pickled carrots. She handed me two samples—spicy and mild.  I decided to go with the spicy carrots. After I had bought the carrots, she asked me about my nationality.
—Where are you from?  India?
— No, I'm an American.
— Oh!
That seemed to be the typical response when I told people that I am an American. I guess they haven't seen too many people who look like me from America.  The people who worked in the market were especially curious.  After selling me fruit or pickles, they guessed and guessed: Indian, Turkish, German… they never guessed America somehow.
Anyway, the woman with the pickles was always super friendly. She gave me lots and lots of samples, and often threw in a few pickled cucumbers and peppers on the side.  I felt like a baby bird when she would hand out strings of this week's batch of carrots for me to try from up on her platform. Everything was delicious, and I saved a ton of money by bringing lunch to the institute.
At the end of my stay in Petersburg, I went to say goodbye.  It is then that I took this picture. We had the following conversation:
— I'm leaving tomorrow.  I'm going to Georgia.
— Oh! I'm from Dagestan. Do you know where Dagestan is?
— Yeah, it is north of Azerbaijan, in the Caucasus.
— Have fun in Georgia, and come back to Petersburg sometime.
— I will. Bye!
— Bye my friend!
Language Partner
As part of our program, we were introduced to a Russian language partner. Together we went to cafes and visited landmarks.  My language partner, Kamilia, is part Balkar. The Balkars are a Turkic people who live in the Caucasus, in the Karbardino-Balkar Republic.
She told me that because of her Balkar heritage, her friends named her kitaiianka.  Kitaiianka means Chinese female.  I thought this was pretty funny, since I have some friends who are Chinese, and she didn't look remotely Chinese to me. Interestingly, although the nickname was inaccurate and could be considered offensive by some, Kamilla seemed so unfazed and unconcerned about it, that I never even asked what she thought about the nickname.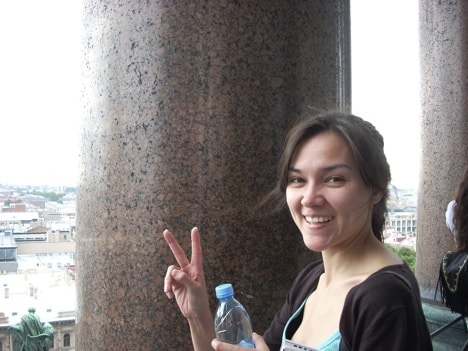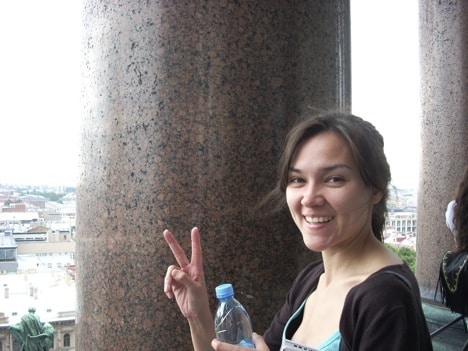 Jessica can be contacted via email.