Interview by Lisa Horner, Program Consultant, Institutional Relations.
Jess Rivet was a powerhouse during her full year (2009-2010) of Russian as a Second Language (RSL) through The School of Russian and Asian Studies (SRAS). She was always out doing something, whether meeting locals and going to concerts, helping her fellow students, and even playing hockey with a local team in St. Petersburg, Russia!
SRAS: What got you involved in Russian?
Jess Rivet: I have always had a fascination with languages. Over the years, I have tried to learn a lot of them, with varying degrees of success. When I was around 12, I found a book at the library, one of those "Learn Russian in 10 minutes a day" things. It came with cassettes. So I grabbed it and started my Russian journey. After about 3 weeks, I was still no further ahead. My Russian consisted of "Hello! My name is Mark Smith." So I returned the book and put Russian on the back burner. Fast forward to my last year of university. I need 2 more classes to fill my schedule for the year. I see Beginner Russian 1 and 2. What the heck right? I signed up, loved it and did quite well. The rest, as they say, is history.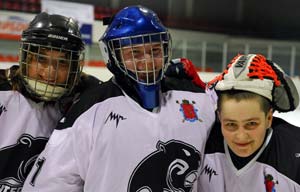 SRAS: Why did you choose St. Petersburg as your study abroad destination?
JR: I always had my heart set on St. Petersburg. Possibly because all the Russians at school said the name "Piter" so fondly when I mentioned my desire to go there. As well, I thought Moscow to be far too big for my liking. The city of Moscow is about 1/3 of the population of Canada. That's a tad overwhelming for me. The other options involved plopping myself somewhere in Siberia, but even for a Canadian, that's a rather daunting prospect.
SRAS: Why did you decide to play hockey while abroad, and how did you get involved with the Russian hockey team in St. Pete?
JR: I play hockey all year round in Canada. Going without hockey for a year wasn't even an option. I asked Renee if she knew anything about women's hockey in St. Petersburg, although I wasn't expecting much, since women's hockey is still growing in most parts of the world. She researched it for me and found a link on a forum. I posted there and they accepted my request to play with them, an all-girl team. I suppose being a goalie helps, as female goalies are in short supply.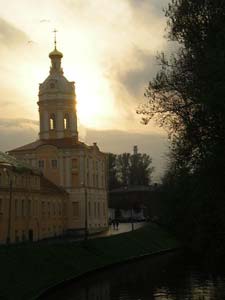 SRAS: Were there any major cultural differences on the ice?
JR: I noticed two main differences. The first is that stickwork (hooking and slashing mostly) are not called nearly as much there, and as a result, is much more prevalent than in Canada. The second difference is the players yell at each other a lot when they make mistakes. I found this to be amusing at times and alarming at others. Otherwise, it was just hockey to me.
SRAS: Did you feel accepted by the team right away?
JR: My luggage fiasco delayed my start with the team. I've already posted the full, long, painful story on SRAS's Facebook page. Let's just say that my equipment was shipped cargo and I had to deal with Russian customs and bureaucracy to get it back. Don't ever ship anything to Russia using cargo services.
In the meantime, the coach wanted me to get on the ice, so I borrowed some other gear, which ended up being a disaster. The skates they gave me were rusted and had no edges, so I ended up looking something like Bambi on ice. I did alright, well, as alright as I could when simply standing upright was a challenge. I was eager to prove that I wasn't really that bad of a goalie. So when I finally did get to play with them, in my own equipment, the players were fairly surprised by my abilities. Most were quiet at first, as they weren't quite sure what to make of this Canadian girl on their team. Especially since my Russian was pretty bad at the time. The captain spoke English, so she would translate as well as she could when required, otherwise I relied on pantomimes and repetition. The players would try to help as much as they could, though this usually confused me even more. One particular day, I asked when our next practice would be. Everyone yelled out numbers in English, although none of them were the correct time. So I quietly got out my notepad, walked over to the captain and asked her to write it down. She laughed and obliged. The coach took me under his wing, calling me and talking to me, making sure that everything was okay.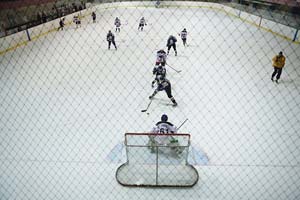 SRAS: You've joked before about having an "alter ego," as the coach asked you pretend to be a junior player so his junior team would have enough players. Can you tell us more about that? Why exactly was it necessary, what was it like, and did anyone ever catch on that you weren't junior team age?
JR: The team was split into two different squads. The junior team is for players up to age 14, and the senior team is 14 and up. There was only one goalie, however: me. (There was another goalie, but she stopped coming to practice in November, and often simply wouldn't show up to games.) So one day, I come in for practice and the coach tells me we have a game the next day. I smile and nod. The following day, I come in for the game. He tells me: Your name is Vika Lomova, you are 14. Don't speak and keep your mask on. The first game was a little nerve-wracking, as I was trying to look away from the referee. But afterwards, I didn't worry much anymore. Our team had a few players who were overage, as our younger players were mostly very weak. This resulted in us getting clobbered most games. As a result, no one ever complained. I am sure that most knew, but nothing was said. One of the reasons I think is that if I was discovered, we would forfeit the games. So all our scores would be changed to 5-0 losses. Since the majority of our games had been lost by more than 5 goals, we would actually improve in the standings, so it wasn't in the opposition's best interest to complain.
SRAS: You're back in Canada now – what are your future plans, and do you think they will involve Russian in any way?
JR: I am back in Canada now, looking for a job. While I don't have set plans, I am contemplating a return to Russia next year. I'd love to become fluent, and live there. Otherwise, one of my teammates is planning on visiting me in February, which should be a really fun time. Of course, if I do opt to return next year, I will go with SRAS, because you make our lives much easier (and the director knows every student by name!).