Jean-Marc was a non-traditional student who took advantage of SRAS's program flexibility to organize a short stay in Rostov.
SRAS: Introduce yourself to us, Jean-Marc.
Jean-Marc: I'm a 35-year-old French civil servant. I've been studying Russian in France for four years now at night courses, just two hours per week. But in fact I've been interested in Russia since I learnt a little of its history, geography and literature at school. Only in 2001 did I go for the first time in Russia and start learning Russian, which is a rather difficult language. I can say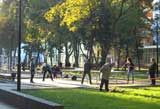 that my fascination for Russia is growing more and more, and I hope to eventually settle there, in one or two years, as the country is enjoying a fast growing economy, developing ties with other nations, and may even face a workforce shortage in the near future.
SRAS: What was your program like?Did you enjoy it?
Jean-Marc: I was really satisfied with my studies in Rostov; the staff there responded quickly to my specific needs, and organized a very good program made of five different courses (each with one different teacher):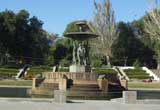 Practice in Conversation
Practical Grammar
Articles from Newspapers
Audio-Visual Course of Conversation
Region of the Don.
I must say these courses, and my short stay in Russia overall, were of utter help as I was preparing for a certificate in commercial Russian back home in France through the Paris Chamber of Commerce. (I got the certificate 10 days after coming back from Russia.)
SRAS: How about the living conditions? What were they like?
Jean-Marc: The stay in the dormitory was not too bad, I was the only one in a block of 4 individual rooms (many foreigners were to come after celebrations of May 1st and 9th), with common shower, toilets and lavatories. These rooms for foreigners are just one minute from the classrooms, and you can find anything in the neighborhood (food, Internet, mobile phones, cafes…). A great number of buses or marshrytni buses can also bring you to the downtown in 10 or 20 minutes (for 6 or 10 rubles).
I found that Rostov was a very pleasant and lively town: the weather was already hot and sunny; the signs of a fast growing economy and 'westernization' almost everywhere in the center (advertisements for big brands, new cars, trendy shops ..); the museum and musical theater are worth visiting, and the river Don is really nice.
SRAS: How about traveling opportunities? Any places you'd recommend after having been in Rostov?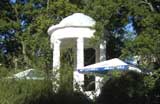 Jean-Marc: Not far from Rostov (one or 2 hours by bus or by boat), lie interesting villages or towns, linked with the Kossacks and other prestigious characters of Russia: among them, Taganrog (town of Tchekov and Thaikovski in the Bay of the Azov Sea), Novo Tcherkass and Starocherkass (capital of the Kossacks), Azov (stronghold on the banks of the Don once used against the Turks).
The university often organizes for foreigners journeys to the Black Sea (Sochi), the surrounding mountains, and even the Ukraine, whose border is not really that far, at very low costs.